Hi,


IWW Newsletter - Issue 74- June 2018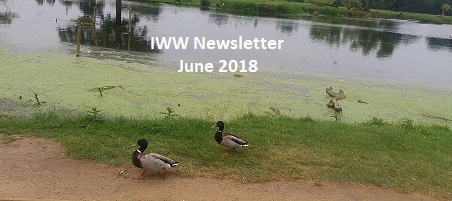 A very warm welcome to everyone who subscribed to IWW Newsletter. Thank you for subscribing to our newsletter.
1. Word of Success
a) For a creative writer, possession of the "truth" is less important than emotional sincerity – George Orwell
b) The greatest part of a writer's time is spent in reading in order to write. A man will turn over half a library to make a book – Samuel Johnson
2. Editor's Note
I am pleased to inform you that I am back to work after a long break. What did I do during this break? You may wonder. Firstly, I enjoyed some travel in India visiting some places which I have been wanting to visit for a very long time. Secondly, I was unwell for about 3 months. Thirdly, I have been blessed with a second grandchild (this time a granddaughter) and I am visiting her in England.
Submissions are now open and you can submit your contribution in the submission form to all categories from 15th to 25th of each month. For Short stories, each month a new theme is given. Only those stories will be considered. The theme for June 2018 is FRIENDSHIP. More details are on the notice board.
As per the new GDPR rules, we have updated our Privacy policy. We will not accept any more submissions from children below 16 years. I have also updated our Terms & Conditions and FAQ pages. Please have a look at those pages.
My apologies to those who had contacted me during this break reg.submissions, for not able to respond to them individually as I was unwell and away from my computer.
3. New items published at IWW from February - May 2018.
Short Stories
(a) The Brown Beast (b) The Cracked Macallan (c) True Love (d) God Clapped.
These stories can be read on the main page. IWW Short Stories
Book Review
a) Race Course Road - Reviewed by Enakshi J b) Stepping Stones - Taking Toward the Goal - Reviewed by Enakshi J c) A House for Mr Misra - Reviewed by Ananya Sarkar
These can be read on the main page Book Reviews
Useful Tips (New Section)
5 Tips to be a Fluent English Speaker
5 Tips to Love Yourself
4 Tips to get rid of Backache
These can be read on the main page Tips
======================================================
4.Submissions Invited - -
1) AVELETGIANT-
They are open to any genre of work, work that does not adhere to any one genre, cross-genre work, and work that refuses all labels. Work may take the shape of basically any format: words, recordings, visual art, hybrid forms, etc. https://www.avelvetgiant.com/
2) DELMARYAREVIEW -
http://www.delmarvareview.com/
3) Poems - http://clockhouse.net/main/submit/
4) CHICKEN SOUP FOR THE SOUL - MOTHERS
http://www.chickensoup.com/story-submissions/possible-book-topics - We're looking for your stories about mothers of all ages and types. We want to know the lessons you learned from your mom, stepmom, foster mom, mother-in-law, grandmother, or someone who was like- a-mom to you — what she taught you and how she made you who you are today. All stories and poems need to be true — we do not publish fiction. Stories should be no longer than 1,200 words. You will receive a check for $200 and 10 free copies of your book, worth more than $100.
5. Contests (Copy these links, paste each one of them on your browser and check for details.)
a) BACOPA LITERARY REVIEW CONTEST
$3 ENTRY FEE. Deadline May 31, 2018. $250 prize for each category of Short Story, Creative Nonfiction, Poetry, Prose Poetry.
https://writersalliance.org/bacopa-literary-review/
b) DARK TALES Monthly contest
http://darktales.co.uk/
==========================================================

========================================================
6. Charity work.
Take a moment to check out Swanthana - For mentally challenged girl children

------------------------------------------------------
7. Check out these books
a) A Christmas in Scotland Read this travel memoir
b) Cherished - story of a young girl's eagerness to seek the love of her parents. Cherished
c) The Second Choice @ Flipkart
d) Before the Sunset
=============================================================== Join IWW Facebook page at Our Face Book Page
Follow us on Twitter @indusww ===============================================================
Lakshmi Menon
https://www.induswomanwriting.com
-------------------------------------------------------------
Advertisements
Check out today's hot deals at amazon =============================================================== Join IWW Facebook page at Our Face Book Page
Follow us on Twitter @indusww ===============================================================
Lakshmi Menon
https://www.induswomanwriting.com
------------------------------------------------------------