Hi,


IWW Newsletter - Issue 66- July 2017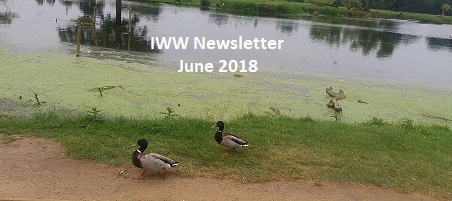 (Photo courtesy: Santhosh Kumar, Kerala)
A very warm welcome to everyone who subscribed to IWW Newsletter. Thank you for subscribing to our newsletter.
1. Word of Success
1. "The starting point of all achievement is desire" – Napolean Hill
2. "Thousands of successful people did not achieve success on their first try, but they were not discouraged. They picked themselves up and went back at it with an even stronger, single minded tenacity to achieve their goal". - Catherine Pulsifer
3. "Your commitment to your work, your hard work, your endless efforts to get the required task done and your positive attitude, all are reinforced to get the success." - T Whitmore
2. New Authors
I am pleased to inform you that there are 8 new authors who have joined our IWW group during the month of June 2017. They are a) Dr.Divya Singh, b) Aparna Prabhu, c) Tapan Ghosh, d) Himani Pande, e) Devika Kumar, f) Sakunthala Rachuri, g) Poojary Sushmita Shiva and h) Rupa Rani Sinha A hearty welcome to you all to our group. Thanks for joining our community.
The submissions received late towards the end of the month could not be included in this issue. The chosen ones will be published during this month.
The new writers to our site should submit their first contributions using this form. https://www.induswomanwriting.com/contributions-submission-form.html
3. New items published at IWW in June 2017.
Short Stories

a) Her Biggest Fan, b) A Mother's Phantom, c) Good Friends, d) Missing of one person turned blessing for another, e) Offside at Park Circus Maidaan, f) The Cricket Ground Match, Possessed, g) Happy World, h) Pudina Chutney
These stories can be read on the main page. IWW Short Stories
Perspective
What else can a Mother Say
This article can be read on the main page Perspective
As You Say
My Grandmother
This article can be read on the main page As You Say
Stories for Children
Happiness in helping Others
This story can be read on the main page Stories for Children
Book Review
Somewhere to go by Shambhavi. This can be read on the main page Book Reviews
Serial Novel
a) But Just Say I Love You - Chapter 14
This can be read on the main page. Serial Novel
Poem
a) Journey of a Wolf, b) When became darkness visible
These can be read on the main page Poems
4. Book Giveaway. I am planning to give away a signed copy of the print book of my new novel BEFORE THE SUNSET to an Indian resident. The winner will be selected randomly and contacted by email to send the book. If you are interested please give your name through the CONTACT US FORM, before July 25, 2017. Please write the word "BEFORE THE SUNSET" on top of the message column. https://www.induswomanwriting.com/contact-us.html The winner will be announced in the August Newsletter.
======================================================
5. Literary News -
Israeli author David Grossman wins Man Booker award. Read the full story here http://www.newkerala.com/news/fullnews-249204.html
6. Contests (Copy these links, paste each one of them on your browser and check for details.)
a) THE HG WELLS SHORT STORY CONTEST https://hgwellscompetition.com/competition-rules-2017/ 0-£10 ENTRY FEE. Deadline July 16, 2017. The Margaret and Reg Turnill Competition is for young writers of 21 years and under, for which the prize winner receives £1,000, and a competition for the over 21s which offers the Grand Prize of £250. This year's theme is "Light". Entries must be in English. There are no entry fees for those aged 21 years and under on 16 July 2017. The length is 1,500 to 5,000 words.
b) THE SFWP WRITERS CONTEST http://sfwp.com/the-contest/ $30 ENTRY FEE. Deadline July 20, 2017. All fiction and creative nonfiction will be eligible despite genre, form, subject, or length. We take full-length manuscripts, works-in-progress, collections short or long, and essays. There's no minimum or maximum. The grand prize is $1,500, and two runner-ups will receive $1,000 each. Authors retain all rights to their work. Winners will be offered a competitive book contract for full-market, frontlist release. There's no obligation to sign this contract. All unpublished work is eligible.
c) EMRYS CHAPBOOK PRIZE https://emrys.submittable.com/submit/85649/emrys-2017-chapbook-prize $20 ENTRY FEE. Deadline July 15, 2017. The Emrys Press Chapbook Prize honors a book of original poetry in English by a single author; translations are not eligible. The winning poet will receive a $1,000 honorarium upon publication plus 20 copies of the book. In addition, he/she will be invited as guest for one week of the Rensing Center, a gorgeous arts/writing retreat near Greenville SC, in the Appalachian foothills. Manuscripts should be 24 to 26 pages in length.
d) WOVEN TALE PRESS COMPETITION http://www.thewoventalepress.net/literary-competition-prose/ $20 ENTRY FEE. Deadline July 31, 2017. Submit 6,000 words maximum of literary fiction or creative nonfiction. All submissions considered for publication. First prize is a one-week writing retreat in the legendary Hamptons in New York. Seven nights and accommodations for two in a spacious, four-bedroom residence within walking distance to the beach and town. Also, publication and a complimentary copy. Second prize is $300 and publication. Third prize is $100 and publication.
e) RATTLE POETRY PRIZE http://www.rattle.com/prize/about/ ENTRY FEE A ONE-YEAR SUBSCRIPTION. Deadline July 15, 2017. The annual Rattle Poetry Prize offers $10,000 for a single poem to be published in the winter issue of the magazine. Ten finalists will also receive $200 each and publication and be eligible for the $2,000 Readers' Choice Award, to be selected by subscriber and entrant vote. Additional poems from the entries are frequently offered publication as well. In 2016, we published 21 poems from just over 4,000 entries.
==========================================================

========================================================
7. Charity work.
Take a moment to check out Nizhal Charitable Trust

------------------------------------------------------
8. Check out these books
A Christmas in Scotland Read this travel memoir
Cherished - story of a young girl's eagerness to seek the love of her parents. Cherished
The Second Choice @ Flipkart
=============================================================== Join IWW Facebook page at Our Face Book Page
Follow us on Twitter @indusww ===============================================================
Lakshmi Menon
https://www.induswomanwriting.com
-------------------------------------------------------------
Advertisements
Check out today's hot deals at amazon =============================================================== Join IWW Facebook page at Our Face Book Page
Follow us on Twitter @indusww ===============================================================
Lakshmi Menon
https://www.induswomanwriting.com
------------------------------------------------------------