Hi,


IWW Newsletter - Issue 94- Feb 2020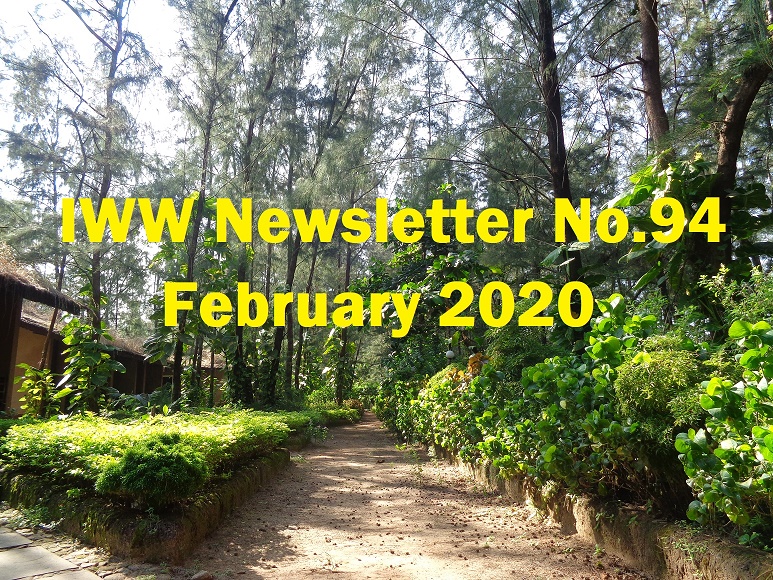 A very warm welcome to everyone who subscribed to IWW Newsletter. Thank you for subscribing to our newsletter.

1. Word of Success

a) "The best way out is always through."- Robert Frost

b) "Always Do What You Are Afraid To Do" – Ralph Waldo Emerson

2. Editor's Note

Your contributions can be submitted in the SUBMISSION FORM to all categories from 15th to 25th of each month.

b) We have 5 new writers who joined IWW community recently, and they are - Puja Goswami, Sri Lal, Divya Madhale, Rahana K Ismail, and Bharti Bansal. There were more contributions from new writers, but I could not accept them for not following our simple rules. Please also note that the supporters and well wishers of iww will get the preference over the nonsupporters.

3. New items published at IWW in Jan 2020.

Short Stories -
a) Once Again, b) The Baby's Cry, c) Love makes life richer.

These stories can be read on the main page. IWW Short Stories

Poems

a) Seeking an Explanation, b) Maryaada, c) Beyond Darkness and Two Other Poems, d) She is Your Wife, e) Shrine and Other Poems.
These poems can be read on the main Poems page. IWW Poems

Perspective
A Magical Secret
This can be read on the main As You Say page. IWW Perspective

Book Reviews
a) Stories of Us by Bobby Sachdeva
This can be read on the main Book Reviews page. IWW Book Reviews

Stories for Children
a) Kitchu's Birthday Present b) Ruskin Bond Books for Children
These can be read on the main Children's Stories page. IWW Stories for Children


Travelogues

a) The Land of Witches and Pirates.b) A glorious morning at Bhrihadeeswarar Temple .
These can be read on the main Travelogues page. Travelogues


New videos

The new videos can be seen in the YT Video gallery .

a) IWW Youtube Channel.
Thanks for the friends who have subscribed to our Youtube Channel - Indusvlog. IWW Indus Vlog Youtube Channel . Please subscribe.

======================================================

4. Literature News
Check out these -

a) Noted American children's author, Jason Reynolds has added a new armour in his quiver as he has been named the next National Ambassador for Young People's Literature. This is a two-year post that is offered to the literary personalities who work extensively towards children's literature and its betterment. https://literaturenews.in/world/jason-reynolds- named-young-peoples-literature-ambassador-for-2020-21/

b) Indian writers who defined the decade, from Siddhartha Mukherjee to Sujatha Gidla, Perumal Murugan.https://www.firstpost.com/living/indian-writers-who-defined-the-decade-from-siddhartha-mukherjee-to-sujatha-gidla-perumal-murugan-7861891.htm

c) Shashi Tharoor was recently conferred the Sahitya Akademi Award for his work, "An Era of Darkness" which chronicles the impact of the colonial regime on India.https://www.firstpost.com/india/sahitya-akademi-awards-2019-shashi-tharoor-wins-in-english-non-fiction-category-for-an-era-of-darkness-7799051.html


5. Contests (Copy these links, paste each one of them on your browser and check for details.)

a) Stockholm writers prize. https://stockholmwritersfestival.com/stockholm-writers-prizeLast date - February 15, 2020 - Entry fee -$25

b) Writers' & Artists' Short Story Competition. https://www.writersandartists.co.uk/competitionsFor published and aspiring writers alike. Entry fee- free. Last date - 13 February 2020.

c) 2020 Poetry Chapbook Contest.https://yemassee.submittable.com/submit/152883/2020-poetry-chapbook-contest. Last date February 16, 2020 - Entry fee- $18.

d) Mary McCarthy Prize in Short Fiction. http://www.sarabandebooks.org/mccarthy/Last date - February 15, 2020 - Entry fee-$29.

e) Dialogue Only Short Story Competition. https://www.writers-online.co.uk/writing-competitions/dialogue-only-short-story-competition/. Last date - February 15, 2020 - Entry fee-free .

f) Willow Run Poetry Book Awardhttps://hiddenriverarts.wordpress.com/awards-deadlines-and-guidelines/willow-run-poetry-book-award/ . Entry fee – Free - Last date - February 20, 2020.

g) Oscar's Book Prize 2020.http://www.oscarsbookprize.co.uk/contact .Entry fee- Free - Last date - February 21, 2020.

h) https://www.treadbikely.com/contest- rules/Entry fee- Free - Last date - March 1, 2020.

==========================================================

========================================================
6. Charity work.
Take a moment from your busy life to check out Sri Sai Oldage home
------------------------------------------------------
7. Check out these books By buying these books you are directly helping the maintenance of the iww site.
a) A CHRISTMAS IN SCOTLAND - A travel memoir
===============================================================Join IWW Facebook page at Our Face Book Page
Follow us on Twitter @indusww===============================================================
Lakshmi Menon
https://www.induswomanwriting.com
-------------------------------------------------------------
Advertisements
Check out today's hot deals at amazon
===============================================================Join IWW Facebook page at Our Face Book Page
Follow us on Twitter @indusww===============================================================
Lakshmi Menon
https://www.induswomanwriting.com
------------------------------------------------------------