Hi,


IWW Newsletter - Issue 75- July 2018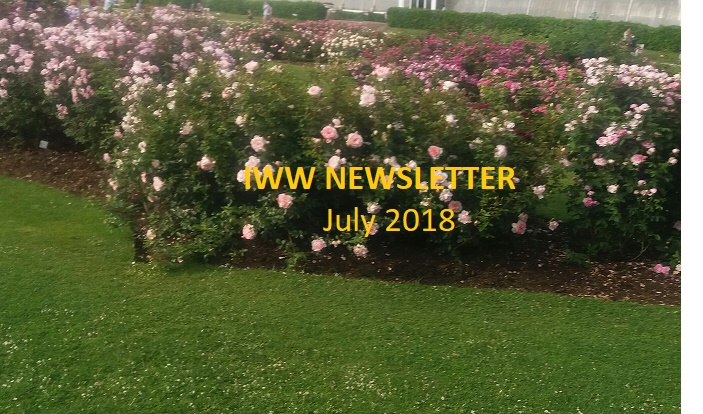 A very warm welcome to everyone who subscribed to IWW Newsletter. Thank you for subscribing to our newsletter.
1. Word of Success
a) "The greater the obstacle, the more glory in overcoming it." - Molière
b) "In the middle of every difficulty lies opportunity." - Albert Einstein
2. Editor's Note
The theme for July 2018 Short Stories is FIRST EXPERIENCE.
Your contributions can be submitted in the submission form to all categories from 15th to 25th of each month. Only the theme based stories will be considered. More details are on the notice board.
We have 10 new writers who joined IWW recently, and they are - Jisha Rajesh, Shreemoyee Roy, Akanksha Priya, Saloni Maheshwari, Sukarma Thareja, Aakhya, Kaushiki Saraswat,Mukul Arora, Saeed Al-maisari, and Meera Datta.
3. New items published at IWW in June 2018.
Short Stories
(a) Friend in Need is a Friend Indeed (b) The WhatsApp Group (c) When I am Free (d) The New Girl (e) A Bond of Friendship (f) Three Friends (g) A Blossoming Friendship, and (h) Token of Friendship
These stories can be read on the main page. IWW Short Stories
A Separate page for Friendship stories is here. This will make it easier to find your story on this theme. If you have any Friendship stories published earlier at IWW you can let me know. If found suitable, will be added to this page.
Poems
(a) No Head No Problem (b) The Longing (c) Black (d) Life's Challenges (e) Ignited Brain Mission (f) Forgive and Forget, and (g) The Aesthetic Beauty.
These can be read on the main Poems page. Poems
As You Say .
Indian Marriages: Blend of Traditional and Western Culture. This can be read at As You Say
Perspective
Irony of Life. This can be read at Perspective
Spiritual
Religion and Spirituality.
Read this article on the main Spiritual page. Spiritual
Travelogues
My Trip to Kanchipuram.
This can be read at Travelogues
Useful Tips (New Section)
6 Tips to Hone your Writing Skills.
This can be read on the main page Tips
======================================================

4. Contests (Copy these links, paste each one of them on your browser and check for details.)
a) The Margaret and Reg Turnill Competition.
Restrictions: Writers must be 21 or under on July 23. (Those over 21 can enter for a fee.) Genre: Short story on theme of "Peace." Length: 1,500 to 5,000 words. Prize: £1,000 and publication in the annual HG Wells Short Story Competition Anthology. Deadline: July 23, 2018. Website - https://hgwellscompetition.com/competition-rules-2018/
b) Foyle Young Poets of the Year Award. Restrictions: Open to young poets age 11–17. Genre: Poetry. Prize: Publication. Deadline: July 31, 2018. Website - http://poetrysociety.org.uk/competitions/foyle-young-poets-of-the-year-award/
c) Staunch Book Prize - Closing date: 15th July 2018. Prize: £2,000.Entry fee: £20.Looking for: Novels (traditionally published, self-published or not yet published) in the thriller genre in which no woman is beaten, stalked, sexually exploited, raped or murdered. Website: http://staunchbookprize.com/about-2/
d) Flash Fiction 1500 - Closing date: 28th July 2018.Prizes: Grand Prize: £100; Runner Up: £25. The short list entries will be published in either the Literary Magazine or the year-end Anthology..Entry fee: £5.00.Looking for: Submit up to 1,000 words of fiction of any genre or theme.Further details: Every entrant will receive critical feedback on their work. Website: https://www.grindstoneliterary.com/competitions
e) HISSAC Annual Open Short Story Competition - Closing date: 31st July 2018.Prizes: £250, £50 and £25 in both categories.Entry fee: Short stories £5 or £12 for three, Flash fiction £5 or £12 for three.Looking for: Short stories up to 2,000 words, flash fiction up to 500 words.No connection to Scotland is needed either by theme or entrant. Email: info@hissac.co.uk Website: http://www.hissac.co.uk/Competition
f) Ink Tears Flash Fiction - Closing date: 31st July 2018.Prizes: £250, £50, 8 x Highly Commended £25.Entry fee: £3.50.Looking for: Flash fiction up to 500 words.Website: http://www.inktears.com/ffentry
g) To Hull and Back Humorous Writing Competition - Closing date: 31st July 2018.Prizes: £1,000, £200, £100, publication in Christopher Fielden's To Hull and Back anthology.Entry fee: From 1st May £11, £18 for two. Further reductions for more. Looking for: Funny stories up to 4,000 words.Email: chris@christopherfie1den.comWebsite: www.christopherfielden.com
h) Redhen Org for 6 Awards. Check out each of them for details.
i) Benjamin Saltman Poetry Award ii) Red Hen Press Fiction Award iii)Red Hen Press Nonfiction Award iv) Red Hen Press Novella Award v) Women's Prose Prize vi) Quill Prose Award Website - https://redhen.org
==========================================================

========================================================
5. Charity work.
Take a moment to check out Angels Orphanage- Home for orphaned and abandoned children

------------------------------------------------------
6. Check out these books
a) A Christmas in Scotland Read this travel memoir
b) Cherished - story of a young girl's eagerness to seek the love of her parents. Cherished
c) The Second Choice @ Flipkart
d) Before the Sunset
=============================================================== Join IWW Facebook page at Our Face Book Page
Follow us on Twitter @indusww ===============================================================
Lakshmi Menon
https://www.induswomanwriting.com
-------------------------------------------------------------
Advertisements
Check out today's hot deals at amazon =============================================================== Join IWW Facebook page at Our Face Book Page
Follow us on Twitter @indusww ===============================================================
Lakshmi Menon
https://www.induswomanwriting.com
------------------------------------------------------------