Custom Search
Friendship Short Stories
Friendship is a relationship of mutual affection between people. Friendship can be formed between different types of people.  A friend is someone who  holds your hand when you're scared, helps you fight off those who try to take advantage of you, thinks of you at times when you are not there, reminds you of what you have forgotten, helps you put the past behind you but understands when you need to hold on to it a little longer, stays with you so that you have confidence, goes out of their way to make time for you, helps you clear up your mistakes, helps you deal with pressure from others, smiles for you when they are sad, helps you become a better person, and most importantly loves you!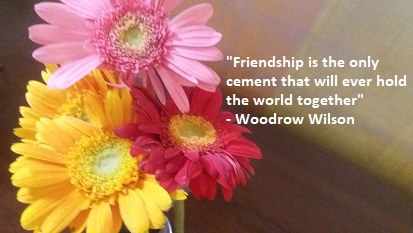 Token of Friendship - By Jisha Rajesh

I stepped into the air-conditioned compartment of the train with both my hands laden with heavy baggage. I trodded through the compartment until I reached my seat.  Read the Full story here ....
A Blossoming Friendship - By  Lakshmi Menon

Taking the car key from the keyboard, Kishore stepped out of the house to go to his office.  As he was opening the car door, abruptly remembered something and turned towards the gate where his wife Asha was standing.  Read the Full Story here.... 
Three Friends - By  Shreemoyee Roy

"Breaking news!! Breaking news!! Bandhabnagar is in headline… " 
"Give me one" 
"No, First me." 
Fights broke out for buying newspapers that morning. Read the Full Story here... 
A Bond of Friendship - By  Sharmila Roy Ghosal 

We first met at a friend's reception. He was a MBA student and I had appeared for my B.A Finals in History.

Something about the quiet detached look he had about him, seemed so attractive. We talked about our likes and dislikes, places of interest and hobbies.  Read the Full Story here.... 
The New Girl - By Aakhya

Risha looked out through the window of her room. The new girl was there sitting in her garden, playing with god knew who. She kept on staring at her. There was no doubt that she wanted to befriend her, but she didn't know how to. Read the Full Story here....
When I am Free - By Ritu Sama 

"I want to go!!" – Tanya was loud this time, her lips slightly quivering with anger and her chin slightly raised in defence.

Her mother, Kanchan, was silent – a troubled and defeated look on her face. Read the Full Story here....
The WhatsApp Group - By Preethi Warrier

The cell phone beeped again and she rushed to read the WhatsApp message on her brand new smart phone. It took a while to unlock, her grandson had set a complicated pattern.. Read the Full Story here ...  
Friend in Need is a Friend Indeed - By Vaman Acharya

It was 5.30 in the evening and I was about to move for an evening walk. Suddenly, there was a roaring cloud in the sky and the rain was certain. Just five minutes back the sky was clear. Read the Full Story here... 
Story of Two Friends  - By Pavan Kumar
Once there lived two best friends, John and David, albeit antithesis in their personalities still gelled with each other like brothers.  Read the Full Story here....
Two Friends - By Sayantani Saha 
Two friends. Two different lives. One common thing- their friendship and the love they had for each other. Duro, belonged to the most rich and prestigious zamindar family of the village, whereas,Read the Full Story here... 

Good Friends – By  Geetika Sodhi Lohan 
Madhu Syal, 35 had joined the Import Export group as Head of Operations(All India) and was incorporated at the head office in Gurgaon. As scheduled, right in the first week of her joining she was introduced to the entire team and set of functions she was meant to head in the new term. Read the Full Story here...