A Beautiful Morning in Pichavaram
by Lakshmi Menon
(Bangalore, Karnataka, India)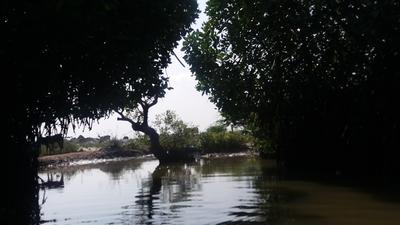 The weather was pleasant in the morning when we set out on our sojourn. From Chidambaram (Tamil Nadu), after visiting Thillai Nataraja Temple, we headed towards Pichavaram. Enjoying the scenic beauty on the way with the colorful villages and paddy fields, it took hardly 20-30 minutes drive to reach the coastal village called Pichavaram. A quaint estuarian village tucked away in mangrove forests in Chidambaram in the Cuddalore District of Tamil Nadu, Pichavaram is a beautiful destination to spend sometime with nature.


Pichavaram mangrove forest reserve is very dense and it is the second largest mangrove forest in the world. The backwaters joins the Bay of Bengal which is separated from merging into the Pichavaram settlement by a stretch of sandy creek land.
We reached there before 9 a.m. on a week day, thinking that there may not be many people. To our surprise, there were already a good number of people waiting for the tickets for the boat journey. There were both row boats and motor boats available. As we were only two, (my daughter and myself) we opted for a row boat.
Our journey in the backwater reminded me of our Kerala backwater trip we had years ago. Each trip has its own unique enjoyment.
First, the boat passed through the wider area of the lake and slowly reached the mangrove forest area. As the row boat passed in the backwater through the amazing network of trees spread across the islands, which was a compelling sight, our boatman told us that these trees have the unique root system and the whole area is spread to 3500 acres. He also told us enthusiastically the fascinating stories of the cinema scenes that have been shot along the waterways. In between, he alerted us that we may find a few birds of different types, in the forest, but we spotted a few cranes, crows, and mynahs only. They flew away before we could click them.
As we set off in the boat to see these sights it was another world where you see only green, blue, white and water. At times we also saw the silver hued fish jumping out of the water. The thickly populated mangrove trees are not very high, about 8 to 10 feet in height, and they are deeply rooted in the water. During our trip we also saw a lone fisherman catching fish in the backwater.
The Pichavaram mangroves are also believed to be among the healthiest mangroves in the world.
For adventure enthusiasts, other sport activities like kayaking, boating, fishing and canoeing, Pichavaram is a good place.
There is also a small telescope tower near the parking area with spiral steps, in the boating complex, but we didn't go inside.
If you are looking for a hidden beauty away from the crowds of common tourists, then Pichavaram, an echo-tourism spot, is for you.
***