A Fabulous Day at Edinburgh
by Lakshmi Menon
(Bangalore, India)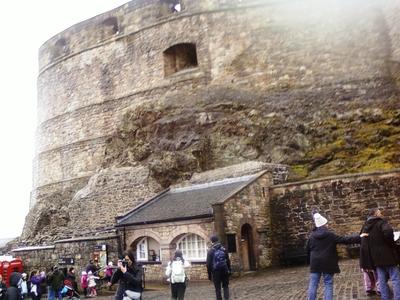 Edinburgh Castle
I look through the window of our holiday apartment, where we had booked our accommodation, and all I can see is the massive structure of Edinburgh Castle, which I had already seen at a distance during our way to the apartment. I eagerly await the time to reach there and explore it. The mighty Castle, which dominates the capital city's skyline, is situated on the East Coast, perched on the centuries old volcanic rock, in Edinburgh
.
Edinburgh is the capital city of Scotland and also the seat of Scottish Parliament. It is the iconic symbol of Scotland, and is a great tourist attraction of the UK. This popular paid attraction is visited by more than a million people every year. Edinburgh was voted European Destination of the Year at the World Travel
Awards 2012.
As you enter the amazing city of Edinburgh, you will be greeted by the marvelous medieval and reformation-era buildings with beautiful architecture.
The weather is not so pleasant, but when the opportunity knocks at your door you can't wait for the best weather. On the second day of our stay in Edinburgh, fighting with the cold - we set out wrapped in warm clothes - to have our breakfast in the nearby restaurant. Soon we move towards the Royal Mile to look around, followed by a visit to the Castle, which is steeped in history. Though the castle looks very near to you, we take a tourist bus to reach there, which is nestled very high. As I alight from the tourist bus I stand awestruck at the massive structure of the magnificent castle!!
We eagerly join the group of tourists and take our guided tour of the Castle.
One O'clock gun is very special there, and I look at my watch and realize that we are late by half-an hour. This takes place precisely at 13.00 hours every day except on Sundays since 1861. This was originally started as a time signal for the ships.
We visit the other important spots there such as the Great Hall, Scottish War Museums, Prisoners of War, the glittering Scottish Crown jewels, and the ancient St.Margaret's Chapel. I take a close look at the beautiful art work on the stained glass of the windows and roofs. Along with many other tourists, I too stand in front of the tiny room where Queen Mary, the most famous Scottish Monarch, gave birth to her son (1566).
Standing at the top floor of the castle, from different directions we look down and enjoy the stunning panoramic views of the land.
Before we leave, we get into a café in the Castle and after waiting for about thirty minutes, we grab some Scottish food. With tired limbs and a sense of content, we walk down the steps after spending a fabulous day at Edinburgh Castle, with the hope of exploring other interesting places during our week long stay there.