A visit to Madurai Meenakshi Temple
by Lakshmi Menon
(Bangalore, Karnataka, India)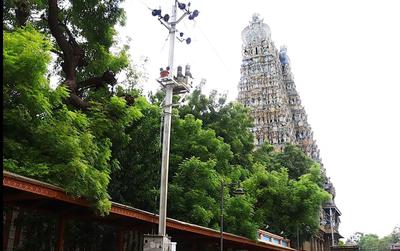 I was so amazed by the mesmerizing beauty of the ancient Madurai Meenakshi Temple and was lucky to have visited there three different years, and now I decided to write about it.
Madurai Meenakshi Temple Is located on the southern bank of the Vaigai River in the city of Madurai in Tamil Nadu.
Special features of the temple
• It is believed that the temple was built 2500 years ago.
• It is estimated that there are about 33,000 sculptures in the temple.
• Madurai is a city built around the temple.
• The temple is built in 15 acres with 14 towers that vary in number of floors.
• Each is rich in carvings from Mahabharatha.
• There are 4 Rajagopurams. South one is the largest having 52 meters, built by King Mahavarman Sundaran Pandiyan . The East gopuram is the oldest gopuram.
• It is one of the largest temple complexes of South India.
• Though it is a temple of Lord Shiva it is dedicated to Goddess Parvathi and more known as Meenakshi Temple.
• In the shrine, Meenakshi raised her right hand holding a lotus, on which sits a green parrot and her left hand hangs by her side.
• The temple is also adorned with several paintings of 17th century.
• Another main attraction here is the 1000 pillar mandapam built in 1569, but there are only 985 pillars.
• Another unique feature of this temple is that there are musical pillars in the temple which produce different music when tapped.
• In the 14th century , the temple was damaged by the Mugal rulers and it was closed for several years. Later it was rebuilt by Thirumala Nayak in 17th century and Vijayanagar emperors.
• Today this temple complex is the most prominent landmark in Madurai and attracts thousands of visitors a day. It is estimated that an average of 15 thousand pilgrims visit this temple every day, and during the festival time, at least 25 thousand pilgrims visit this temple each day.
• Queen Madurai Meenakshi was the first lady who ruled in India.
• The Temple has been adjudged best 'Swachh Iconic Place' in India as on 1 October 2017 under Swachh Bharat Abhiyan.
Darshan timings
4.30 am to 12 noon and from 4 to 9 pm.
How to enter the temple for darshan
Mobile and other electronic gadgets are not allowed inside the temple. Locker rooms are available at the entrance where mobiles and other bags can be deposited for a nominal charge.
Slippers should also be deposited in the slipper stand.
There are different type of darshan available here.
1. Free darshan, which usually has a very long queue.
2. 100 rupees darshan, with which the queue will be little less and you can see both the idols of Meenakshi and Sundaresan.
3. Rs.500 for VIP darshan. You can have all the darshans within a short time.
History of the temple
Once Lord Indra was passing through the Kadamba forest where he saw a Shivling and began to pray to get rid of his curse. That way a trader was passing and saw this who informed the king Kulasekar. The king immediately ordered to build a temple there and around which the city of Madurai was built. Later, King Kulasekar's son Mahavarman became the king, but he and his wife Kanchanamala didn't have any children.
They decided to do puthrakameshti yagna to get a son as their successor. A little girl of 3 years with 3 breasts came out of the yagna followed by a divine voice, that when the girl meets her future husband her 3rd breast will disappear, and wanted them to bring up the girl like a boy who will be ruling Madurai. The king and queen followed the instruction correctly and named her Thadadaki., but people called her affectionately as Meenakshi. Meenakshi means girl with fish-like eyes. She ruled Madurai and conquered many places and reached Mount Kailash. When Meenakshi met Lord Shiva there her 3rd breast disappeared instantly and she realized that he is going to be her future husband. As per her wish, Shiva came to meet her parents as Sundaresan and expressed his desire to marry Meenakshi.
Their marriage was conducted as the most beautiful marriage in the world with the presence of all the gods and goddesses from the heaven and people from earth. Lord Mahavishnu did his duty as a brother handing over Meenakshi's hand to Sundaresan in the marriage. Meenakshi and Sundareswar together ruled Madurai for many years. Hence the shrines of both Lord Shiva as Sundaresan and Goddess Parvathi as Meenakshi were installed in this temple, both facing east, but Meenakshi is given more importance here and the temple is known in the name of Madurai Meenakshi temple.
Festivals
Chithirai utsavam (Thirukalyanam) which comes in April-May. It is the annual celebration of the marriage of Meenakshi and Sundaresan. The celebration lasts for 10 days.
How to reach here
The temple complex is well connected with road network. Madurai has an airport and railway station. Chennai is 460 kms away.
*****