Deepavali
by Nuggehalli Pankaja
(Bangalore, Karnataka, India)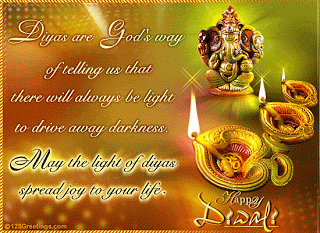 Come Deepavali, our dear appa's presence is felt through corridors of memory,beaming that special affectionate smile laden with the power of lighting thousand candles in our hearts. Deepavali being his birthday, amma would bustle about like a young girl,attending to his oil bath, festive breakfast etc. We children would be woken up much earlier, say, in Brhama mohurta(when the devas are supposed to fly out and bless us mortals.)It was a wonderful sight to view the 'bacchalumane' as the bathing room used to be called.(Yes,it was a special room,apart from toilet). Brass Handes(Huge brass vessels used for bathing purpose)copper chombus used for pouring water, all shining brightly,having been scrubbed with tamarind the previous night, and adorned with rangol and flowers. 'Neeru tumbuva habba' it was called, and the water therein treated as the sacred Ganga.
There being no boiler in those days,a huge cauldron would be set tight in cement over an open fuel-hearth, providing hot water to the household whenever they needed it. Everyone had to take oil bath on Deepavali dawn; Amma would personally attend to all of us after administering sacred stotras about Gange, Yamune, Kaveri, Narmada, Godavari,and anointing our forehead with oil through gunju. (tuft at end of coconut),or flower. It was the belief of elders that all the sacred rivers would flow through the water of the particular muhoortam on that day.. Elaborate treatment of genuine gingelly oil-shigekayi (special soapnut powder) following drying of hair-no, no hairdryer, but over bamboo basket kept over red hot coal treated with saamraani(scent of yore).
It being our appa's birthday, we would all do aarati to him after offering puja to our household Gods. He would drop a rupee for each in the aarati–plate; A princely sum in those days! Usually, we would go to morning show, that being the time to show off our best clothes! No,no Pattaki-firing at home; elders didn't encourage it for various reasons.
Most memorable part of Deepavali was the Lakshmi puje done in the evening. Maid would bring out the huge basket containing the numerous 'Hanates, (mud-cups used like mini lamps) from the storeroom, fill each with oil, help us to dip cotton-wicks into it, and arrange in a row on the compound walls. Lighted at twilight,it would give the appearance of a mini Mysore Palace to the houses,for all houses in the area and around would be lighted likewise, in accordance with the tradition. Big antique brass lamps of all sizes-shapes, would also be lighted in God's room-gold ornaments would adorn the Devi, silver coins-- new clothes-new jewels, spread at her feet and worshipped; It is the general belief that gold etc would accumulate if purchased on that day, so shops have a merry time.
Elders were very particular about 'Lighting many many deepas' on that day,and would tell us the wonderful story of Goddess Lakshmi coming down from the sky, and entering the most brightly-lit house first, and how money would then simply flow in like water! We children would particularly like that part and go over it again and again..
When I tried telling the legend to a five-year old recently, she immediately exclaimed— "You mean Sunita Williams"?