Custom Search
Education Matters III
Short Story by Pushpa Raghuram
"The old order changeth place yielding place to new…." the quote by Lord Tennyson was reflective of what Janaki experienced at every stage of her life. She observed many changes in her adolescence, during the mid-20th century ie. Post Independent India. Education was becoming more and more accessible to women. In towns, in small and big cities, Mahila Vidyalayas, Girls' high schools and Women's colleges were established every other year. Parents were educating their daughters too. The pattern of education, syllabi and the examinations were all undergoing rapid changes.
Her batch was the last one to write the Public Examination, L.S., (Lower Secondary school final) to go over to higher secondary school. 
Janaki's was the first batch to start college education by doing a one year pre-university course, before entering college to do a degree course. 
After three years in "Maharanis College Bangalore", Janaki was a "Bachelor of Science", even though she was a 'spinster' (pun intended). She had to travel to Mysore to get her certificate, had to hire a black coat and a special hat to participate in the convocation function in Crawford Hall.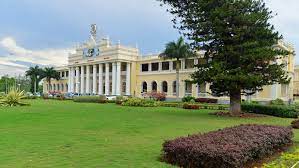 Crawford Hall, Mysore
Her batch from Bangalore was the last one to attend the convocation held in that prestigious Hall. Janaki was sitting in the last row and was craning her neck to see what was happening on stage. Students who were sitting in the front rows were called to receive the Gold or Silver Medals from the distinguished guests for their academic excellence in the presence of, Sri Jayachamrajendra Wadiyar, the then Chancellor of Mysore University.
Sri Jayachamrajendra Wadiyar (1919-1974)
Who did not admire him for his Royal countenance and the yeoman services he rendered for the improvement of the society! Sri Jayachamarajendra Polytechnic College (SJP) was established in the year 1943 itself, under the aegis of the Wodeyar, for boys to undergo vocational training in various branches, while the Govt. Polytechnic for Women only opened in the year 1961. 
Her batch was again the first one in that. She became a student of Library Science. She enjoyed her pre-apprenticeship in the State Central Library located in the Airconditioned city Banglore, a nickname that was prevalent at the time.
State Central Library, Cubbon Park
This was built in honour of Sir K. Sheshadri Iyer, who was Dewan of Mysore from 1883-1901.
Mr. Iyer was born in Palghat in June 1845 and died in Mysore during September 1901. This building constructed entirely in red brick and mortar is even now a centre of attraction for many visitors. 
Her post-apprenticeship was in the IISc Library, accessible to elite students of the country pursuing higher education in science, engineering, design and management in the institution.
Indian Institute of Science was the brain child of Jamsetji Nusserwanji Tata, a businessman and a philanthropist established in the year 1909 on 371 acres of land donated by the Mysore Durbar. 
Sri J.D. Tata
Janaki was happy to go to this prestigious library, even as an apprentice, to order the scientific books and magazines, take stock, classify and catalogue them. The charging desk was in the centre of the library, for students to borrow or return the documents. The small talk amongst the students coming there was about their destinations for further studies: Harvard, Cambridge, Oxford etc. Janaki, having only lived in India, had to use the World Encyclopaedia to locate where these prestigious universities were. The conducive environment for learning here, motivated her to learn more even after she completed her training.  
That desire of hers led her to Max-Mueller Bhavan. She came to know there that Mr. Max Mueller being in Oxford, had translated the Rigveda and had given a series of lectures in Cambridge, now compiled into the book "India, what can it teach us" (1882).  Indologists had already become popular in the late 19th century; with many such as Wolfgang von Goethe who was enthralled by Kalidasa's Shakuntala and were attracted by Indian mythology and religious thought. She then went on to putting her heart and soul into learning the German language.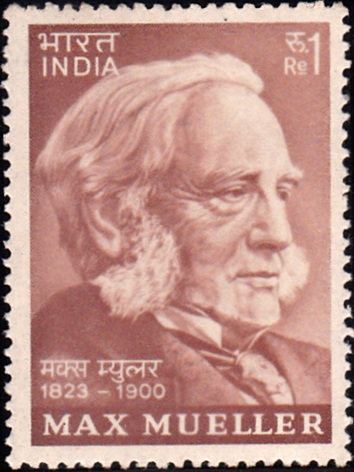 Armed with the diploma in Library science, the Diploma in German and the one- year contract in TIB, Hannover she could set foot in Mueller's and Goethe's vaterland, the country she had only seen in her textbooks. She travelled in and around Germany during weekends and holidays, and used her first salary to purchase a Voigtlaender Camera with Skoparlens to capture places of interest. She started seeing her life's journey through a wide-angle lens. Her horizon was slowly widening in her short stay in Germany.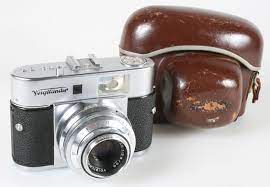 Voigtlaender Camera
Back in her motherland Janaki stepped in to her second phase of life. Changes awaited her as she, Miss Janaki became Mrs. Ram. Years rolled by. Janaki and Ram became proud parents of two daughters, Vyjayanthi and Vanamala. They sprinkled not only spice to their lives but also brought lot of changes in their routine. Every milestone of their journey was captured in the German camera. 
Janaki's focus was now on her daughters' education. Both of them went to established Montessori schools; both Vyjayanti and Vanamala went to the well-known valley school of Jiddu Krishnamurthy and Sri Kumaran Children's Home. For University, Vyjayanti went to the NMKRV Women's Institution, while Vanamala went to the newly founded "Mahaveer Jain College" in the now "garden city" Bangalore.
Both of them were now adolescents. Peer influence was playing a bigger role in developing their personalities and choosing the subjects of their interests at the university level. Vyjayanthi chose Women's studies and Journalism while Vanamala took up Personnel and Business Management—both of which were new domains of study for women in the 1990s.
Another decade rolled by. Both of them had taken up art to their heart. The quest for art took them to opposite directions.  While Vyjayanthi sought Syracuse University to do her Master's degree and moved to the USA with her soulmate, Vanamala engaged herself in theatre and the small screen and completed courses in photography and videography. Both of them decided to further their studies in art: Vyjayanti did a course in Fine Arts at the Slade school of Art in London, and Vanamala did a master's degree in Lasalle College of the Arts in Singapore.
The quote "East is East and West is West and never the twain shall meet." was an out-dated one, thought Janaki. It was the first line of the poem "The Ballad of East and West" penned by Rudyard Kipling, a noble laureate in Literature in the year 1907.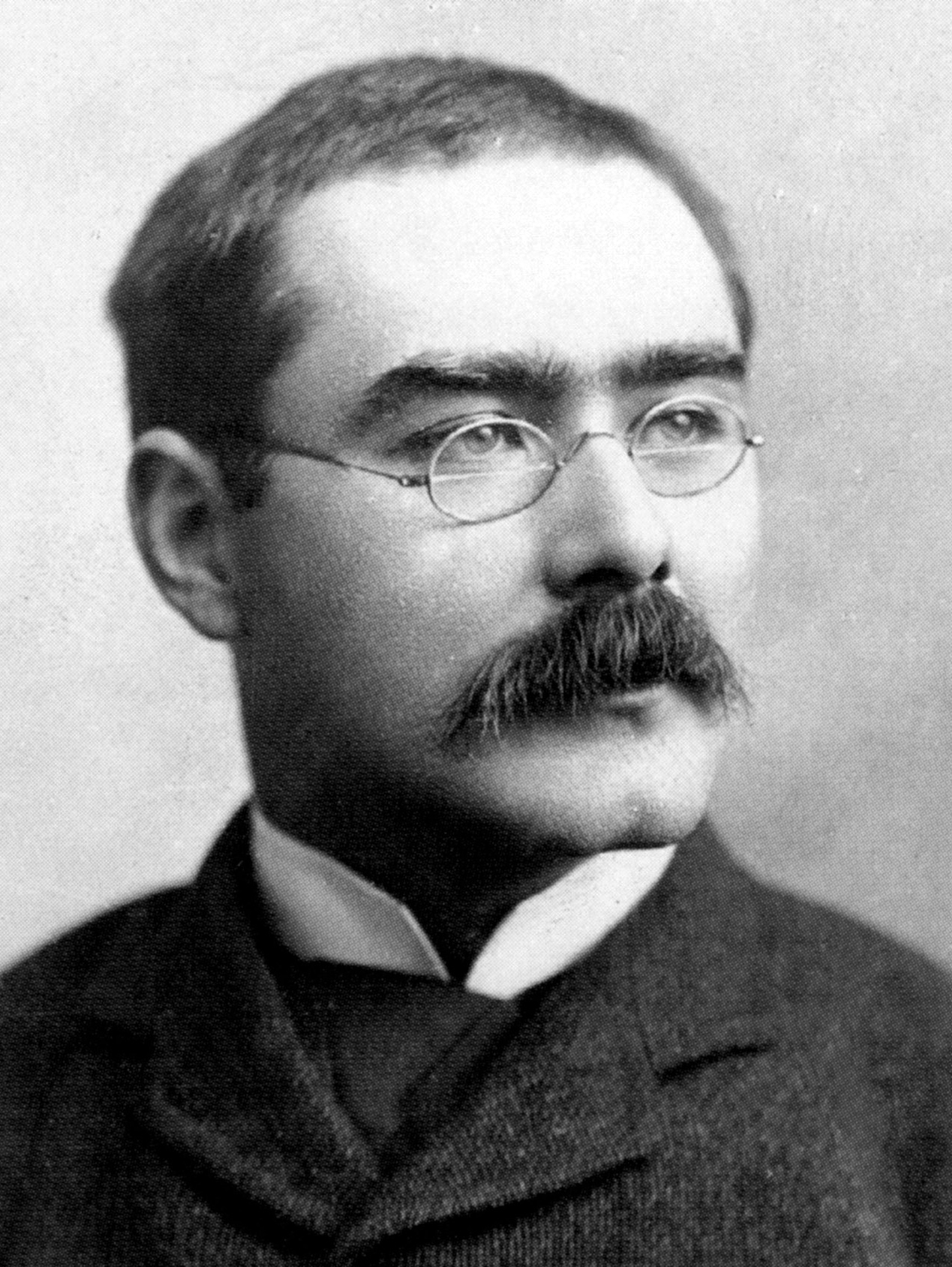 Rudyard Kipling (1865-1936)
Janaki continued to live in the now "silicon city of India", Bangalore. However, she encouraged her children to go to far off countries for further studies. They started their own journey in the vast wide world.  Janaki was observing the rapid changes in the pattern of education of her family and friends, while developing her career in her hometown.
The 20th century soon ended, ushering in the Millennium. Janaki got a chance to visit "the land of opportunity" for the first time. She could now surf on Google the states she was visiting, without having to turn to the World Encyclopaedia. While on sight-seeing tours with Vyjayanthi and Vanamala, they captured the photos in their new cameras. They had attended courses and workshops in photography, and to Janaki's surprise their lenses were wider and detachable too.
The short story continues here ...