Custom Search
Education Matters
Short Story by Pushpa Raghuram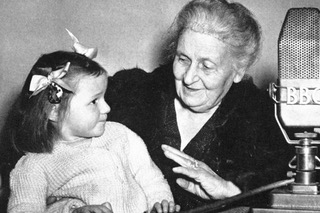 Maria Montosseri (1870-1952)

J. Krishnamurti (1895-1986)
 It is what a freedom fighter of pre-independent India thought and believed during the 1940s and thereafter. He not only preached this dictum but also practiced it with a 'come what may' attitude. He intended to educate his half a dozen off springs. It was not smooth sailing though, as he had to uproot himself during the neo post-independent period from a small town to a big city without any godfather residing there to welcome him with open arms. He however, had his mission clear and right.
Janaki was the last, but not the least, who benefitted from his mantras and dreams. She was admitted to a primary school called 'Makkala Mantapa' run by one Mr. Rao, who practiced simple living and high thinking. Her middle school education was in Mithabai Patel School, a corporation school, which had only up to L.S. (lower secondary school— one had to pay Rs.5/- for the entrance exam). Her higher secondary education was elsewhere. Those days primary, middle and secondary schools were often not under one roof. If schools were blessed with roofs at all, they might not have been of concrete. The thatched/tiled roofs generously let Sun and Rain inside the premises, without any fees. Her college education was in the one and only established women's college of the city. It was not the name or the fame of the institution that mattered—but the education itself. Of course, their distance from home and the fees they charged helped decide the institution that Janaki would be attending. Her father however, ensured that the medium of instruction was English for all his children.
Janaki enjoyed going to school. The school and college day celebrations were unforgettable events for her, in which she bagged prizes. When she was in her third year of schooling, Kuvempu's poem 'Bommana halliya Kindarijogi' a Kannada adaptation of the English Poem 'Pied Piper of Hamelin' had become her favourite piece. In school, there were many Inter school 'Story telling competitions' (especially the moral stories) in the regional language. At college, there were recitation contests in English. Janaki's favourite piece was Portia's arguments in "Merchant of Venice" written by Shakespeare. She was very much impressed by Portia, who had the mental strength to effectively counter Shylock by highlighting the sanctity of 'the quality of mercy', arguing in the guise of a man. 
A couple of decades later, Janaki got a chance to tour Germany and England. She enjoyed visiting Hamelin, a small place on the bank of river Weser in Brunswick, Germany as well as Stratford-upon-Avon, the Birthplace of Shakespeare.
Janaki considered herself blessed, she could now tick the 'graduate' box in any survey after 15 years of education. This was the first phase of her life and she had moved on to the second. She became a career woman, she found her life partner, and in the following years became a mother of two children. Her education had widened her horizon. She carried with her the dictum of her father, reinforcing the same with her own dreams and views. During the passage of time, the city had become the Capital of the state, forging ahead in many fields-- including education. It boasted of many schools with modern buildings equipped with numerous facilities and nice grounds. Janaki had many options; still, her thoughts flew westwards. She had collected lots of information about western education and was curious to explore options for her children.
She had heard about an Italian educator Maria Montessori. Maria's model emphasized that children ought to enjoy independence within limits in the learning area. The Montessori Schools had developed certain 'discovery models' for children to learn concepts. Cane culture in the children's classrooms was a taboo. Misuse of scales for punishing the children for their shortcomings was out of the question. Such special features impressed Janaki immensely. 
She learnt about Waldorf education, also known as Steiner education. Mr. Rudolf Steiner was an Austrian philosopher, who had a humanistic approach to pedagogy. He said if learners adapted his model, they cultivate a lifelong love for learning. The authoritarian approach of teaching was not entertained in his model classrooms and his educational philosophy provided pupils with the opportunity to ask freely and act freely; however, they had to take moral responsibility for their doings. The Waldorf school brochure added that their teachers offer holistic science of education and transform it in to an art that educates the whole child- the heart, the hands, as well as the head. Janaki fell head over heels for this model.
 When she was weighing these western models, her peers introduced her to Jiddu (JK)'s philosophy of learning. She travelled all the way to Madan Palle to listen to his lectures and participate in interactive sessions. His mission was to set children absolutely and unconditionally free from comparisons and competitions. He spoke passionately about his model of education, which would give children the confidence to face life and move on, without carrying the baggage of fear, sorrow or violence with them. His pupils would think beyond caste, creed and religion and could adapt themselves anywhere in the world. WOW! That would be awesome if her children achieved that.
Janaki came back from Madan Palle-- the information she had collected hitherto in the field of children's education was overwhelming and she was nonplussed. She went to her better half with all these models asking him to decide the best one for their children. He heard her patiently. He said he liked all the models equally; but what mattered for him the most was that apart from their achieving academic excellence, they become good human beings. Having made the statement he left her to her thoughts and decisions.
Ultimately their children got into schools/colleges, which had adapted or upheld Maria's, Steiner's, and JK's philosophy of education in some class or other. Distance from home to these institutions did not matter. The cost of fees had to be reckoned with in preference to luxuries or other expenses.
The education in these carefully chosen schools and colleges paved the way for their future. With all her experience Janaki had gathered during the last two decades, she had gone one step ahead of her father. She had perceived that pedagogy matters too, to educate her children better. In the years to follow, the children completed their education and became responsible adults. They had inculcated in their personalities, a bit of Maria's independence and a lot of love for learning like Steiner intended. JK's thinking had rubbed on them too, and they could adopt themselves in the West or the East, without any problems. 
The Short story continues here....