Custom Search
A Pedestrian on a Highway
By Gayathri Devi Dutt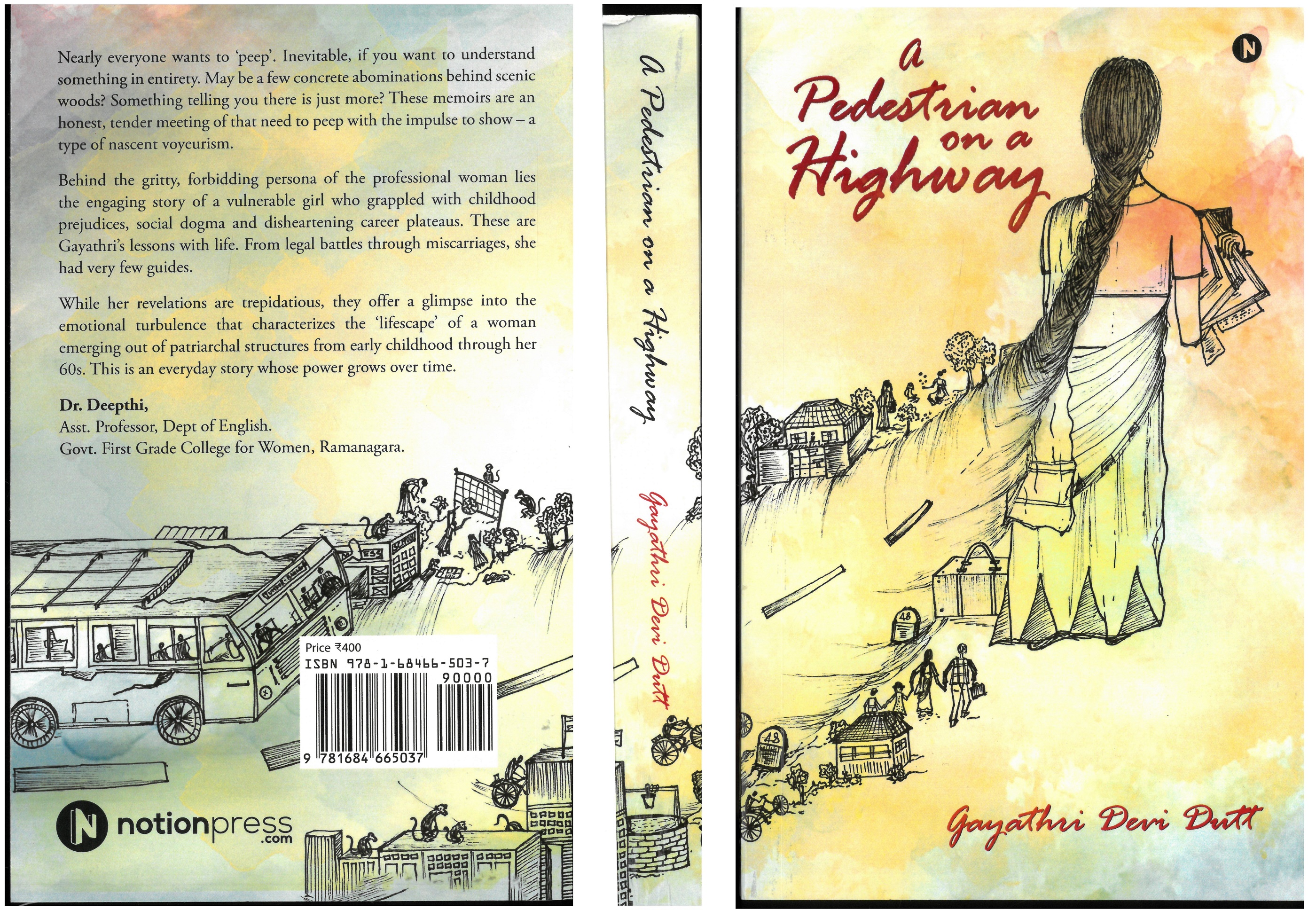 Blurb

Nearly everyone wants to 'peep'. Inevitable, if you want to understand something in entirety. May be a few concrete abominations behind scenic woods? Something telling you there is just more? These memoirs are an honest, tender meeting of that need to peep with the impulse to show - a type of nascent voyeurism.
Behind the gritty, forbidding persona of the professional woman lies the engaging story of a vulnerable girl who grappled with childhood prejudices, social dogma and disheartening career plateaus. These are Gayathri's lessons with life. From legal battles through miscarriages, she had very few guides.

While her revelations are trepidatious, they offer a glimpse into the emotional turbulence that characterizes the 'lifescape' of a woman emerging out of patriarchal structures from early childhood through her 60s. This is an everyday story whose power grows over time.

Dr Deepthi, Asst Professor.Dept of English. Govt First Grade college for women. Ramanagara.

About the Author: Gayathri Devi Dutt
Educationist, Gender and Development visionary, Wife, Mother, Grandmother
Gayathri hails from a typical Indian army family. She had the joy of calling multiple cities home, and the displeasure of not having a single place to call her native. 

Educated and qualified to be an educationist, she started her career as a teacher, and went on to become the principal of her alma mater before joining the education department to take on the administrative aspects. She then went on to head the department. 
Through this time Girl Child Empowerment became her motto though she did not consider herself a true feminist. She engulfed feminism and this saw a crystal clear reflection in her administration and academic ventures. Undeniably, a visionary in this regard leaving behind a legacy of innovation.

She spent the last few years of her career heading the Regional Institute of English for South India where she designed resources for ELT training and developed an outreach program strategy.
Today Gayathri lives in Bangalore with her husband, also an educationist, her grandson, her children who she describes as global citizens, her dog who she calls her tail and surrounded by her garden and books which she refers to as everlasting companions and teachers.

You can get your copy at Amazon .