Custom Search
Hogenakal Trip

A Travelogue By Lakshmi Menon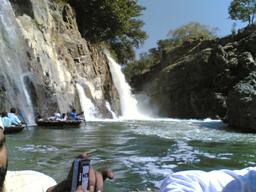 Our Hogenakal trip, which took place a few years back, is still fresh in my memory.
In one of our weekends in the office, some of us planned a visit to Hogenakal in Tamil Nadu-Karnataka border, on the River Cauvery (Kaveri) in the Dharmapuri District of Tamil Nadu. The main attraction to see there was the mighty Hogenekal Falls.
One of our friends mentioned that Hogenekal is nicknamed as Niagara of India, which made others get more excited to reach there. In Kannada language, Hoganekal means "Smokey Rock".
We booked a mini bus for our travel, and decided to leave by 7 a.m. But finally we were able to leave only by 7.45 a.m. after collecting all the members who came from different parts of Bangalore. We were about 25 in number, and decided to pick up our food packets on the way from a hotel. We had made an order on the previous day for 25 plates of Idli and vada for breakfast, and 25 packets of vegetable pulav for lunch. We were told that no decent hotels are available nearby for food, and it is advisable to carry our own food. Otherwise, we have to come to Dharmapuri, which is about 40-45 kms away from there. Hence, without wasting time there we could easily pick up our food packets and continue our journey. We had carried few flasks with us to fill tea and coffee, as per our requirement.
We enjoyed our journey in the bus, by singing "Anthakshari " in Hindi as well as in other local languages, thus making every member participate in the fun. At about 9.45 a.m. we stopped our vehicle and had our breakfast. Since it was individually packed, it was easy to distribute and resume our journey, more energized. The road was excellent, and on the way, we stopped once again at Dharmapuri, and finally reached Hogenekal, after travelling about 140 kms. The last 5 kms of road to Hogenekal was filled with beautiful scenery on both sides.
As soon as we reached there, all of us were highly excited to get into the spot, but we decided to have our lunch there first, and then to proceed.
We were told that we need to rent the circular coracle (they are called parisals locally) to reach the waterfalls, as there was no other land access to reach there. A parisal has a bamboo frame covered with plastic and the bottom is tarred, to make it water proof, and more over it is very light and we may even think whether it is strong enough to carry few people safely. It is a totally indigenous stuff, and according to our boatman, the shape and features of these parisals have not changed over thousands of years! During our chat, he was proud to say that these type of boats are available only in the southern region of India, and not seen in the other areas.
We were asked to pay Rs.300/- per head, but later came down to 500 per boat, after a solid bargain by one of our members, who was familiar with these types of bargains.
The ride in the parisal was real fun. I watched the boatman's stunt rotating the parisal in good speed, with some apprehension, but others seemed to be enjoying every bit of it. It was indeed an exhilarating experience. After some time, he stopped the parisal, and asked us to walk on the rocks. When we looked back, we noticed our friends were also following us in their parisals. We reached a misty waterfall, and stood there watching and enjoying its enchanting beauty.
We gazed at the water gushing out at a great speed and the lashing sound of the rocks, with great excitement. A thrilling experience! Then we were taken to a point where one side was mighty waterfalls and the other side was a beautiful beach. The boatman took us through the waterfalls route, rotating the parisal with great skill, while we had to balance well in the boat. I saw fear peeping onto the faces of some of my friends, but soon it vanished by others' encouraging and supporting words, and fear was soon replaced by excitement and joy. I was shocked to see some kids jumping down from the cliffs, and some youngsters in our group too wanted to follow them, but their idea was soon dispensed by our team leader.
These local boys jumped from these high cliffs to the deep water, risking their own life, just to earn a paltry sum of Rs.5/- and 10/- from the tourists. The next moment they surface the water and come to collect the fee, with glee.
The boatman moved towards the beach and stopped for a break. Few women were there selling fried fish, and some of our friends bought the freshly fried fish. Fish is the staple food of this place.
The waters coming to the Hogenakal Falls pass through dense forests which are filled with herbal plants, and hence it is considered of having medicinal value to bathe in. These falls are made with waters of Cauvery River, and flow through the silent valley. There are a series of falls, both big and small. The majority of waterfalls are on the first section and the second section is a gorge that forms the downstream of all the waterfalls. As we moved further in the parisal, we saw the spectacular granite rocks on both sides, measuring about 15 to 20 meters high. Some of the granite rocks were white, and some others blackish in color.
Many enjoy an ayurvedic oil massage there, which is very famous and available for a reasonable fee. Some of our friends too had their own share of joy by getting the oil massage. We were eager to return before dark, but some members insisted to stay for some more time to enjoy the lovely sunset at Hogenekal Falls. On our return, each one of us felt it was worth each and every penny we spent for our Hogenakal trip purpose and wondered how Mother Earth has blessed this land lavishly with such astounding beauty.
*****