Custom Search
Long Ago
A Short Story By Safia Rehman, India
It was a warm summer afternoon . When the train from Cochin  reached the Tirur railway station, Sumaya and Sabah got up from their seats and took out their luggage .
''It's quite hot, '' said Sabah  shifting her burkha shawl from one side to another. ''Thank God, I wore a cotton shawl. ''
She jumped  down from the train and called the porter at the same time. Sumaya too jumped down and landed on the pavement.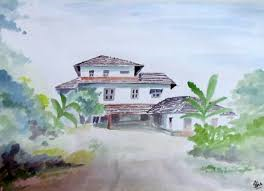 The Porter took their bags and they started walking towards the exit.
''Oh God! The heat! 'Sabah cried loud.
Sumaya too was feeling hot but she did not say anything.
They took a cab and instructed the driver to their Aunt's place.
''Aunt sounded very happy that we were coming,'' said Sabah turning towards Sumaya.
"You know, Mom called me so many times to convince you not to go over there' 'Sabah continued.
''Yeah, she called me too. I told her I'm  not a teenager anymore and she doesn't have to worry about me,''Sumaya said with a smile.
Tirur was their ancestral village. Their parents were born there and it was their birth place too. They were brought up in Mumbai and visited the village only during their summer holidays.

Sumaya's childhood memories of Tirur were  vague. Towards the teens, her stays in Tirur were accompanied with a sort of restlessness, which soon would turn into gloominess.
At first she thought, she was feeling miserably bored, yet she had started feeling an intense attachment to her village too. She would eagerly look forward to her trips over there, yet would end up depressed once she landed in.
Her family soon  noticed her strange behaviour which they initially dismissed,   but  one  evening, Sumaya was found unconscious far away from the house. She wasn't able to explain how she had reached there and her parents never took her to Tirur after that incident.
Now six years later she was back again, to find out what had happened to her that evening. And there was another reason for her trip. Off late, she was having  these disturbing  dreams.
In the dream, two girls wearing Traditional Kerala attire, with long braided hairs with flowers on them, were running about in the veranda of a traditional Kerala house.
Sumaya would wake up with sweat after such dreams. Whose house was that? Who were the girls? She knew the dream was connected to Tirur, a place which held many mysteries for her. So,  one day she called her sister Sabah and asked her  to accompany her to Tirur. And two weeks later ,they both boarded a flight to Cochin from Mumbai, where they lived and took a train from Cochin  bound to Tirur.
The car stopped at their ancestral house.
''Assalamualikum. Come in . So nice to have you both.' Their aunt hugged them both in joy.
They both soon joined their aunt in her drawing room, where she gave them  a cool coconut drink.
''When will Uncle return?" Sabah asked sitting in the sofa after removing her burkha.
Sumaya too removed her burkha and sat under the fan.
''This year it's pretty hot, isn't it?" Sabah said.
''Yes, it is. Uncle will reach in a day or two. Till then we can catch up. I haven't seen you both for so long. Sumaya,  I hope you will be fine . Your previous trips used to make you sick. May be the climate here never suited you as you are used to the city life ,'' said Aunt  gazing at her, worried.
Sumaya remained quite. She knew her aunt was just trying to take out a rational explanation for the incidents of the past and she noticed her  looking nervous.
''Aunt, shall I go inside and bathe and pray? 'Sumaya  asked.
''Yes, do that. Your rooms are made ready upstairs. Come down soon, I have made your favourite dishes,'said Aunt with a smile.
Sabah sat along chatting with aunt.
** 
Later, after lunch, the three of them caught up with each other's life. In the evening, some of the neighbour's dropped in to visit the sisters.
That night, when they both lay in bed, Sumaya said,  ''Tomorrow morning, we will drive around. Okay?"
''Hey okay with me, but you don't faint like last time' 'Sabah teased her sister.
''Last time I was alone," said Sumaya  remembering that fateful evening, six years back.
She was sitting in the veranda of the ancestral house reading a book. The rest of the family was taking their afternoon siesta.
All of a sudden, she closed her book and looked around, and got engrossed in a deep thinking.
'Why do I feel like home in this place which is so far away from my real home?"She began to wonder.
''Everything around, the houses, roads, trees  give me a sense of peace," She thought.
She then heard the loud sound of temple bells, and turned around to look from where it was coming. The sound of bells grew louder, and she felt it was coming from somewhere nearer.  She got up from her chair and started walking towards  the sound. She walked out of the house and  continued walking and walking, on the long kuccha roads, amidst the trees and houses. She then suddenly turned and saw something and fainted.
Sumaya didn't remember what or who was it she saw. Some passer-by recognized her and carried her back to her house.
I will have to see if I can find that place again, she thought.
** 
The next three days, Sumaya and Sana would take the car and roam around Tirur.
''Sumaya wanted to  look at  the old houses," Sabah said her aunt.
''Oh, you city folks are the only one who appreciate these ruins. Whereas people here can't wait to leave such houses and live in a modern home," Her Aunt said with a smile.
They bid good bye and went.
They drove around looking for old  traditional houses. When they spotted some, they would go and have a look inside it, take pictures and speak to its owners. Sumaya remained quiet and to herself during these visits.
''So,  are you satisfied?''Sabah asked getting in the car after visiting another one.
''Yes, '' Sumaya replied, thinking there was one trip which  she had to make all by  herself.
Just then Sabah's cell phone rang.
''Hi Mom! Yes we are fine .Just looking around. Yes, she is fine, don't worry we will back soon, ''Sabah said and kept the phone.
Sabah looked at  her sister, who was looking out of the window in the car.
''Sumaya, why do you suddenly become so quiet and serious? It really creeps me out and like mom said I feel like taking you  away from here soon' '
Her happy go lucky sister had suddenly became so quite after reaching Tirur. It made her think whether everyone's worries were real.
"It's just this place Leaves a calming effect on me. Doesn't it for you?' 'Sumaya  asked , trying to give a vague explanation.
''Well, it sure does, but.... ''-Sabah said.
''Let's go home. Aunt will be waiting for us," 'Sumaya interrupted her.