Lost Words...
by Isabel Cecilia Pascual
(Manila, Philippines)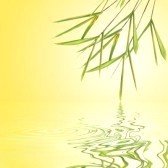 Do I think of thee?
Or it's just the falling rain that reminds me of you
And of days long gone
Is it the falling rain?
Or it's just my tears rolling, flowing
continuously
Like the sudden beating of my heart?
Was it the sudden roar of the thunder that I hear?
Or my heart that I once offered you
The same heart that I carry within me
Encaged within this mortal form that I am now
A reflection I can not recognize
Or was it the wan and pale cheeks
Was it the shaded look in my eyes?
Or the secret longing gaze
And the sad drooping of the corner of my lips
My memories of you lay scattered along the lanes
Like those fallen autumn leaves drifting...
Where we used to walk under the moonlit sky
Those were the nights we used to share
When we can only hear the singing of the cicadas
Enveloped in the darkness except for occasional radiance from Venus.
Those were just bits and pieces of the past
Like those faded photographs kept somewhere in the attic
Covered with cobwebs and layers of dust
No, I do not want to remember at all
It's just the falling rain that keeps falling from the sky
Or was it just my tears?
No, I don not want my heart to beat again
I'll just lay here beneath the barren branches
As the sky turns dark and bleak
I shall wait for the last drop of rain to fall
Then whisper these *words* once more
As I close my eyes at last!
The End