Custom Search
 Mantralayam, abode of  Guru Raghavendra Swami
By Lakshmi Menon, Bangalore
Mantralayam is a famous pilgrimage village in Kurnool dist of Andhra Pradesh. Brindavan of Sri Raghavendra Swami is the main pilgrim centre here located on the banks of River Thungabhadra. It is the abode of Saint Raghavendra Swami.
I had been to Mantralayam recently. Please see the video.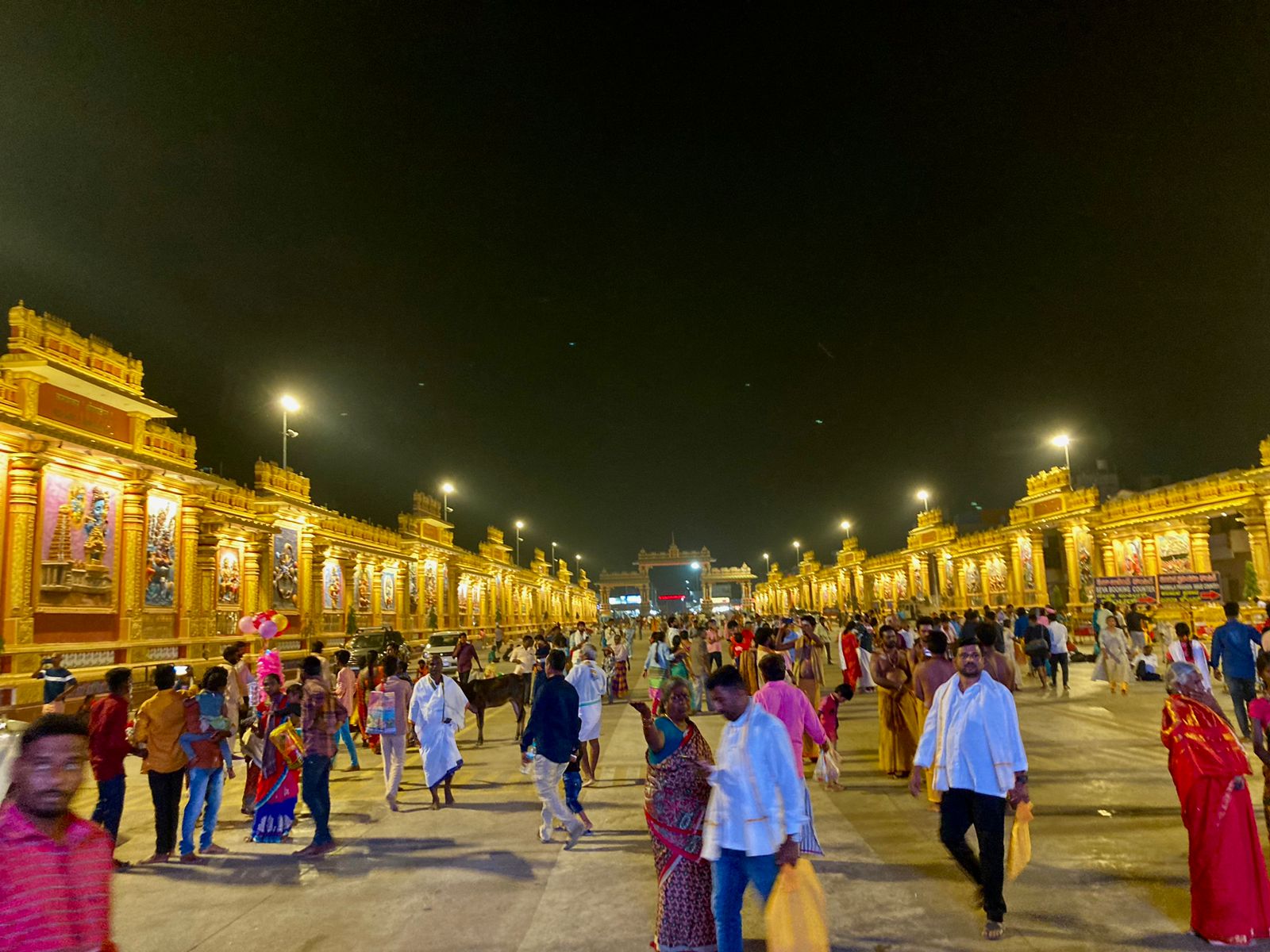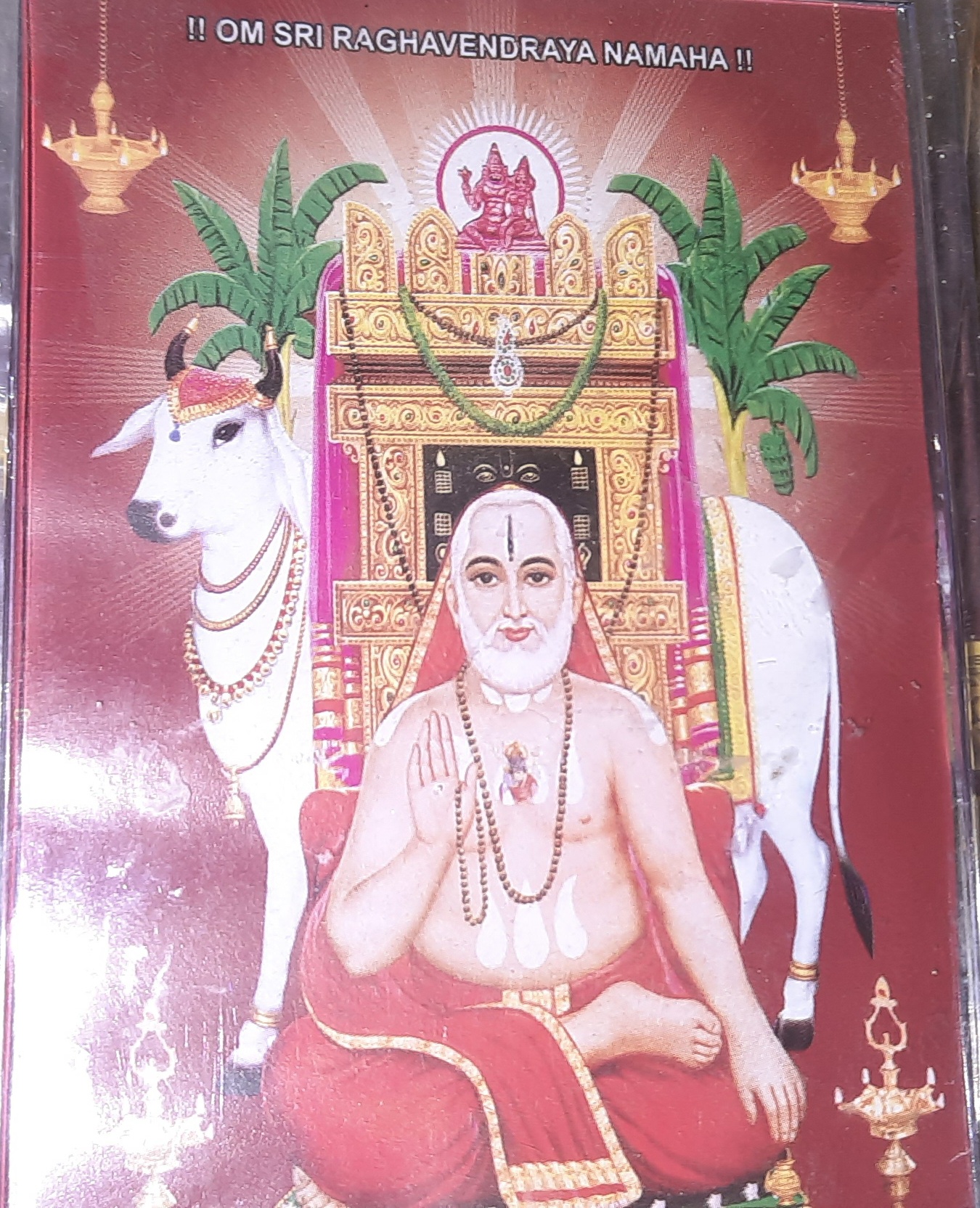 Om Sri Raghavendraya Namaha
History -
Sri Raghavendra Swami was a Hindu saint of 16th century. He was also  a brilliant scholar and a skilled musician . He is also known as Guru Rayara and Rayaru.  He was born in 1595 at Kumbakonam and his parents had named him Venkatanatha. Later he became saint  Sri Raghavendra Swami and attained jeevan Samadhi live in front of his disciples in his Brindavana at Mantralaya in 1671.
From early days of his life, Venkatanatha was highly interested in learning Vedas and Upanishads and Sri Sudheendra Teertha was his guru.  Before becoming a saint, Venkatanatha was already married to Saraswati and had a son. His guru wanted to make him his successor, but Venkatanatha didn't want to accept the offer as he had his family responsibilities.
One night Lord Rama appeared in his dream and asked him to become a saint. When he was reluctant he had another dream where Goddess Saraswathi appeared to him and said that Venkatanatha is the incarnation of Prabhlad (an ardent devotee of Lord Vishnum who was saved by Lord Vishnu appearing in the form of Narasimha), and hence he has to accept sanyasam for the sake of universal goodness, later other deities also blessed him for the same. Soon Venkatanatha decided to follow his dream and had his coronation of sainthood. His Guru renamed Venkatanatha as Sri Raghavendra Teertha in 1621 following which he became the head of the Mutt. He also wrote several divine texts in praise of the deities. With his divine powers, he healed many of his devotees miraculously and his fame grew widely.
Later, in the year 1671, he decided to give up his physical body voluntarily and attained jeevan Samadhi in a seated posture,on the predecided time. His disciples built a stone tomb around and above him and this is worshipped as the Brindavan, the final resting place of  Sri Raghavendra Swamy.
The teachings of this great saint are based on the Vaishnava cult, Dvaita philosophy and preaching of Madhvacharya.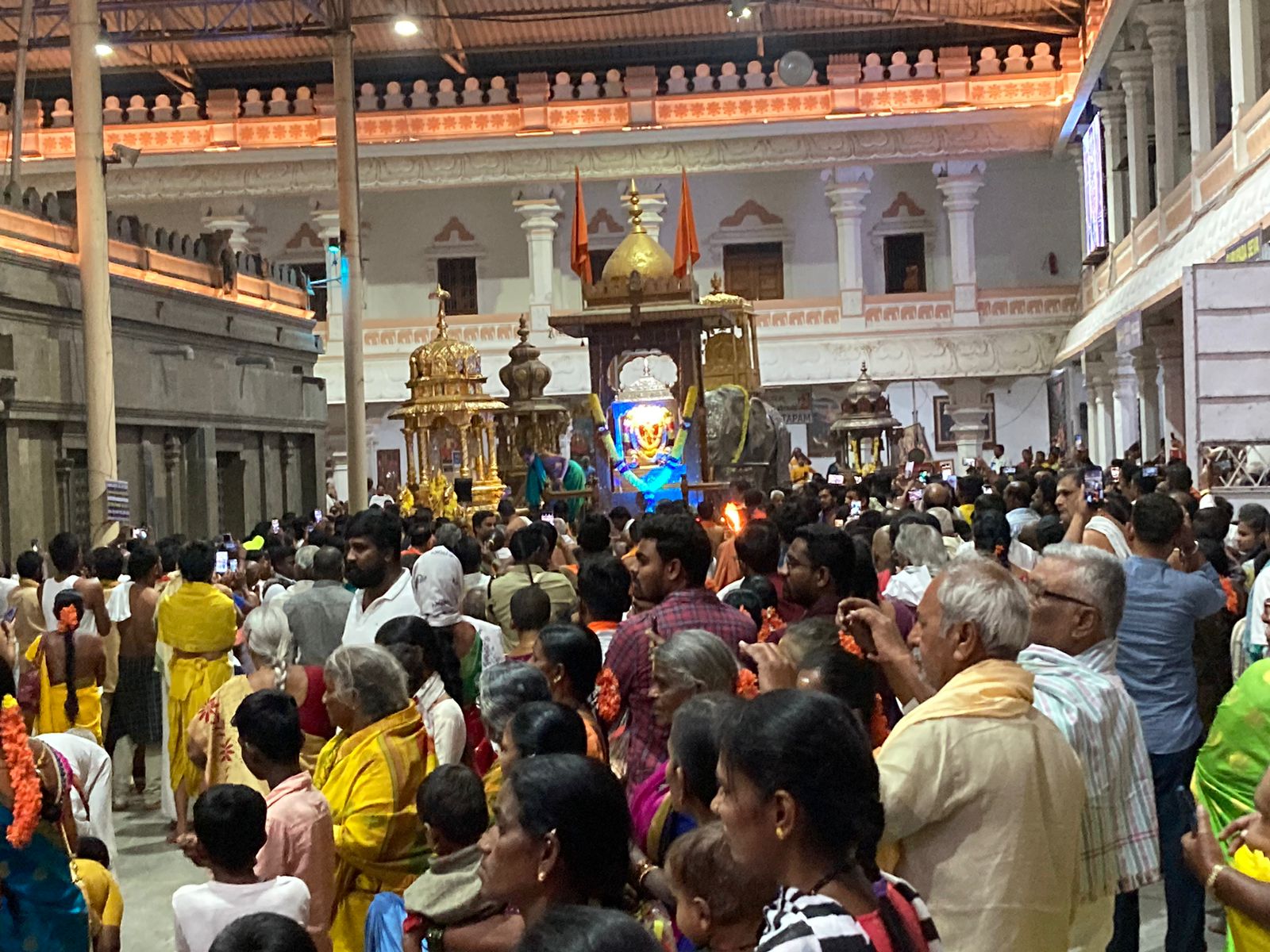 Timings -
People from all over the country visit this temple. Mantralayam temple timings are from 6 am to 9 pm.
Darshan Hours: 6:00 am to 2:00 pm, and 4 to 9 p.m
Anna Prasada Timings: 1:00 pm to 3:00 pm
The saint meditated in Panchmukhi for 12 years before settling in Matralayam. Lord Hanuman gave Darshan to the saint as five faced Hanuman. Hence, the people call this place Panchamukhi.
Accommodation  & Seva Booking -
Devotees can make Mantralayam Room Booking online through their official website. 
Seva booking - appointment for sevas Devotees can make Mantralayam appointment for sevas  online through their  official website. 
Dress code - Men have to remove their shirts and go inside, and women can wear sari or churidar set. 
How to Reach?
By Air: The nearest airport is in Hyderabad. This temple is about 230km away from Hyderabad.
By Rail: The nearest railway station is the Kurnool railway station. This station is about 20km away from the temple.
By Road: Transport is available from the temple to the nearest cities.  By car from Bangalore, it takes about 8 hours.