Movie Matters
by Pushpa Raghuram
(Bangalore,Karnataka,India)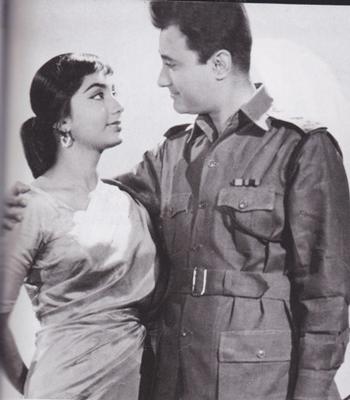 Hum Dono
The other day I received the special edition of a newspaper, commemorating a century of cinemas in India. It was attractive with interesting articles and colorful photos. As I read them in bits and pieces and looked at the photos, I flash backed to the past. A big leap backward.


When I was growing up, education was given more importance than entertainment. Subscriptions were promptly paid towards Reader's Digest and Bhavan's Journal, but the question of subscribing to Film fare or other movie magazines did not arise. My father was neither a control freak nor the controller of the family's finances. But he was a 100% post independent India parent, who believed that only education gives a sound foundation for a bright future. His desire was also to inculcate good values in children. Hence our movie outings were a rarity!
Before actually going to see a movie, there used to be a lot of waiting, planning as to when to go, pondering on which movie to see, in which theater or asking siblings what clothes to wear, etc. Posters, banners and larger-than-life hoardings of film stars in front of the theaters, were all discussed with great vigour. In short, we used to have lot of fun before, during and after seeing a movie. Fun and frolic.
A grand uncle of mine lived in a village, where cinemas were projected only in tents. He loved, therefore, to watch a movie in a proper theater and in our company. My father did not have the heart to deny him this privilege. The language of the movie, Kannada, Telugu or Tamil did not matter to him, but grandeur, glamour and a good plot mattered. I still remember the mythological movies, which I had enjoyed for their grand sets and acting prowess of the main actors. N.T.Ramarao was for many cine goers, a reincarnation of Lord Krishna himself. A. Nageshwar Rao had definitely something to do with Arjuna in his previous birth. Dr.Rajkumar, was a "Bangarada Manushya" for many people in Karnataka. We watched their movies with such naiveté.
Understanding English films those days was challenging to us. Following British English was easier than American English. My brother's English prowess stood us in good stead. When I was sixteen, going on seventeen, I used to wait for my brother to come from Bombay to watch English movies like "My fair Lady" "Sound of Music", "Roman Holiday" etc. which were shown in BRV, Lido or Vijayalakshmi theaters, located quite far from home. It was his prerogative to take us to such films. He got father's approval for our movie outings with ease.
Couple of years later, we looked forward to our cousins, settled in North India, who used to visit us during their vacations. Going with us to Hindi movies was a perk for them. With their help we understood the chaste Hindi dialogues and Gazals sung in them. Those days there were no sub titles. I get annoyed when sub-titles cover most of the screen these days. Among others, we saw "Gunga Jumna", "Padosan" "Hum dono" "Jis Desh Mein Ganga Behti Hai" with them. They were all beautiful films, running to packed houses even in South-India. Dilip-Raj-Dev trio acted in many movies, which created milestones. We waited anxiously and watched each of them eagerly.
Irrespective of who took us to watch a movie, there were a few golden rules to be adhered to.
1. The cinema theaters should be accessible by foot or by a jataka (horse carriage), common man's mode of transport those days for late hours.
2. The tickets should be affordable and not bought in black.
3. Visiting cafés around the theater were not to be included in the plan.
4. School assignments and household chores should be completed before stepping out.
We didn't consider our parent's rules as parental pressures. We accepted them as signboards, which guided us to the right path in our lives. We were prepared to follow all these rules and more. To go to a movie!
The newspaper I was holding fell tumbling down. The section, which I picked up from the floor, advertized high-end flats, modern duplex apartments and signature villas. Gated communities promised amenities like lavishly done up party halls, swimming pools and clubhouses with theaters for screening films- indoors or outdoors. WOW! There was no need to wait for people to take you to a movie, or to follow the golden rules of the past. No planning was required. Just decide on the spur of the moment to go to the club and watch the movies. That was cool.
Recently, a DVD library opened in our neighbourhood. Any number of DVDs or Blue-rays could be borrowed and returned against a monthly membership. This option appeared much better to me, since here people were not even required to step out to watch a movie. Just be a couch potato. One could see the chosen movie on a 42" flat screen, perched on the table in one's own drawing room. No transport to be organized, no dress code to be observed, no mascara to the eyes etc unlike those days.
My telephone rang. It was my young nephew on line, inviting the family for a movie in a shopping mall. Groomed well by my father, I asked my nephew about the location of the mall, price of the cinema ticket, whether we are coming back home to take our dinner on time and so on. His reply was crisp and to the point. The mall was 15 KM. away from our place. The cost of one ticket was Rs.1000/-. A bucket of popcorn and a ½ Liter Coke was on the house. Dinner was at the food court in the mall. My nephew wanted to know, whether we would join him, since he had to book the movie tickets online and his wife was already on the job; she had to only enter the number of tickets in the required column. I was amazed at how youngsters plan their movie outings. I ignored the morning's dishes piled in the kitchen sink, which I could see from the corner of my eye. And I said yes. I visualized my father's golden rules growing wings and flying out of the window.
Our good old garden city Bangalore was also known as city of theaters once upon a time. We had so many favorite theaters, like Swastik, Swagath or Lido. They were all razed to the ground and reconstructed as multipurpose malls with multiplex cinemas.
Just as I disconnected the phone, I heard the children of the neighborhood, cheerfully talking and shouting at each other. They were really the millennium children belonging to a visual generation. For them any time was movie time - Choota Bheem while travelling in their cars, Tom and Jerry while eating, or Winnie the Pooh before going to bed. During weekends and holidays, it could be Home Alone 1 /2 /3, Baby's day out, Denice the Menace or Kung Fu Panda. Enjoyed with home-made popcorn in the comfort of their own Home theaters. Through the movies, the children criss-crossed various geographical boundaries and even zapped between the past and the future with ease. One of the magical by-products of the media revolution is animation movies. Yet I wondered, after a passage of time, would they reminisce their experience, like I?
The calling bell rang. Our newspaper agent brought us our latest big fat Filmfare issue to our doors. It was again the special issue on '100 years of Movies in India'. I took it in to my hands and started looking for the titles of films I had seen or for the photos of Devanand, India's Gregory Peck and the superstar Rajesh Khanna, who were my heartthrobs then. I remembered all the jealous fights I had with my husband regarding his heartthrobs, be it the Dream girl Hema Malini or Mala Sinha.
The calling bell rang again. This time it was a visitor- my niece- who sprang a surprise on me. She barged in bubbling with joy. When I asked her the reason for her good spirits, she said, she has successfully downloaded a few old favorite movies of hers from I – Tune on to her I pad. She said movies are a mouse click away for her. It was awesome. I shared her enthusiasm only for a few minutes. Then I was busy with my own thoughts again.
They were the good old days interspersed with memorable movie outings! 'Rarity' has an inexplicable charm, which can only be experienced and not explained. Who was it that expounded the 'Law of diminishing returns'?