My Trip to Hawaii
by Sharmistha Bhattacharyya
(USA)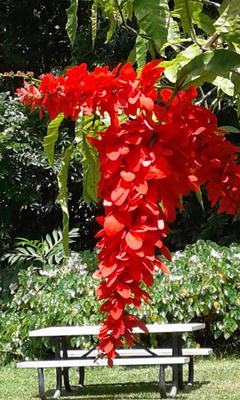 I've heard a lot about Hawaii for so long, from everyone who visited the island. Finally, it was my turn to experience the beauty of this heavenly abode. I flew down to Honolulu, the Hawaiian capital, and as I was landing I could see the breathtaking view of the ocean. At the airport, I was welcomed by the flower garland called Lei. That's their traditional way of welcoming visitors. The soft colorful petals caressed my neck and its light fragrance put me in a jovial mood instantly.


After checking in the motel, I decided to stroll along the Waikiki beach. The white sandy beach, the green palm trees, the blue ocean, and the sea breeze echoed "Aloha" everywhere. I soaked it all in - the sun, the ocean breeze, and the love in the air. The hospitality of the islander amazed me; their smiling face, their courteous ways and their helpful nature.
My day two started with a sailboat ride. It took me into the deep ocean, from where I could see the horizon where the sky kissed the water. On the other end, I could see the skyline of the Waikiki beach, where each wave challenged the other to wash away the shoreline with its whitest foam. The entire island had its own aroma with all different kinds of flowers.
Some were wild , some were not. They were pink, purple, white, and blue all spraying their own scent into the island air.
The next day we went to see the valley of temples. For a moment I thought I landed in Ireland - green rolling hills surrounded by the valley in the middle, reminded me of the movie, Sound of Music. I visited the Buddhist temple and lit an incense stick. The entire place was so serene and peaceful. The atmosphere itself, invited me to meditate. The structure of the temple reminded me of Tibetian architecture, but the warm island breeze assured me that I was in Hawaii. The following day, I went to Weinmanlow beach. It was far away from the hustle and bustle of Honolulu. It was a beach for locals, so hardly a handful of people were there. I saw the most amazing view of the ocean. There were two hills standing by each other in the middle of the blue water and the sun decided to set in between the hills. What a breathtaking view that was!
Finally, it was time to say goodbye to the most beautiful island on Earth. I left Hawaii with a heavy heart. Maybe I will go back, maybe not. Every time I think of Hawaii, however, I still can smell the intoxicating scent of the island flowers.
***