My Trip to Ramoji Film City
by Lakshmi Menon
(Bangalore)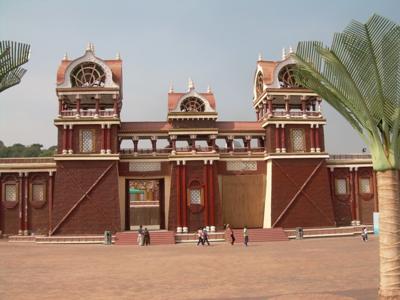 Recently I had a chance to visit Ramoji Film City, the famous tourist destination of Hyderabad. Contact Tour Operator


I had planned this visit with a Hyderabadi friend. She too had not seen this place before. Our first visit was to Ramoji Film City, located about 25 km South East of Hyderabad on the NH9. We had booked our seats through AP tourism bus, at Balayogi Paryatak Bhavan, in Begumpet. Our ticket for general guided tour was Rs.750/-which was including Rs.150/- bus charge and the entrance charge of Rs.600/- to the Ramoji Film City. (There were more expensive tickets available, with more facilities like welcome drink, AC bus, lunch and more). When we went to book the tickets we didn't see much people there and presumed that it may not be crowded, and we got the tickets easily. We were asked to reach there by 8.30 a.m and was surprised to find that the bus was full of local and foreign tourists. The bus left sharply at 8.45 a.m.
After a long travel, we reached the main gate of the Film City. There was a security checking at the entrance. We had taken some food with us but had to leave it outside with them since it was not allowed inside (which of course they returned to us after our return). After passing through the security check and reaching inside, we saw the same bus which we brought us there and took us to the main place. After dropping us there, we were asked to return by 6 p.m. to the same spot. From that point, we were picked up by the red tourist buses of Ramoji Film City. There are many such red tour buses inside.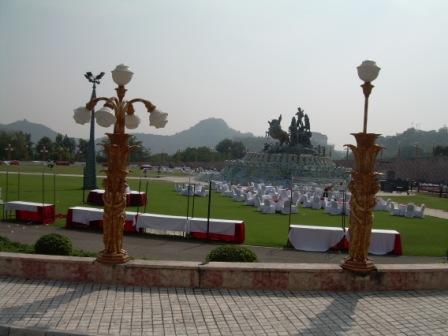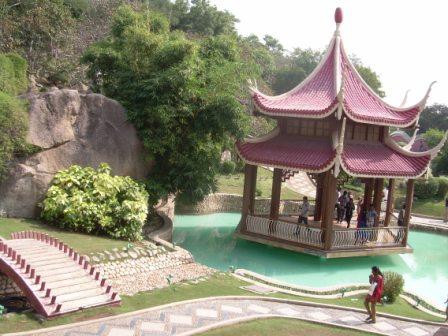 When we entered we felt entered a new city all together with hills, gardens, lakes, and at the same time flanked with spotless modern buildings. This film studio complex covers a distance of 2000 acres, with film pre-production, production, and post-production resources of over 500 settings, including hi-tech laboratories. It is the filmmakers' first choice as it is a single-window, press-button facility that opens up an unlimited arena of creativity for every aspect of film production.
You can get into any of these red buses and within no time it will be full. As we go around the bus, the guide would explain to us about the various things and structures that we see on the way. When it stops at one point you can get down there and see the places as
you like and hop on to another bus at your convenience. The guide will follow the same pattern and after some tours, it will stop at some point where you can get down and see the things and later hop into another red bus there. Like this, you can cover the whole area, and it depends on you how much time you spend at each point.
One thing I was really impressed was that the whole place was clean and well maintained.
For children, "Borasura", "Fundastan" etc will be their favorite places to spend their time. Some of the other most interesting things we saw include a Japanese garden, green zoo, Mughal garden, intricately carved Kripalu caves, buddha statues, a large pool, artificial waterfalls, beautiful dancers, hospital setting, a railway station, an airport terminal, mosques, churches, temples, shopping plazas, palace interiors, rural complexes, urban dwellings, a winding highway, and European and US settings.
3-star hotel like
Tara,
and 5-star hotels like
Sitara
with multi-cuisine restaurants, are also available inside the complex. In addition, great Shopping facilities are also available there.
At the end, you will reach the magical place – Ramoji Film Magic. There they showed us (inviting 3 youngsters from the audience) how films are produced, how the sounds are created and how they are combined together to get the desired effect etc.
Many films and television serials are shot here. The infrastructure is such that twenty international films and forty Indian films can be produced simultaneously in this complex.
Finally, we entered the food court and had great Hyderabad biriyani. Alampana, Chanakya, and Ganga Jamuna are some of the restaurants there. The rate was just reasonable, can't say it was too much. It is really an ultimate leisure destination for holidays! This city of perpetual charms has every kind of color to suit your mood and temperament.
After enjoying a wonderful day there (since the weather was also pleasant in December,) we left the Film City by 6.30 pm. Actually, one day is not sufficient to see everything there, but we couldn't afford to spend more time there, as my next day was planned for seeing other places in Hyderabad.
Ramoji Film City is the ultimate leisure destination for holidays, honeymooners, corporate conferences, events, theme parties, adventure camps, family picnics, students excursion, and grand weddings. No wonder every year this film studio, which has got a place in Guinness Book Records as the world's largest film studio complex, attracts more than a million tourists from all over the world!!