My Visit to Mahakuteshwara Temple
by Lakshmi Menon
(Bangalore)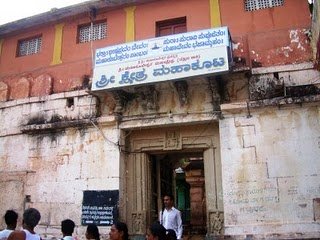 Last year I had a chance to visit Mahakuta Temple at Bagalkot District of Karnataka, with a large group of friends.


The temple is located in the small town Mahakuta, 14 kms away from Badami, in a hilly area. Mahakuta was once a great center of shaiva cult. It has a distinct structure that isolates itself in size and architecture from other Chalukyan temples. This place is often called Dakshina Kasi because of its religious importance.
The enclosure in which the Mahakuta temples lie is reached by a steep flight of stone steps, at the foot of which is a doorway guarded by door-keepers said to be figures of the demons Vatapi and Ilval. These large and wide steps really reminded me of a bygone era.
Even though it is such an old temple built by Chalukyan dynasty in Dravidiyan style, dated to the 6th or 7th century, daily pujas are still conducted here in the main temple. They also have an annual mela which brings in people in large numbers. As we walked around the temples we were surprised by the interiors. In the courtyard, there are 15 small temples with intricate sculptures.
Lord Shiva is worshipped here in the name of
Mahakooteshwara.
Some parts of the temple were dusty and unmaintained. The temple compound was covered with ficus trees and have spread their tentacles all around. Because of this, sun is hardly seen there.
Another interesting feature is a little fresh water pond in the main courtyard, called
Vishnu Pushkarni.
This pond is said to have been constructed by the
sage Agastya.
In the masonry margin of the pond is a lingam shrine,the entrance to which is under water, and in the pond is a chhatri containing a four- faced image of Brahma.
Since bathing in the pond is allowed, many of my friends got into the pond and enjoyed swimming and bathing in the cool water. The pond has a spring emerging from the ground which keeps the water fresh and clean.
We walked around the inner walls of the temple visiting each of its shrines, and observing the leafy gopuras and the tentacles of the trees.
There is a Lingam in the sanctum, surmounted by a storeyed tower with an octagonal domed roof. The best carvings can be seen on the basement frieze, which has the intridcate work of figures from the Hindu epics. In the wall niches you can see large images of Shiva.
No one can leave the place without peace and a complete feeling of fulfillment. (at least for some time). Many of us wished we had time to spend a whole day there in that serene atmosphere!!