Custom Search
The Second Choice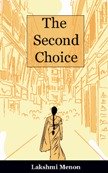 Available as paperback at -
Flipkart.com     Infibeam.com        Pothi.com
Also available as eBook at -
Amazon.in      Amazon.com      Amazon.co.uk       Smashwords  Instamojo 
____________________________________________________________
Review and Interview     Interview - iSahitya      Review - Mouthshut
Interview - MuseIndia       Book Review - MuseIndia     Another Review at my unfinishedlife.com
Good Reads   Facebook Page   Nook Book(B&N)
____________________________________________________________ 
(A Serial Novel - By Lakshmi Menon)

Chapter 1
Pavithra sat in the veranda with her head bowed, holding her four-year old daughter Anu on her lap and she was pretending to be listening to her daughter's amusing school stories.  Pavithra's father came and stood behind her for some time and she did not notice him until he called out to her.  Pavithra immediately rose to her feet and stared at him.  He was pensive, and it was obvious that he was struggling to talk to her about something important. 
Narayan Nair caressed his grand daughter for a while, then sat on the chair immersed in thoughts with a newspaper in his hand, and he motioned Pavithra to sit opposite to him.  He slowly lit a cigarette.  It was apparent that he wanted to say something important to his daughter which he was sure she  wouldn't be happy to hear from him.
Pavithra quietly watched her father.  Narayan Nair wore a khadi jubba and dhoti. His grey hair was combed neatly, but his wrinkled face was not calm as usual.  It was evident that he was struggling for words to tell her something that he did not wish to voice.  He looked older than his present age of fifty-four years.  Of late, he was going through tremendous strain, which brought wrinkles on his face.
"Pavithra, dear, you must give me your consent today for this proposal without fail", asserted Narayan Nair looking straight into her eyes.  "Day after tomorrow, Ram Pillai will be here to have your answer."
Pavithra was silent and sad.  Her heart was beating fast and she was unable to speak.  For a moment, she felt like she was almost tongue-tied.  She knew her father's delicate position very well. No father could ask his widowed daughter about a second marriage cheerfully. He knew how much she had loved her late husband Anand.
Yesterday, over lunch he had asked her for the fifth time. "Won't you agree to this marriage, my dear?  If you don't ….. I'll never be at peace again.  Won't you, Pavi?" he had looked at her hopefully. It was evident from his face that he wouldn't be able to take up a reply in negative. 
Pavithra couldn't say anything at that time.  She had already expressed her unwillingness to remarry when he had mentioned about this proposal to her earlier. So whenever he talked to her about the second marriage, she would say nothing, but shed tears.  But still, he persisted with his requests.  Unable to answer positively, she looked at her father seeking sympathy from him and simply got up from her seat without finishing her meal, and made her way to the kitchen with the unfinished plate of food.
After a while, she heard her father call her again.
"Pavithra, my dear…. It's time for you to make up your mind.  Just imagine your plight if something happens to me.  Sometimes we have to make compromises in life, whether we like it or not……… Please remember that. I'm reminding you again."
His words kept ringing in her ears.
"Daddy, please don't bring up this topic again, for Heaven's sake. …. Please.  I can manage as a single parent for the rest of my life," she had pleaded, closing her ears tightly with her palms.  She had glanced through the window and looked at the little bluebirds flying freely in the air.  She had wished she could also be a bird like them and fly away from the aching pain.
"I hope you understand me, my dear", he said looking up from the news paper he had gone back to reading.
"I do understand you, Daddy…. " Tears rolled down on her cheeks. "Please leave me alone."
Narayan Nair left the news paper on the table and looked at his daughter, who had no kumkum on the face or a mangalya sutra around her neck.  Why had fate played such a cruel game on his only daughter at this tender age?
Silent moments passed. Neither of them spoke for some time.  It was not that he did not understand his  daughter, nor was it that he did not know she had no mother or siblings to share her feelings, or that his daughter was not ready to forget her late husband, whom she loved beyond words.  He was anxious about his young daughter and his four-year old granddaughter's future, who had no one else to depend upon in this world apart from him.  Since the time she lost her husband unexpectedly fourteen months back, he had no peace of mind. He was worried about them day and night, like any other concerned parent would do. Since then Narayan Nair had not slept peacefully..
"Being a young widow, how long can you pull on like this, Pavi?" asked her father with much concern.
 "All my life," replied Pavithra boldly without a moment's thought.
 "Have you ever thought of your daughter's future at least?"
"I can find a job, Daddy.  I can bring up my daughter alone without anybody's help."
Narayan Nair sighed heavily.  "It's easy to speak now Pavi… but, remember, it is very difficult to practice.  There is a long life ahead of you. The world is not a very safe place for a young girl like you to live without a man's support." 
She had no skill or expertise for a job, not even a degree to her credit.  What type of a job could she find with just a first year BA degree certificate? Even if she got a job how could she escape and live safely from the haunting eyes of wicked men?
"Mmmm………" she said nothing.  She could not understand what he had meant then.
"You're only twenty three, Pavithra," her father continued, "and you've a daughter to bring up, whose future will depend upon the decision that you make now.  It's very difficult to live in this world for a young and pretty girl like you, without any support."
 Pavithra wiped her tears with her sari pallu and bit her lips.
 "Unfortunately, you have no brothers to give you a helping hand," reminded her father.  Narayan Nair wished that her mother was alive to talk to her about these matters more convincingly.
 "Daddy, for heaven's sake please don't force me into a remarriage." Choking, she turned away, wishing to cry in solitude.
 Pavithra went to her room, took a magazine and flippantly opened its pages; pretending to read.  She found that she couldn't concentrate on anything.  She threw it down, opened her cupboard and pulled out her most precious possession – her family album.
"How happy and content I was when I married Anand five years ago on a Friday, in Shiva temple!" reminisced Pavithra looking at her wedding photo and seeing her handsome groom standing beside her. Recollecting those beautiful memories, she leafed through the album, shedding tears now and then.
 Pavithra looked at herself in the mirror and found that widowhood had made tremendous changes in her, making her look older.
Though theirs was a love marriage, unlike most other lovers, they had not faced any major issues before marriage. Her father too had liked the smart looking, intelligent and well behaved Anand.
Pavithra had lost her mother when she was hardly ten years of age.  Since then, Narayan Nair played the double role of being her father and mother.  He had never agreed to a second marriage despite pressure from his relatives. "I've had a married life for over twelve years. That will do for me,"   he had said to all of them. Being the only child, Pavithra was the apple of his eye.
On a Sunday morning, when she was in the second year of the BA degree course, she expressed her desire to marry Anand, her college friend. He was senior to her by two years. After getting a job, he wanted to prepare for the IAS examination.  His ambition in life was to become an IAS officer. Anand was a very intelligent boy. Throughout his academic career, he had consistently passed with flying colors, bringing glory to his school and college.
Pavithra, on the other hand; was the college beauty. She was attractive, witty and had earned many admirers. In one of the college cultural programs, Pavithra was playing the role of a princess and Anand played the role of her prince. By the time the play was over, Anand had already fallen in love with her.  Within a fortnight, he had asked her whether she would be willing to become his princess in the real life.  The offer was too tempting for Pavithra to refuse. No doubt any girl would happily accept the then handsome and brilliant Anand as a life partner. Pavithra had considered herself to be the luckiest girl to have earned Anand's love.  Many of her friends were envious of their love. 
Narayan Nair found no reason to protest against his daughter's wish. He had recalled his own disappointment. He could not marry his sweet heart, a Brahmin girl, twenty six years ago since she was superior to him in caste.  He was forced to marry Pavithra's mother chosen by his parents. Pavithra's mother  proved to be a good wife and tried to understand him well.  He had no regrets. However, occasionally feelings for his first love in some corner of his heart would come up.  He did not want his daughter to have the same regrets in her life. 
"I've no objection to your marrying a person of your choice. But….." he had stopped abruptly.
Holding her breath, she waited for him to complete his sentence.  She was afraid of his stance.
"But, you've to complete your degree. Then you can marry the man of your choice."  Father laid out his only condition.
Pavithra was prepared to wait for another one and a half-year, until her final degree result was announced, but that was not the problem.  Anand had finished his degree and his parents were anxiously waiting to see him get married soon, as he was their eldest son.  They were also afraid that he might go astray in Bombay if he was not married at this young age.
Since his parents had not objected to their match, and since his own desire of marrying his sweetheart was great, Anand had then forced Pavithra to convince her father for their immediate marriage.  On the fear of losing Anand to someone else, she persuaded her father to arrange their marriage without delay.  Reluctantly, Narayan Nair had agreed to his daughter's request, on the condition that she would continue her studies even after marriage.
Three months later in August, Anand and Pavithra were married in the most traditional ceremony. It was a grand marriage in their locality.  Narayan Nair had lavishly spent for his daughter's marriage as he had no other marriage in his life to look forward to.  He sent his daughter with her husband reminding her to complete her college education without fail. 
Unfortunately for Pavithra, her conservative in-laws were not in favor of a college-going daughter-in-law.  Within a few days, Anand got a job in Bombay and she had joined him there after two months.  Thus Narayan Nair's desire of his daughter getting a degree certificate came to an end all too soon.
"It's always better to complete your degree at least as a private candidate or enlist as a trainee somewhere", her father wrote to her in his first letter, after her marriage.  Pavithra liked the idea of joining a technical course.  She wanted to enroll for a Personal Secretary's diploma course at the nearest institute, but due to the morning sickness of her pregnancy she was unable to join the course.
 "Don't worry Pavi, you can do it later". Anand had consoled her then.
 "When the baby arrives how I can go to the class?" she lamented. She was worried about her father's unhappiness for not completing her degree, more than getting a degree for herself.
 He laid his hand on her shoulder and said jovially, "I didn't mean you have to join immediately after your delivery.  You can do some course when the baby is old enough to go to school", he said, planting a kiss on her forehead.
 Sighing, she wiped away her tears and glanced at the photo of her daughter taken on her first birthday.  Anu was dressed like a beautiful doll in her white frilled frock.  When Anand had brought such an expensive frock for her, Pavithra was quite annoyed at him. "Why did you waste so much money on a frock?", she asked,  pulling  the price tag from the frock.  Though she too had liked the frock, she couldn't condone the price he had to pay for it.
 "Don't be silly, my dear.  This is our first child's first birthday.  This day will never come again in our lives." He planted a kiss on her cheek pulling her to him, and making her silent.
 He was absolutely correct.  She now wondered what had made him talk like that.  For Anu's second birthday, he had gone to his hometown to visit his ailing father on receipt of an urgent telegram.  Anu thus had a quiet birthday that year.
 "Next year we can celebrate a grand third birth day for our daughter," said Anand on his return, holding her close to him. 
 But God had something else in store for them. He had already made plans for them, whether or not they would like it.
 On the second day of May, on a Friday, after kissing her lovingly, he set out for his office as usual in the morning.  After finishing her household chores, Pavithra was telling her daughter stories and feeding her rice and curds. Her attention moved to the door when she heard a knock.  Holding Anu in her hands, she looked out of the window.  She saw some strangers standing outside and hesitated to open the door. Through the peephole, Pavithra enquired in Hindi. "Kaun hai?" (Who is that?)
 There were two people standing outside the door.  She stared at them in alarm. The strangers were sweating and whispering something between them.
No one answered her question; instead, they had looked at each other.
Suddenly, her attention was diverted to the taxi, standing outside the gate.  There were two more people who were also strangers to her.  Pavithra's heart missed a beat…..
 She was wondering what was happening there.  Who were they?  Why had they come to her house when her husband was away?  They had come in a taxi.  They might be thieves, she thought.
Anand had warned her several times not to open the door in his absence.  "Bombay is a dangerous place. Daylight robbery is a common event in this busy city," he had reminded her many times.
Pavithra was trembling with fear.  "Suppose I don't open the door, what will they do?  They are about four in number.  They can easily break open the door and come in. Oh God! What will I do?"  She wished she had a phone to call Anand at this desperate moment.  Unable to watch them anymore, she turned away from the window in panic.
"Pavithra behen, dharwaja kholo"  (Pavithra sister, please open the door.)
She recognized her Hindi-speaking neighbor's voice asking her to open the door.  He was standing a few feet away from her sight. As he spoke this, she noticed his eyes were wet.  He was wiping his eyes.
He had come to their house when Anand was there. Anand liked him a lot for his straight-forwardness.  He lived with his wife and two children.  He had now come closer to the window.
With shaking hands, she unlocked the door.  The men who were standing around the taxi opened the door and carrying a person, walked towards her house.  Suddenly she recognized her husband who had gone for work happily after kissing her and their daughter in the morning. Within the next minute she realized that it was her husband's lifeless body they were carrying.
"Oh, Anand……."   Pavithra had let out a scream as loud as she had never done before.  She had felt all the men standing there were going round, the building was going round, the trees were going round, and her whole world was going round and round to an unknown place.  She had collapsed without knowing anything further than this frenzy.  Her neighbor took Anu from her and left the scene.
Without knowing what was happening, and seeing all these strangers, Anu began to cry, looking at her parents for help.  She was not aware that her father had left them forever and that her mother had lost her consciousness.  
*****
 The full story (33 chapters) is published as book, and available for purchase, as mentioned above.
Review received on 23/10/2013 from KP Gopalakrishnan-
The novel itself is a tribute to womanhood in her roles as daughter,husband, mother, step mother and her  responsibilities  to the world at large. It deals with the struggles Pavithra has to undergo to achieve her life's goals (where fate also plays a major part) in present day society.When her efforts ultimately leads to fruition she surprises everybody by her rather weird choice of an untrodden path. By now the lessons of life has transformed her to a woman of strong will for whom the mundane pursuit of worldly pleasures has lost all meaning. A very serious theme deftly handled in lucid,fast paced style that compels readers' attention till the very end .A 'must read' for all lovers of fiction at its best.