St. Angelo Fort – the Crown of Kannur
by Ananya Sarkar
(Kolkata, India)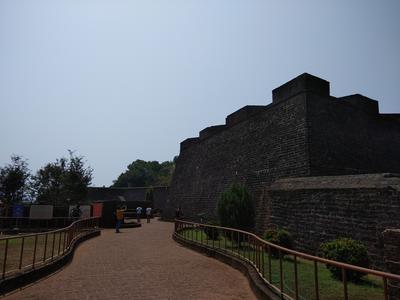 When we think of Kerala, images of the serene backwaters, coffee plantations and exotic beaches come to mind. Not many are aware of the amazing fort situated in Kannur, a coastal city and once an ancient trading port.


Commutable by local auto rickshaws, St. Angelo Fort, also known as Kannur Fort, is located approximately 3 km away from the city proper and faces the Arabian Sea. Thanks to the newly built international airport in Kannur, this fort is now easily approachable from other cities as well. It is close to the army barracks of Cannannore Cantonment. One of the most historic sites, the fort was built by the first Portuguese Viceroy in India, Don Francesco de Almeida in 1505. The huge laterite architecture with bastions, tunnels and fixed cannons make a spectacle.
Though the fort is not as high as certain other famous Indian forts (such as Golconda Fort), it offers an expansive view of the Arabian Sea on the one hand and Mopilla Bay, a natural harbor on the other. The colorful boats that are moored as well as sailing in the bay make a pretty sight while the azure blue waters of the sea make one wistful. The fort has stables, a prison, an ammunition storehouse and a chapel. At present, it is well-maintained with neat, beautiful gardens in and around the locale.
This monument is known for its intriguing history. Dom Francisco de Almeida had imprisoned his successor, Alfonso de Albuquerque as he did not want to forfeit his power. This, in turn, led to conspiracies and bitter events that have left their mark in Kannur. The fort was also attacked by an Indian ruler and turned out to be the seat of the infamous Siege of Cannanore. About a century after its establishment, the fort was seized by the Dutch who eventually sold it to the King of Arakkal, Ali Raja in 1772. Nearly two decades later, the British took over the monument, re-equipping it to use as their chief military stronghold in Malabar during the colonial rule.
Tourists and locals come to the fort for sightseeing, enjoyable strolls and a breath-taking view of the Arabian Sea. It is also a picnic spot.
Due to the army barracks close by, one can hear the frequent cannon firings from the fort, which contribute to recreating the historic environment. The best time to visit is in the early morning or evening, close to sunset. Under the governance of the Archaeological Survey of India, St. Angelo Fort is the crown of Kannur and a sight to treasure.
***