Strawberry Picking
by Lakshmi Menon
(Bangalore, Karnataka, India)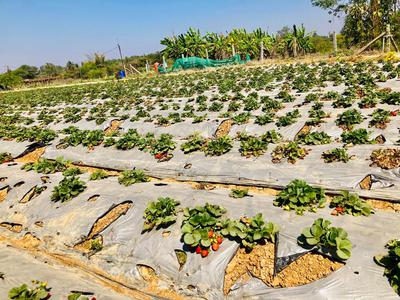 Recently we had visited a strawberry farm. It was KMC farm in Rachenahalli, Bangalore, which was about 62 kms from our place. We went on a working day to avoid rush there on weekends. Usually they don't expect more visitors on week days. We had to call the owner in advance to confirm our visit and pay the entry fee of Rs.200/- per head.


We reached the KMC farm by 10.30 a.m. The roads, including the village roads, were really smooth and nice and hence the travel was enjoyable.
As we entered the farm we saw a small farm house inside where the employees were busy with their routine work. Seeing us, one of them came out and took us to the strawberry field. He told us that we can pick up as much as we wish, and even consume them too, (the cost of which was actually covered in the admission fee.) We have to pay for the strawberries we would like to take with us home, according to the weight.
Polythene sheets were covered under the plants to avoid the weeds, hence it was easy to walk around, and pick the strawberries. We soon began to walk through the strawberry plants under the scorching sun. Some of the plants had dried up, but majority of them were in good shape. Fortunately we had our caps and umbrellas with us and they were very useful to protect us from the heat.
There are 6 varieties of strawberries they have in their farm, some varieties are on the other side of the road.
After our pick from this area, the staff said, he will take us there if we wish. But ultimately we didn't go that side at all.
We picked as much as we wanted and then we saw smaller variety of strawberries in another side. Though they were smaller in size they were sweeter than the bigger ones. However, we picked a bunch of them from there too. They have also planted some marigold plants in between the strawberry plants.
The strawberries were bright and fresh. Waw…. It was a wonderful experience of picking them.
February to March is the best time for strawberry picking.
Trees like guava were also there, and the fruits were not ready for harvesting. However, we strolled through the guava field.
By then more visitors had come to the farm. Most of them were ladies.
We walked to the farm house where our pick was weighed and made the payment. The price list was also there.
On weekends and holidays some items like strawberry juice, strawberry jam, and tender coconuts are available for sale.
They were growing some vegetables in their farm such as broccoli and cabbage, but they were not ready for harvest. So we were not keen to visit that area.
There is also a temporary thatched hall where chairs were provided on request. Inside the hall, it was very cool. Since we had carried our food and water with us we had our lunch there.
You can check the
video
about our trip.
***