The Railway Station
by Sneha Subramanian Kanta
(Mumbai, India)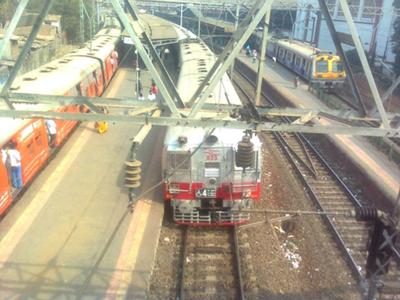 A railway station in Mumbai. Picture for representational purposes only. Pic/Sneha Subramanian Kanta
Sujata was back from work early today. These days, she felt an unusual kind of loneliness; and understandably so. It had been an entire week that she had not spoken to him. She never knew that not talking to him would her hurt so hard. Sujata was starting to lose interest in everything. She worked as a teacher in the local school and enjoyed her work. However, anxiety gripped her and he kept thinking if he is fine.


The ten year old boy had kept her waiting, sometimes, for hours on the station. She remembered that he usually never was late and came from the four'o clock local train. Their paths always crossed.
Sujata was affectionate towards the boy right since the first day that she saw him. He seemed lost in the crowd of Mumbai and confused between the flurries of the passengers shoving their way in and out of the platform. In the midst of all of this, she remembers taking him to a corner and giving him some water. Apparently, he had come from Satara, a town in the interior of Maharashtra. He lived with his grandmother here and his parents were farmers who lived in Satara.
Himanshu was not to be seen for a week. Sujata remembered meeting his grandmother twice; and had conversation about casual trifles of life. Another day passed by.
In the evening, Sujata noticed a child coming towards her and as she went closer, she saw it was Himanshu. She took him in her arms at once and asked him where he was. She learnt that his mother had been taken seriously ill in the village and hence he had to go and meet her. For the past one week, he hadn't been attending school.
"Tai, he is very worried about his mother and does not speak to me about it. He has withdrawn from conversations completely," said his worried grandmother.
Sujata took the boy near her and said, "Why do you worry, your mother will be fine."
"I don't know what will happen. So many of baba's friends committed suicide because this months yield wasn't good. I know baba has no money with him. I cannot help him in any way,"
Himanshu broke down.
Sujata instinctively took out her purse and removed thousand rupees. She had got her salary on time and pressed the money inside his palms.
"You think of me as your mausi, right? So think that this money is for my sister, not for you."
Himanshu's face was flushed with tears but he controlled himself and looked at the money. He had never seen thousand rupees in his life. He somehow gathered himself and Sujata made his grandmother and him get onto the train. She noted down their Satara address and a neighbour's phone number and also gave them her number.
As the train left, Sujata said, "Your mother will be fine. Have faith."
Two weeks later, Sujata got a call on her mobile and picked it up at once.
"Sujata mausi, aai is much better now. Your money almost saved her. I am very happy. Please talk to aai," he said.
Himanshu's mother profusely thanked Sujata. She heaved a sigh of relief, and kept the phone down.
She went to her balcony and looked outside. The sun was now dim, and evening was slowly setting in. She remembered Kunal, her Kunal…and her husband. How they were mercilessly killed on the same station that night when they had gone to bring a surprise gift for her on her birthday – the day the terrorists attacked Mumbai.
Railway stations can have a thousand stories to tell. Of loved ones lost there, gone forever, and also that of meeting loved ones.
She smiled brightly, and the sun disappeared for once. It was getting dark and there was the sight of birds returning to their nests.
She also felt belonged for once, of getting a loved one from the same station that had taken away her family.
A week later, Sujata waited for Himanshu's train to arrive on Platform number 3. As the train settled itself onto the platform, Sujata's mind was happy. Within minutes, she noticed Himanshu and his granny get out of the train. She could sense Himanshu hurriedly wanting to come next to her. He had a big smile on his face.
Sujata smiled, and for once, perhaps only momentarily; the sadness in her heart dissolved in the air.