The Spiritual Capital of India
by Shravya Naveen
(India)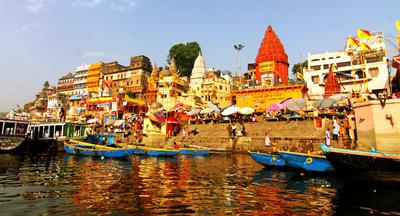 Varanasi is a sacred pilgrim center surrounded by the river waters of Ganga. Every year more than 3 billion people visit this holy place to dip in sacred river Ganga, attain salvation and absolve from there sins. According to Hinduism Varanasi is considered gate for birth and death, It is believed that a person dies in Varanasi breaks the cycle of birth and death and attains Moksha or Nirvana.


Varanasi is also known as Kashi/Banaras, it is the oldest city in India located on the banks of river Ganga in Uttar Pradesh. Varanasi is famous for the temples, billions of pilgrims visit this holy place to worship Lord Viswanath(Shiva). A famous temple dedicated to Lord Shiva popularly known as Kashi Viswanath temple, Sanskrit meaning for Viswanath or Vishveshvara is Ruler of the universe.
In India we have 12 Jyotirlingas and Kashi Viswanath temple is considered one of the Jyotirlingas. This temple is referred in various Hindu text such as Shiva Purana, Skanda Purana, Agni Purana and it is a central part in worshiping Shaiva Philosophy. There are many legends stating that Lord's true devotees attain freedom from death and samsara with the grace of Lord Shiva. Their souls are taken to Mount Kalish by lord Shiva messengers instead of Yama. It is popularly believed that when a person dies naturally at Varanasi Lord Shiva himself blows the mantras into that person's ear to attain Moksha. 
Who Constructed the Holy city Varanasi?
To know who constructed this holy city we need to go back to the Ramayan era and Dwapara yuga. Paulastya (Manasa Putra of Brahma) also know as Visravasu who dedicated his whole life in the devotion of Lord Shiva. Visravasu had two wives from the first wife born Vaisravana and by the second wife born Ravana, Kumbhakarna and Vibhishana.
Vaisravana (Kubera) did tapas (austerity) for Lord Shiva with unwavering devotion for a long time, pleased with devotion Lord ordered Visvakarma to build a beautiful city in the middle of the ocean (Indian Ocean) which is called as Lanka which is reputed for his riches and splendor. Ravan became extreme jealousy due to glory of Lanka and wanted to win Lanka and rule it by hook or crook. Eventually, he succeeded by driving away from his stepbrother. Even Lord Shiva could not do anything as Ravana was a great devotee of Lord
Shiva running away from Lanka. 
Vaisravana(Kubera) Built city knows as Varanasi where once Lord Shiva cut one of the five heads of Lord Brahma. Vaisravana (Kubera) concentrated the idol of Lord Shiva in the form of Prana Linga Symbol of universal Life and also his consort Parvathi Devi in the form of Para Devata universal form of Sakthi.
Legends of Varanasi
According to Shiva Purana, once there was a supremacy fight between Lord Vishnu and Lord Brahma to test them Lord Shiva pierced the three worlds into a huge endless pillar of light jyotirlinga and said whoever finds the end of the jyotirlinga first is considered superior to the other. Lord Vishnu and Lord Brahma split their ways Lord Vishnu took downward path whereas Brahma took upward to find the end of the Linga. 
As they searched for the end of the linga for many years and finally Lord Vishnu admitted his defeat and returned to the starting point, whereas Brahma lied that he found the end for which Lord appeared from the linga and cursed Brahma. Jyotirlinga shrines are the places where Lord Shiva appeared as a fiery pillar of light. There are 12 Jyotirlinga shrines in India in that Kashi Viswanath temple is the ruler of universe jyotirlinga.
Most visited places in Varanasi
Most visited places in Varanasi are Kashi Viswanath temple, Dashashwamedh Ghat which is a literal translation of 10 horse sacrifices and also it is famous for legendary post-sunset Ganga Arathi. Assi Ghat is a place where Maa Durga disposed her sword after slaying the demons Shumbha-Nishumbha. Assi Ghat is located on the merging point for both Ganga and Assi rivers where Shiva lingam can be found right under the peepal tree where devotees offer their prayers.
Manikarnika ghats is a holy place yet it is underrated in Varanasi where most Hindus do cremation in another word sacred Hindu crematorium, it is believed whoever gets cremated here will get Moshka (Liberation).
Summary
Varanasi is not just a pilgrim center it a place where Jyotirlinga is present in the form of the universal ruler to give blessing to His devotees. One must visit this place at least once in their life to have the divine blessing of Lord Kashi Vishveswara and also take a dip in the sacred water of River Ganga to absolve one's sins.
 Om Namah Shivaya
***