The Strike
by Indrani Talukdar
(Deahradun, Uttarakhand, India)
"Why are we so poor?" Suman asked dadi frequently of late.


Somewhat annoyed this time dadi shot back, "Who told you we are poor?"
"We don't have a nice house to live in, nor do we have good food to eat nor good clothes to wear. I am tired of being poor…" Suman was choking with emotion knowing full well how his grandmother struggled to feed and clothe him.
"One is only as poor as one feels," dadi was saying, "but why this question at all?"
"When I was rehearsing for the annual cycle race event I felt deprived… of good clothes, of a smart bicycle…"
"YOU don't have a smart bicycle!" dadi cried, baffled. "Have you forgotten, the very bicycle that helped you win the event is the one you have?"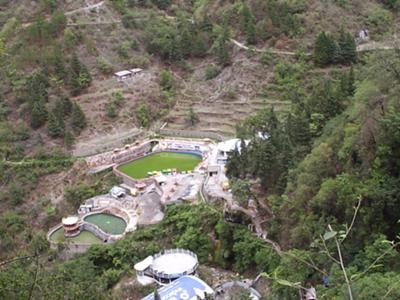 Hearing dadi's voice break with emotion Suman felt ashamed. He quickly rose and opened the window. The first rays of the sun came filtering through the neighboring forests.
"Yuck! What a dreadful smell!" Dadi had wrinkled up her nose in disgust. "Shut the window, quick!"
The smell was truly unbearable. It had been ten days since all the sweepers in the town had gone on strike. The reason being low wages. As a result, garbage had now begun to overflow. Which led to illness and death. Many people had fled the town. Lajwanti aunty, who lived next to the town's canal and who sold bangles for a living, died after falling ill.
On the day of her death, dadi did not light the stove to cook dinner. That day Suman had a long chat with Billoo, Blackie and Lalu. Twilight had fallen by the time they finished. Suman still did not wish to return home. Lajwanti aunty, who had been very fond of children and animals, was sorely missed in the community.
"Dadi says that the garbage is spreading disease in the town," Suman was telling his friends. Arching his back angrily Billoo said, "That's what I don't understand about you humans! Not one amongst you has come forward to do a thing about it… not a thing! Unable to visit doctors we recover on our own. You, on the other hand, are prepared to spend large amounts in fees but won't do a thing regarding removing the source of disease. Humans!"
The next morning the community woke up in amazement.
Suman, with his friends Romu and Blackie, had dug a huge pit close to the jungle. Then, by turns they'd piled the town's garbage onto an old discarded wheelbarrow and filled up the pit. The slum – the site of utter filth – had cleared up quite a bit by morning. Seeing the three work so hard carrying rubbish into the wheelbarrow then discarding it into the pit the entire community swung into action. Some of the rubbish was burned instead of being buried. By noon the garbage had disappeared as though it had never existed.
That evening Sameeran Bi, who also happened to be the town's leader, came to meet dadi and Suman in their humble hut and blessed Suman with all her heart. To dadi she said, "Your grandson is truly able. If you have no objections, I would love to adopt him as my own!"
The thought of losing Suman was a big blow to the old woman who said nonetheless, "That would be wonderful Sameeran Bi. Wonderful for his future, I mean."
Suman was reluctant, however. And when dadi and Sameeran Bi began to pressurize him, he ran towards the forests where he roamed till late. When he returned at night a worried dadi scolded him, "Where were you? Do you know how worried I have been?"
"I will NOT go to live with Sameeran Bi without you, dadi!" Suman yelled.
"No one wants you to go alone, silly boy!" dadi was saying, "After you walked out Sameeran Bi made me promise that the two of us will live in her second house lying vacant. It is at the back of the main house!"
"When I objected in the beginning," said dadi,
"Sameeran Bi got annoyed. She left me with little choice, really…"
Suman heard all this in silence. He now said, "All right then, I'll go but on one condition: Lalu and Blackie are going to live with us."
Suman shifted to his beautiful new residence with his dadi and his friends the next morning. It being holidays in school, he had nothing else to do!
----------------------------