Custom Search
Mahabalipuram Rock Cut Monuments
By Lakshmi Menon
A wish to visit Mamallapuram was in my mind for a very long time. Finally the day came. We had some work in Chennai and we planned to be in Mamallapuram the previous day. (The distance from Mahabalipuram to Chennai is only 60 kms.)
We reached there by 1.30pm and after having our lunch, we decided to embark on our sight seeing plan.
Mamallapuram, also known as Mahabalipuram, is an old town along the Coramandal coast of  Bay of Bengal. It is located in Chengalpattu district of Tamil Nadu. Mamallapuram is famous for the stone-cut work of a group of monuments, made by the Pallava kings  who ruled this place between 5th and 8th centuries.  These monuments  were made in 7th and 8th centuries, and is an awesome tourist destination.  Mamallapuram is listed as World Heritage site by UNESCO. 


All the main tourist places are located within 2 kms and another one within 5 kms. Since we wanted to visit all the places within the shortest time we hired an autorikshaw who charged us Rs.500/-.   He was very friendly and informative about the places, and accommodative. He spoke Hindi, Tamil and English. 
After taking a ticket of Rs.40/- for each of us (which permits us to visit all the main rock cut monuments and the Shore temple), we began our tour. The whole place was so clean, especially made for the recent visit of our PM (Mahabalipuram summit).  I sincerely hope it will continue to be maintained in this way at all times. 
Details of each monument were displayed neatly which was very helpful to the visitors.
1. Rathas - These are rock cut temples named after the Pandava brothers and Draupadi. These full size models look like chariots. Among these, Dharmaraja's ratha is the biggest one with 8 panels of magnificent sculptures. 
2. There are 3 important Mandapams -
a) Krishna Mandapam, dedicated to Lord Krishna, is the biggest one. 
b) Varaha Mandapam - It is the structure of Lord Vishnu as Varaha the boar, holding up Bhoomidevi. 
c) Mahishasura Mardhini Mandapam - It is located on a hillock - the battle between goddess Durga and the buffalo headed demon. You have to climb many steps to reach there.
3) Olakkannesvara Temple  - This is a granite block, just above the Mahishasura Mardhini Mandapam. 
4. Lighthouse - Close to Mahishasura Mardhini Mandapam is the Lighthouse built around 640 AD by Pallava king Mahendra Varman and it is the oldest lighthouse in India. Standing on top one can see the whole town.
5. Arjuna's Penance - It is a huge rock-cut structure measuing 96 feet in length and 43 feet in height. It is one of the largest monument structures in the world. You can also see Arjuna standing in one leg doing penance to receive a boon from Lord Shiva.  Arjuna's Penance monument is also called as Bhagiratha's Penance and the Descent of Ganga.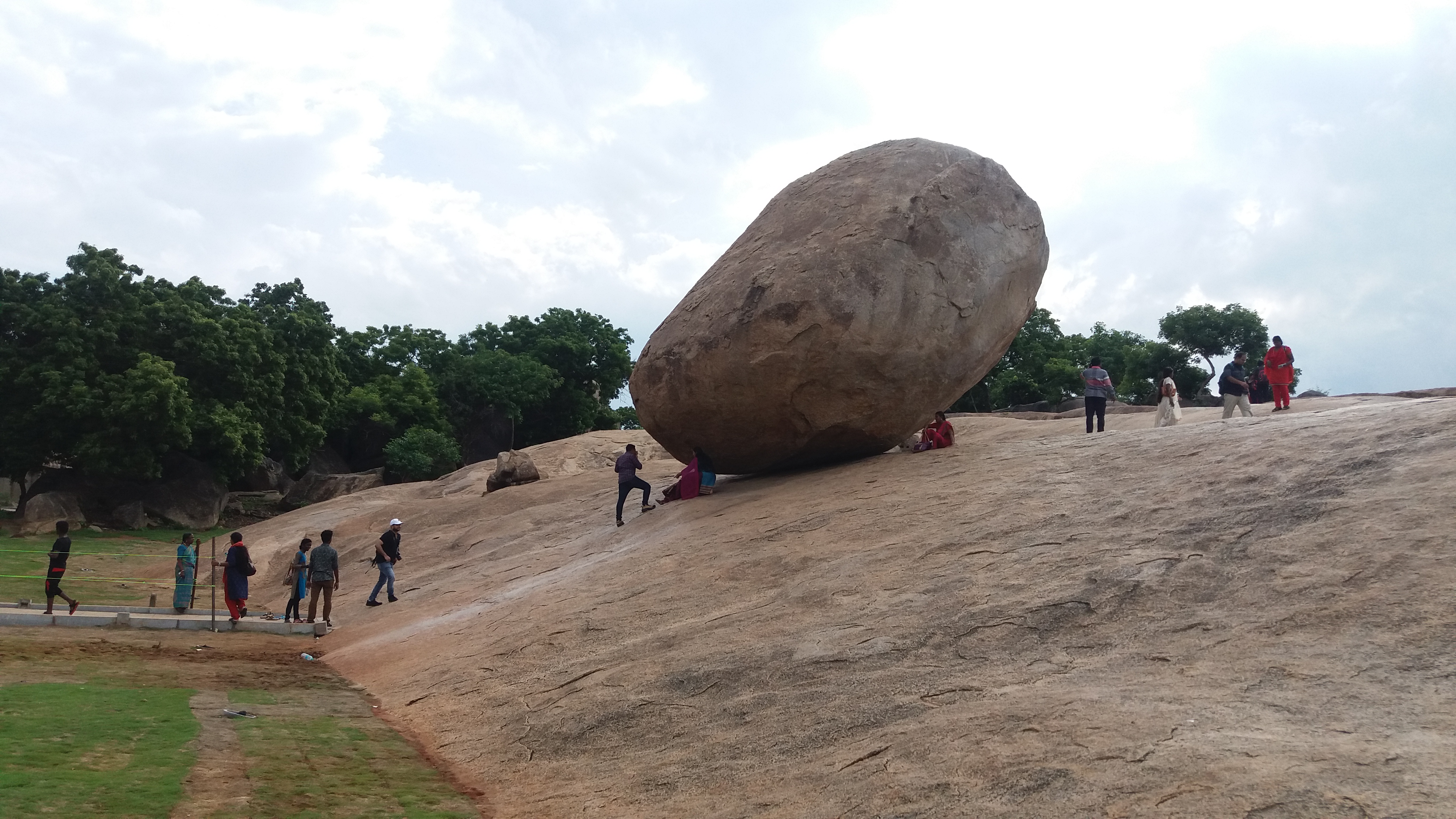 6. Ganesha Ratha - The most attractive of this monument is its architecture on the stone work.
7. Krishna Butter Ball - It is a huge boulder resting on a narrow base. It is said that in the past, Pallava kings and their elephants have tried to push this rock from its place, in vain.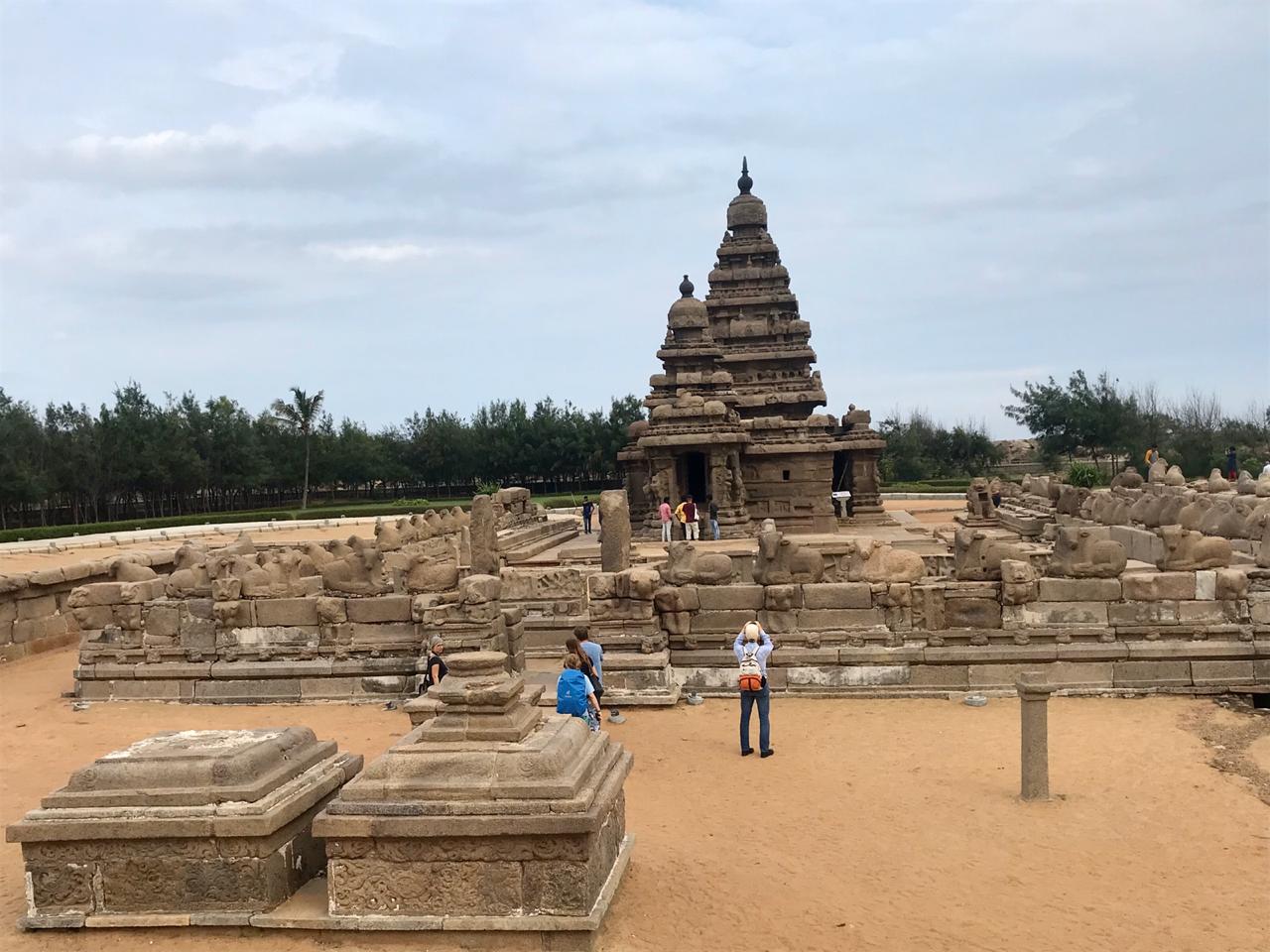 8. Shore temple - It is a fabulous structure of two temples built in 8th century AD, during the reign of Pallava King Narasimha Varman, facing Bay of Bengal. The larger temple is 5 storeyed structure sitting on a 50 feet platform. Two shrines of Lord Shiva and one small shrine of Lord Vishnu are there. This is not a rock-cut temple, it is built with blocks of granite, surrounded by a beautiful fence of carved images of stones. 
9. Mahabalipuram Beach - It is the most prestine beach of Tamil Nadu. We saw it from the Shore temple side, but didn't go nearer due to lack of time.
10. Tiger cave - Our autorikshaw driver took us 5 kms away on the Chennai-ECR Road, to show us the final tourist spot included in his package. After taking a Rs.25/- ticket at the entrance, we went inside and saw a huge stone structure of a tiger resembling like a cave. The mouth of the cave was carved with ornate tigers. The ferocious look of the tigers with their eyes and the canines that jut out are carved out well. The carved out steps leading to the cave  with two lions on either side  were also beautiful .
We were told that there is also Shiva temple in the this place, but we didn't go there for lack of time, but saw huge boulders there. Some people who took the ticket and came inside, stopped at a play area there for the kids, and some went straight to the beach. We left there by 5.30 p.m.
Each stone work in Mahabalipuram depicts some real life stories in history. If you have a mind to enjoy the beauty of art or history it will be worth visiting these monuments.
While paying the autorikshaw driver, I told him I will be giving his name and phone number on my travelogue he was mighty thrilled and thanked me. His name - G. Raju, Mobile no. 9003852715. (I get occasional emails from some of the readers asking me for these details and hence i'm adding this.) 
Even after reaching back home, the memories of the beautiful art work of a bygone era are still lingering in my mind. 

A video about our visit will be posted here soon.  
Click here for the Video - Trip to Mamallapuram