Trip to Goa
by Lakshmi Menon
(Bangalore, India)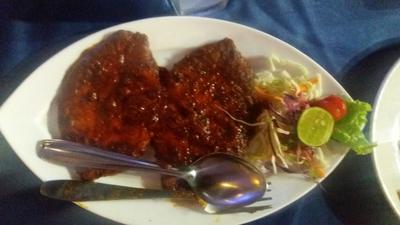 Recently I got an opportunity to visit Goa, one of the smallest states of India, with coastlines stretching along the Arabian Sea. A former Portuguese colony with a rich history, Goa is a paradise for tourists because of the mesmerizing beaches.


We stopped at Calangute beach, for a while. It is the largest and most crowded beach in Goa, and is flocked by thousands of domestic and international tourists. Watersports and adventure activities like surfing, catamaran sailing, banana rides, parasailing and paragliding are the main activities of this beach. The beachfront was full of shacks for the tourists to enjoy. Shopping is another major activity on this beach. Ornaments, dresses, designer bags and many other items are available on sale.
We had a brief stop at Colva Beach also. This beach is also popular among tourists for sunbathing, watersports, adventure activities, and shopping.
Our friends,with whom we stayed, decided to take us for dinner. After about 20 minutes of driving, we were at one of the Ocean Front Restaurants, at Benaulin. Both the locals and the tourists were dining in the candle light enjoying the dance, music and fresh sea food. After ordering the food, we took a brief stroll in the sandy beach and returned to the restaurant. We too enjoyed the yummy Goan food, chatting with our friends.
It was amazing to see the wonderful creatures of marine creatures at Abyss Marine Fish Aquarium.
Also saw the Basilica of Bom Jesus, one of the oldest churches in India. It is a UNESCO World heritage site, and is one of the best examples of baroque architecture in India. Within the meagre time we had in hand we were also able to visit two of the famous temples - Shri Shantha Durga Temple and Sri Mangueshi Temple.
A Trip to Goa is not complete without a visit to Loutulim to take a tour of Ancestral Goa (Big Foot Museum) where the lifestyles of the people of old Goa displayed in life size sculptures and structures, and the Casa Alvares Museum, a 250 year old mansion built in Potuguese style which is preserved elegantly. In Ancestral Goa, the huge sculpture of Saint Meerabai is not to be missed.
Visiting this enchanting part of India I realized that this place is not only for beaches but there are many other things also you can enjoy in Goa as a holiday destination.
You can also view these videos of our Goa visit -

Goa Trip - Part I

Goa Trip - Part II

Goa Trip - Part III

***