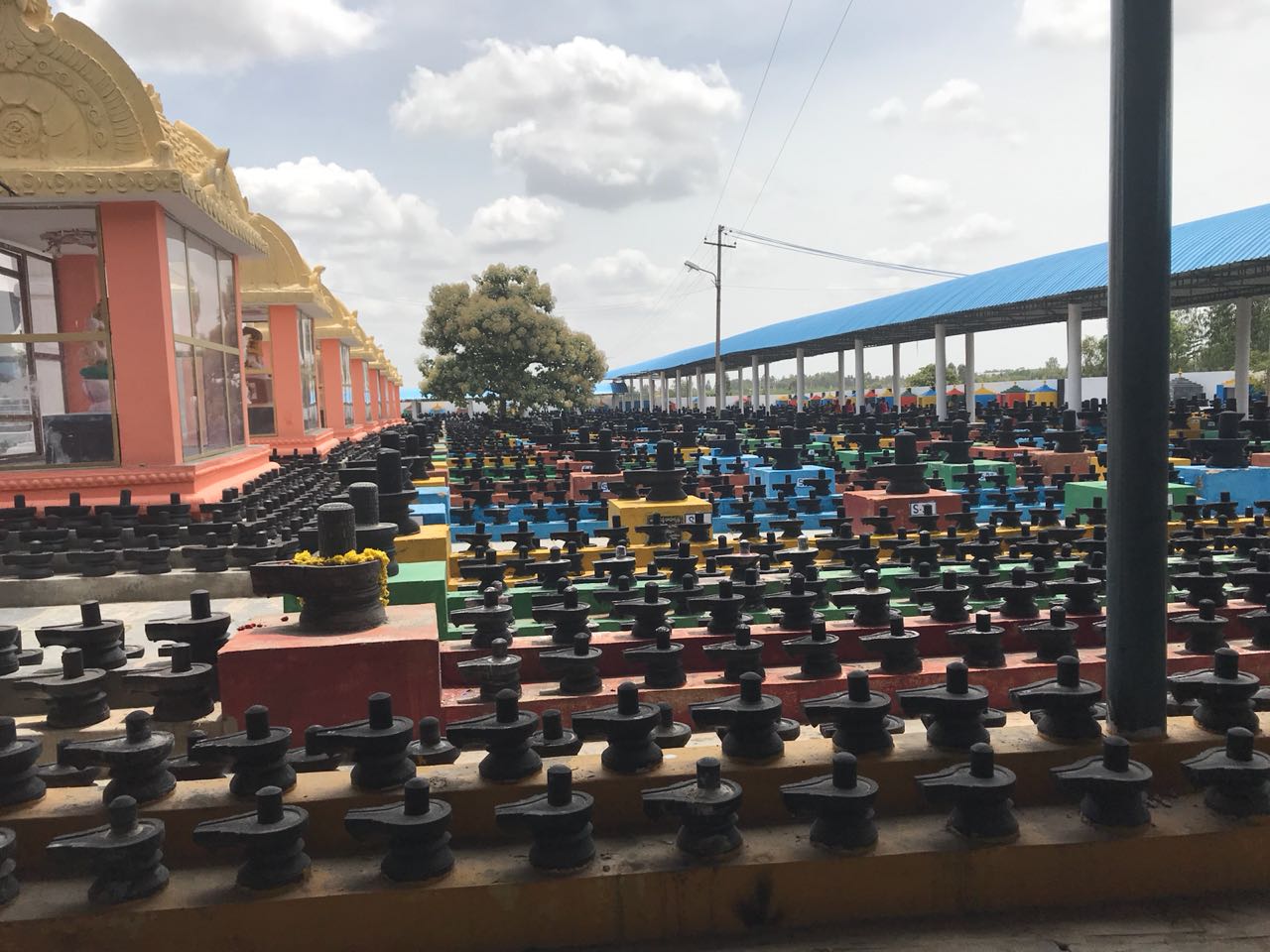 A trip to Kotilingeswara temple was in my mind for quite some time.  Finally, it became a reality. The temple is located in a small village called Kammasandra in Kolar, near Bangalore. 
We left home in Bangalore by 8.15 a.m. after having our breakfast. We chose the route through Whitefield. The roads were excellent, but the traffic was too much, and we regretted not leaving home earlier. It was actually a distance of 2 1/2 hours drive, but it took us exactly 3 hrs to reach the temple using Google maps. Since we didn't want to waste our time on the way we didn't have a break anywhere. We passed by many scenic spots like hills strewn with huge boulders and after some time blooming marigold fields. The internal road from Kolar to Kotilingeshwara Temple is also in decent shape and surrounded by lush green fields. You can find many coconut vendors and seasonal fruit vendors on the way.
"Kotilingeshwara" – a Sanskrit word where "Koti" means  Crore and "Lingeshwara" means Shiva Linga – an iconic representation of Hindu God Shiva.  Swami Samba Shiva Murthy had a vision to build a temple with one crore Shiva Lingas and the first Linga was installed in 1980.  

After parking our car, we walked towards the temple and saw flower vendors selling flowers for pooja. We bought the flowers and moved forward, then bought the entry tickets (Rs.20/- each) and entered the temple premises. We saw many  Shivalingas placed everywhere as we enter the premises. They were placed neatly, and no dust was seen.  There was a small queue waiting before the first temple, which is dedicated to Lord Brahma, Lord Vishnu and Lord Maheshwara. We too joined them. The pujari told us that there are at present 90 lacs of Shivalingas in the temple and more 10 Lacs to be added, to make it a crore. Apart from the main temple dedicated to Lord Manjunatha Swamy, there are 10 more temples on the same premises. After you come out of this central courtyard,  you can also see Shaneeshwara temple.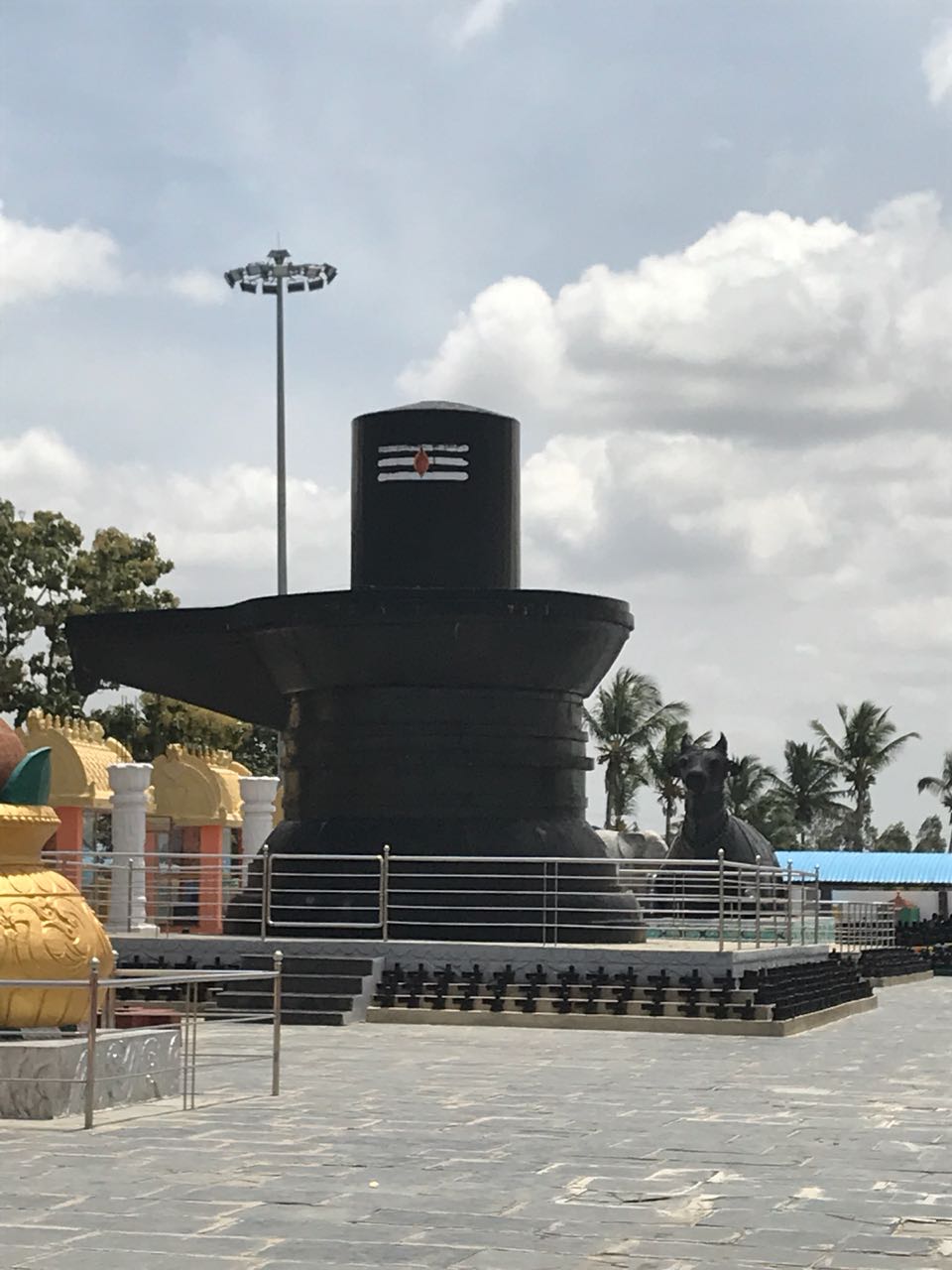 A massive Shivalinga is installed in the front which is considered as the tallest and largest Shivalinga in the world, with a height of 108 feet. Next to it is a big Nandi surrounded by many Shivalingas. 
When we came out of the temple premises,  we saw a few shops selling puja items and some other shops selling colourful toys, bangles etc. As we entered the parking area, we saw a few refreshment stalls, and we had tea in one of them.
On the other side, there is also a meditation centre which also we visited. 
For our return journey, we thought of avoiding the traffic and opted for the route to Hosur Sarjapur road, with the help of Google maps. Unfortunately, the streets were not good, often bumpy, but of course, there was no traffic problem, until we reached Shoolagiri. From there, we entered the main Hosur Road, and on the way at Adhith Restaurant, we had our lunch, which was entirely satisfactory. We reached back home by 3.30 p.m.
Return to Travelogues