Custom Search
Trip to Yelagiri Hills
By Lakshmi Menon
Yelagiri Hills is a small hill station located in Vellore District of Tamil Nadu.  It is less exploited and still retains its pristine beauty. Yelagiri Hills are attractive to those who want to get away from the hustle and bustle of the city especially from Bangalore and Chennai. It is just about 160 kms from Bangalore.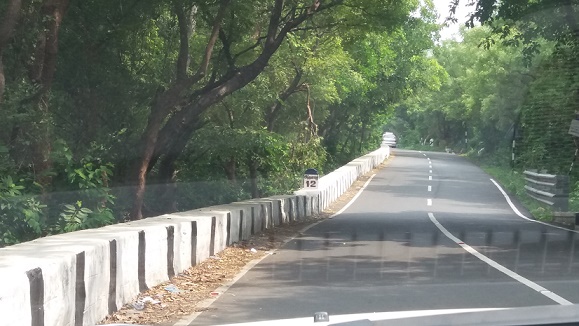 Being a part of a specific driving group (Bangalore Jeep Owners Club), my daughter invited me to join their group to visit Yelagiri Hills. Though I had been there once I accepted her request.  She used to tell me about her adventurous trips with her group and I had never imagined that I would be able to enjoy a whole-day trip in the company of her friends.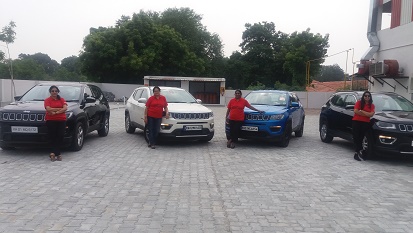 It was a woman alone trip to the hill station. However, due to Pooja holidays there were only four women jeepers who were ready to join this trip. Hence, they were permitted to bring along one or two guests for the trip. It was planned that all the four women coming from different parts of Bangalore would meet at Attibele toll gate by 6.45 a.m. From there they would drive together and by then they would feel their breakfast pangs and they would stop at the breakfast place.
There are many breakfast joints on the Highway, but they chose Murugan Idly Shop at Krishnagiri. After spending about 30 to 40 minutes for the breakfast there they proceeded straight to Yelagiri Hills. 
The route was from Hosur Road, and after Krishnagiri turned into Chennai road. Approximately, after 45 kms we took the Jolarpettai road and the women jeepers wanted to take an offbeat road.  Hence, travelled through the villages enjoying the scenic beauty of the mountains and lush green farmlands on the way which took us till the foothills of Yelagiri. 
The 14 hair pin bends (few of which were ruled by monkeys) on the Yelagiri Hills is a beauty to be reckoned with. The view of the villages and township from the hills is astounding and the last hairpin bend led us through Eucalyptus plantation to the Yelagiri Hill town. 
Our main intention was to visit the Thrill Valley for some fun and adventure.  The Thrill Valley is a privately owned property, spreading about 40 acres. An appointment was already made with its owner Mr.Mike to spend the day with lunch and tea. As we reached the adventure camp we were lead to the dining hall and welcomed with some refreshing fresh lime juice.  The dining hall at the adventure camp is a very basic facility with a roof above and open on all sides,  but clean and spacious, surrounded by fruit trees like jackfruit, sapota, avacado, gerkins, export quality chillies, ginger and flowering plants.  
As the name suggests, there were several adventure sports for kids and adults alike at the Thrill Valley, such as zipline, darting, shooting, traffic ring walk, walking on the ropes (for kids), trompoline, wild twister bridge, zorbing, ATV and off-road track, paddle boat for kids etc. Most of the ladies in our group participated in as many adventure games as they could and enjoyed like school going girls, forgetting about their worries and tensions of home and office.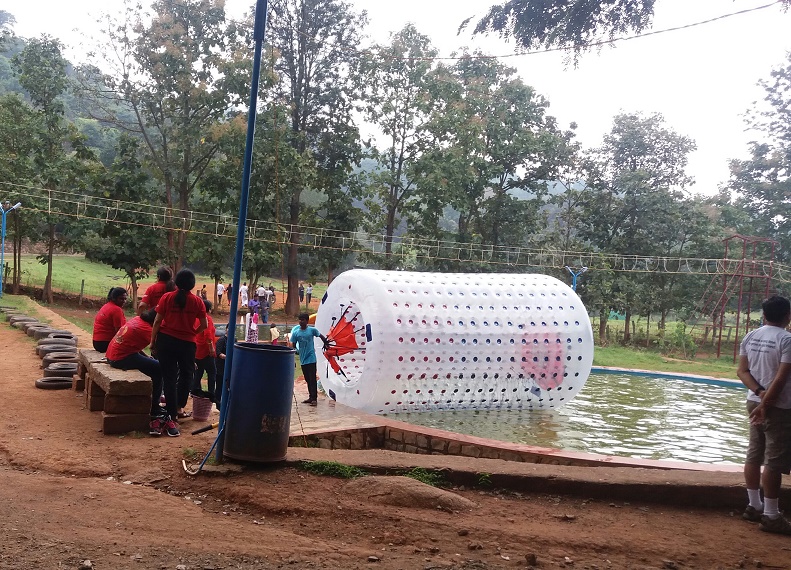 After sweating out with all the games, we were ravenously hungry and headed for lunch by 2 p.m. We were treated with a simple, but sumptuous lunch, cooked on firewood. The vegetables and spices used for our food were collected from their own farmland. 
For food  (lunch + 2 teas) - Rs.150/- for veg; Rs.200/- for non-veg. 

For adventure games - there are a host of packages starting from Rs.600/- and above.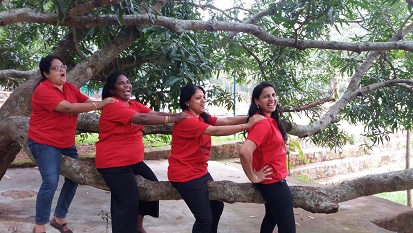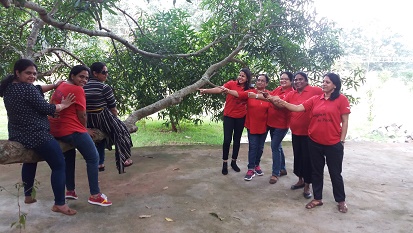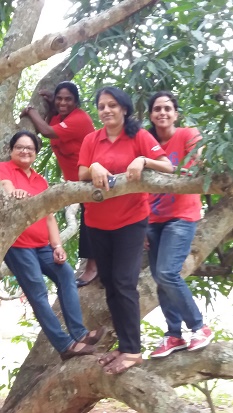 We spent some time visiting their garden and taking pictures. The ladies were excited to climb on trees and posed for photos and videos. The ladies brought out their cars and switched on some peppy music  to which the children in the group entertained and challenged us with their dance. The ladies enjoyed shaking a leg to keep up with the children. This was followed by group photos and vegetable and fruit shopping.