Custom Search
Top 6 Virgin Coconut Oil Benefits
By Lakshmi Menon, Bangalore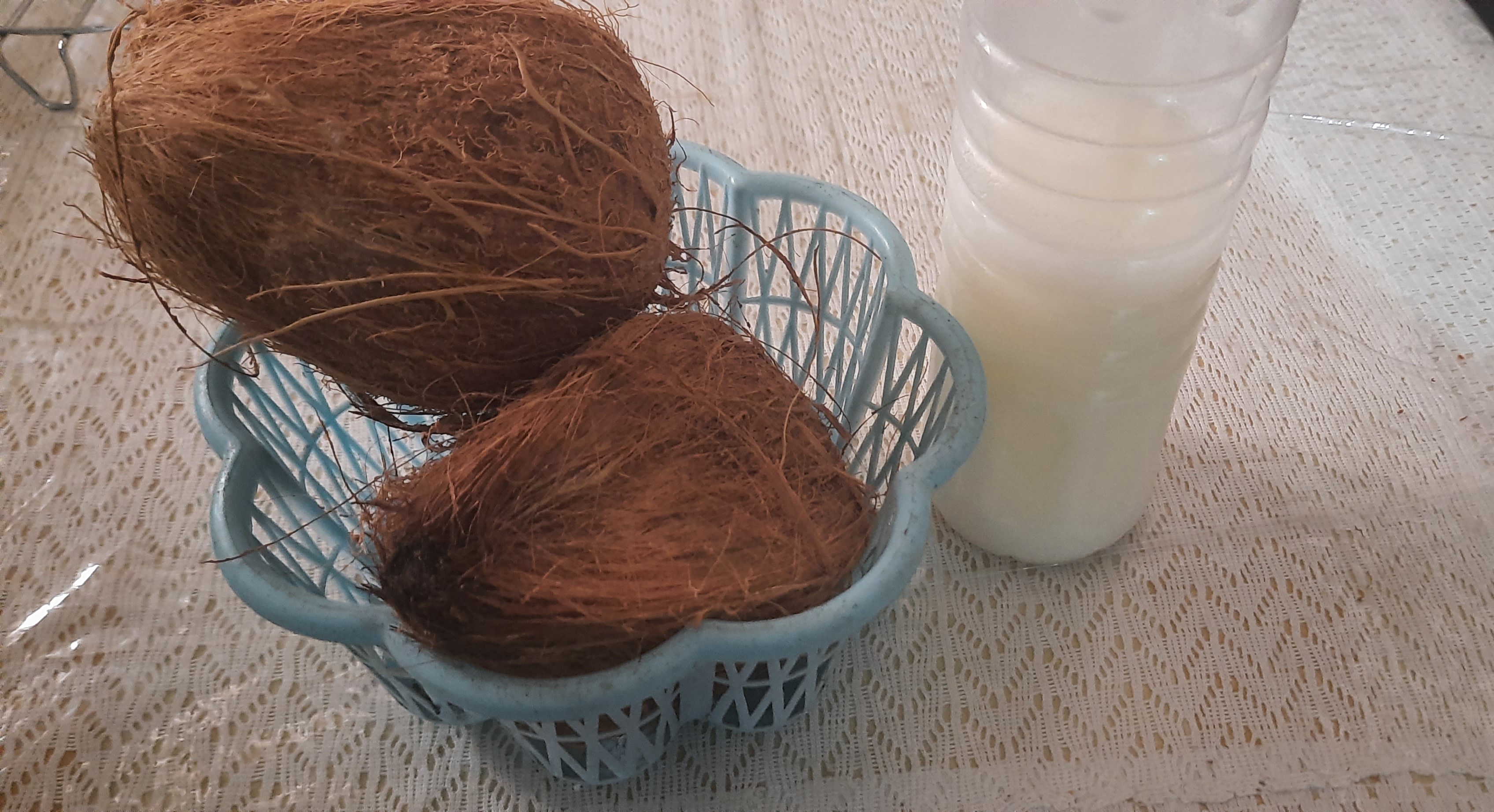 Coconut Oil has been in use in our household for centuries in different ways such as in cooking, hair care, beauty care etc.  We mostly use the coconut oil readily available in the market (refined coconut oil) for these purposes. Many researches have been carried out in this topic and reported that virgin coconut oil has more health benefits.
What is Virgin Coconut Oil,
and How is it made?
Virgin coconut oil is extracted from matured fresh coconuts by cold compression method.  This way the oil maintains all the natural constituents, aroma and antioxidants.  Virgin coconut oil is non-greasy and is lighter in viscosity and has better aroma and taste as compared to the regular coconut oil. 
On the other hand, the regular coconut oil is made from dry coconut kernel called copra. In this process, the copra is pressed, extracted oil is refined, decolourized and bleached.  Thus, the natural nutrients in the oil gets compromised.  
Benefits of Virgin Coconut Oil
Virgin Coconut oil contains good amount of essential fatty acids and antioxidants which is good for several therapeutic uses. 
Nutritional properties of Virgin coconut oil 
1 tbsp (11g) provides:
1. Promotes HDL cholesterol which is good for our health. Virgin coconut oil is rich in medium-chain fatty acids (MCFAs), has good cholesterol and negligible amounts of trans fatty acids.  
2. Weight loss - Helps in  healthy functioning of the thyroid and endocrine systems, and increases the body's metabolic rate; hence helping in losing weight.
3. Promotes Dental Health - Oil pulling is an ancient method practised in India for the maintenance of dental health. Studies show that using coconut oil for this ancient method is more useful in reducing plaque formation and gingivitis. It reduces bad breath, prevents dental cavities and promotes dental health. 
4. Promotes healing skin woes like eczema and psoriasis.  Since it contains Vitamin E, use of virgin coconut oil is helpful in treating mild and moderate chronic skin conditions. 
5. Helpful in treating Alzheimer's Disease - The medium chain triglycerides (MCTs)  present in coconut oil is super rich in ketones linked with boosting memory.  
6. Protects hair from damage -  The lauric acid in coconut oil helps in protecting hair from damage caused by essential protein loss due to grooming and ultraviolet (UV) exposure. It moisturizes and nourishes the scalp. 
How to make Virgin Coconut Oil at home
Remove the coconut meat from matured fresh coconuts and grind it well with little water. Sieve the milk in a muslin cloth or strainer to get the pure milk. Keep it for 10-12 hours undisturbed, for fermenting. The cream will be formed on top, remove it slowly into a cooking pan, and cook it until the oil is separated from the cream.  The oil thus obtained is pure in quality. 
***
Disclaimer: The health care articles provided on this site are for general information only, and should not be treated as a substitute for the medical advice of your own doctor or any other health care professional.
References: 
1) https://www.netmeds.com/health-library/post/virgin-coconut-oil-uses-nutrition-and-health-benefits
2) https://www.ncbi.nlm.nih.gov/pmc/articles/PMC7766932/
3) https://www.ncbi.nlm.nih.gov/pmc/articles/PMC5796020/
4) https://pubmed.ncbi.nlm.nih.gov/24328700/
5) https://pubmed.ncbi.nlm.nih.gov/17651080/ 6) https://pubmed.ncbi.nlm.nih.gov/24320105/