Why I miss the Mumbai Locals
by Jovan Fernandes
(Mumbai, India)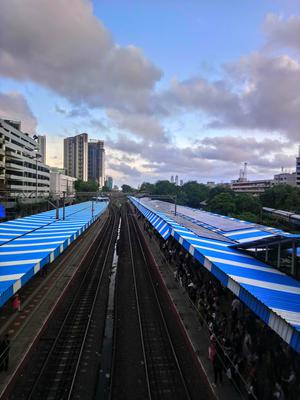 The local trains of Mumbai are testimony to the city's resilient spirit and maybe that's why the announcement to shut railway service as a control measure against Covid-19 on March 23, 2020 was considered a landmark decision. Someday when this is all behind us, we will recount stories from when the city stopped in its tracks (quite literally).
So what really elevates a mere Mode of Transport to a city's Lifeline?
With fond nostalgia, I recount my top unique personality traits of the Mumbai local:
1) We are in it Together – Travelling on the Mumbai local is a social task. There are all sorts of situations that either make you ask for assistance or prompt you to assist people. These carriages have borne witness to immense kindness shown by strangers to one another.
2)There's always a Way – Nokia might have trademarked the tagline Connecting People, but if you consider the expanse of the railway network in the city, you have to agree that this is really connecting people. Family Functions, Daily Job Commute, Surprise Visit to a long-lost friend – you can be wherever you want to – thanks to the interconnection between the 3 Major Railway Lines – Western, Central and Harbour.
3) We Will Survive – Finding peddlers on these journeys is extremely common. They sell you all kinds of knick knacks – munchies, accessories, kitchen tools, cosmetics, and what have you. Some of these people are living testaments to the sheer will to survive. Among others, I purchased a trinket or two from a dear old lady, with a very interesting background story.
4) Accept, Accommodate, Adapt – Mumbai is such a potpourri of cultures and communities, and you can experience this amalgamation when you travel via the local train. Whether it is the noisy neighbour, or the sprawled opposite seat or the toddler who stole your window view – these instances may seem uncomfortable and rather inconsiderate at first, but over a period of time it teaches you tolerance.
5) There's always Hope – Every true passenger of the local train in Mumbai knows this adage very well – never chase a train that has left the platform, there will be another one coming soon. Sometimes like with good opportunities in life, the next one might take a little waiting- but it will surely turn up.
In conclusion,I think of the Mumbai local experience as a way of life fused together by diverse human beings with diverse struggles, wishes and needs.
***