Bagamoyo visit- continued
by Lakshmi Menon
(Bangalore)
The food was fabulous. We had ordered for the local food, as we wanted to know how was it. Ugali is their staple food. Ugali is made from finely ground white corn powder, something like ragi mudde, but white in colour. It is eaten with meat or vegetable stews, greens or soured milk. Most of the Swahili dishes contain coconut milk or banana. Bananas are used in meat, fish and chicken. Not only ugali, rice and cassava (tapioca) are also used as staple food.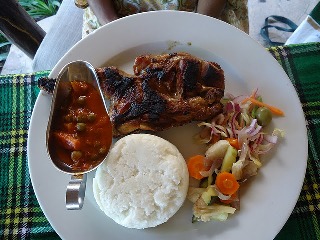 Baga food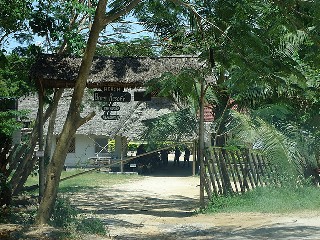 Bagamoyo Resort
The people are very friendly and hospitable.
There was a gift shop too inside which exhibited several good gift articles.
When we reached there it was already lunch time, and the sun was very hot. The water from the beach was very far away. "Don't worry. After sometime water will come up. Keep watching," said Jackson. I had forgotten to take my scribbling pad and pen to note down the details. Our request for a pen and paper was easily provided by the staff. We had our lunch there and spent time there until the water came up in the beach, and the heat of the sun had gone down. Till then as requested by me, Jackson entertained us with the local news, about his family, culture, schooling and life in Africa etc. We spent our time merrily on the white sandy beach, and in the crystal clean sea water. The beach was not too crowded.
On our way back home, we stopped our car at a vegetable vendor's shop. Fresh organic vegetables straight from the trees were available for sale at cheap rates, and we bought plenty of vegetables and fruits. As we were admiring the beauty of the land during our travel, we saw a crowd and some announcement was going on. "It is gospel teaching," said Jackson.
On the whole, we enjoyed our visit to Bagamoyo Beach.
Back to Bagamoyo visit - previous page