My Visit to Bagamoyo
- An African Town
During my recent trip to Dar es Salaam, the commercial hub of Tanzania in East Africa, I was more interested to see the historical sites and learn about the culture of the country than the wildlife for which Africa stands in the topmost list of tourist destinations.
On a Sunday morning we set out in a car to Bagamoyo town, a historical town, 75 km away from Dar es Salaam. Dar es Salaam means "Haven of Peace" in Arabic. Dar, as affectionately referred by the locals, is situated on a massive natural harbor on the Eastern Indian Ocean coast of Africa and so close to the equator. Hence the weather is quite hot (somewhat like Chennai).
Since it was Sunday the roads were clear and we were able to enjoy the lush green scenery on both sides of the roads. Our driver Jackson, though he was not a tourist car driver, was quite locally knowledgeable guy and was willing to explain things in detail about the places and culture of his country, with utmost enthusiasm.
Bagamoyo Beach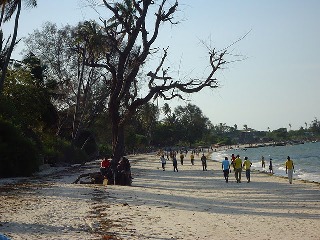 Bagamoyo Beach
Bagamoyo is a historical coastal town and was the headquarters for the Germans in 1891. Jackson drove us to the Slave Chambers where they were captured and kept for export trade, during the slavery period. Standing before the slavery house and staring at the damp walls, for a moment my imaginary mind took a stroll through the most terrible human sufferings of the past, but I soon diverted my mind to the nearby market where the talented artists were at their work and had displayed many of their beautifully skilled work for sale.
Bagamoyo Slave Chamber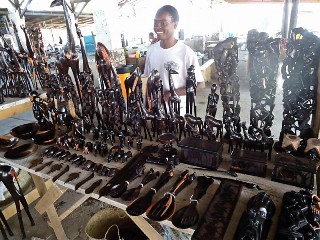 Market near the slave chamber
"Can we see inside?" asked our driver, and the tall man shook his head with disapproval.
"Today being Sunday, it is closed and you can't see inside", said the man looking at him, and I thanked my stars for not having to see the inside of the dungeon.
When we left there with a heavy heart, little did we realize what was awaiting us in the next stop. Jackson drove us towards a crocodile farm and the car was parked under a tree. The place was far from the main road. After paying the entrance fee, we walked through the sandy area in the scorching sun as the car couldn't go through it. As we walked I was surprised to see many useful Indian herbs grown there abundantly. There were many crocodiles which were kept in separate cells, and the oldest one being 56 years old. These were kept for show as well as for sale for meat in Asia and for clothing in Europe. Closer to the crocodile farm under a tree, a girl was skillfully plaiting the hair of her mother. When we asked her permission for a photograph, both of them gladly agreed.
Bagamayo crocodile farm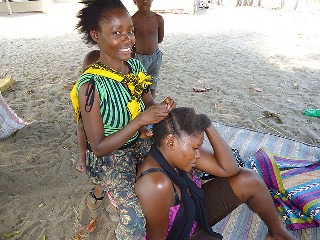 Bagamayo hair style
Our next halt was at Kaole Ruins, about 5 kms away. This beautiful place has a historical significance. Kaole port was a center for exporting slaves, and the southern head quarters of the Germans. These ruins are a collection of Islamic architecture including two ancient mosques (built from coral stones with stone pillars) and 30 tombs, one mosque is believed to be the remnant of the oldest mosque in East Africa,(3rd and 4th centuries). They believe that some of those tombs are the graves of local rulers who were known as diwanis. It is believed that the first settlements here were the Muslim traders from Persia, then followed by Omanis, Indians, Chinese and Europeans. Later the sea receded here and the port of Kaole could no longer be used, and later Bagamoyo port was developed into a town of importance. This once famous port is now a mangrove forest. You can also see a Baobab tree there, which is said to be 500 years old. There is also a well, water drawn from it is believed to be having healing properties.
During our onward journey, we bought some soft drinks on the way. Also saw Livingstone church and College of Arts (Chao cha Sanaa). This is a major art college in Tanzania where music, dance, drama and painting are taught.
Our final destination of that day was Millennium Sea Breeze Resort at Bagamoyo. Located on the beach, right on the Indian Ocean. The guest rooms were inside the quaint thatched bungalows, and a clean pool was also there. The staff were very cordial and helpful. Continued here.....
---
Also check out
Magic Land of Zanzibar - a mini guide