Being Vegetarian in China
by Lata Vishwanath
(Bengaluru, India)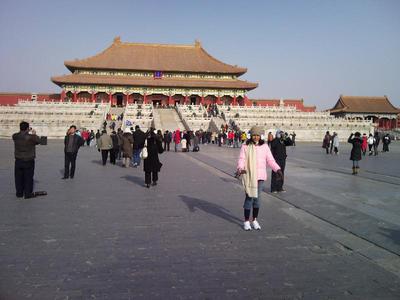 Forebidden City, Beijing
While planning overseas holiday trips, food is always a matter of concern for me and my family. Being vegetarians, first questions that spring in our minds are as to whether there would be an Indian or at least a vegetarian restaurant in the place we visit, and if there is one whether it would be accessible from our place of stay and so on and so forth. The fact that stuff like Burger sandwiches or Pizzas or Chinese vegetarian are invariably available in every place of visit, and that these satisfy our need for at least a few meals, helps only a little. After whole heartedly and happily savoring the non -Indian vegetarian food, in no time our taste buds start to crave for or own spicy Indian varieties. Therefore, every overseas holiday, inevitably, we end up carrying a bagful of at least a few edible items from our own kitchen.


Our planning and concern for food, however, took altogether a new dimension when the idea of a trip to China for the year end vacation was mooted on the dining table of our Singapore home. Considering that we were the only Indian family in a group of majority Singaporean Chinese, the discussion ended with a trail of 'whats, hows, ifs and buts" from my daughters. As if to echo our fear and skepticism the travel agent in Singapore's Chinatown threw a frown with a cryptic 'In China, language and food both difficult. lah." It was evident that he wasn't willing to spare that extra effort in taking care of the lone Indian family.
That was a brief setback, though, and it didn't at all deter us from going ahead with our plans. After being turned down by a couple of more travel agents, at last one agency not only readily agreed to include us in a group tour to Beijing but also assured us of full care with an English-speaking guide and an excellent Chinese vegetarian food.
Our plans thus finally materialized and our journey set to the oriental jewel of Asia. The food was still an issue and we needed a back- up (survival) plan for a ten-day holidaying in China. My friend came to my rescue when she suggested "Carry the easy 'Haldi Rams' ready to eat mixes. You can supplement them with other servings, you know." It appeared quite sensible to carry the ready to eat packs and warm them up at the hotel room for the unexpected SOS hour.
So there went along with us a baggage of Haldirams, Amuls and MTRs ready mix Packs. At Singapore's Changi airport our humongous food bag raised a few eyebrows when it weighed 15 kgs. at the check in counter. On arrival at Beijing as our food luggage strode with us on the tourist bus in the sub-zero temperatures of December winter, feelings of "what an unnecessary rattling luggage" instead of enjoying a hands-free tour had started sweeping over the initial "good foresight, excellent plan" feelings.
The first day of traipsing around the expansive precincts of Tianmenn Square, and the sprawling Forbidden City and its magnificence were foreboding us from giving even a slightest thought of our packed food. We were extremely happy to be served lovingly by our guide and relished heartily what was given as the Chinese vegetarian meal.
On the second day, the first in our agenda was a journey through one of the great wonders of the world, the Great Wall of China. Indeed, a wonder that it was, amid the pride and exhilaration for having scaled the great heights of the Great Wall, our repressed taste buds started to tingle and crave for something succulent for our meal. So out came our own Tamarind rice mix in our hotel room to go along with Tofu and Pak Choys in the meal arranged by our tour guide.
The following days were packed with more tours inside Beijing city and its most popular spots across its magnificent monuments, gardens and palaces and not to least mention the newly built Olympics stadium. As we lumbered in the freezing environs, along the long corridors of Summer Palace and the adjoining lake, we found ourselves looking forward to an early lunch with an irresistible longing for our hot Dhals and spicy Rasams. However, we soon realized that we needed to wait till the night to satisfy our cravings. To our surprise, it turned out to be even a better option to have after being treated to a spectacular night dance show depicting Bodhisattva by Chinese damsels, and Kung Fu by very young Buddhist monks.
Our cultural tour of Beijing continued the third day with yet another fabulous show by Chinese Wrestlers and a unique face/mask changing man in the middle of a bustling market of Beijing. Our guide took us, next, on a round of an opulent shopping market of Beijing's central district where our Singaporean co-tourists were delighted to be informed about a special duck meat lunch in a quaint looking restaurant. They tucked into the famous dish with an eye of remorse for us, nevertheless, better prepared that we were now, beamed back a smile at them, our fingers tucking into the scrumptious Haldiram's Matar Paneers and Gujarati Undhiyos. In the evening we had the pleasure of enjoying together with them the hot Chinese tea at a famous ancient Tea house of Beijing.
We finished our Beijing tour with the lofty Temple of Heaven and an impressive museum in the city center and waved a goodbye to our co-tourists before taking off to the picturesque city of Chengde, in a cab, about 150 kms from Beijing. Undaunted by the chilliness of the cold and snowy terrain of Chengde, my youngest daughter unwrapped the long awaited, our favorite Amul dahi to complement with the steamy Tofu soup in a restaurant at Chengde.
The last attraction in our trip's agenda was the port city of Tianjin which excited us further with, among other attractions, its splendorous 'Food Street". What's more; our guide took us to a shop to discover something like our own "Sweet Matties" kind of snacks. Packing the sweet snacks, we happily rode back in a Superfast bullet train covering the 110kms to Beijing in just thirty minutes.
Back in Beijing my oldest daughter chose Pizza hut for dinner. Our tour to China was coming to an end and nothing short of the sweet and sour "Bhelpuri' would have been appropriate to round off this splendid holiday. A big packet of Bhelpuri was emptied and devoured along with slices of pizza.
At the airport a Singaporean Chinese lady rolled her eyes up and down and questioningly said, "why did you choose China for your vacation?' Expecting a reply in negative, she added "Food in China not as good as in Singapore, you know. My stomach really got upset."
I nodded in affirmative and said, "Yes, but we loved everything about China".
***