Custom Search
IWW eJournal December 2013
iww eJournal 2013- Issue No.24, December 2013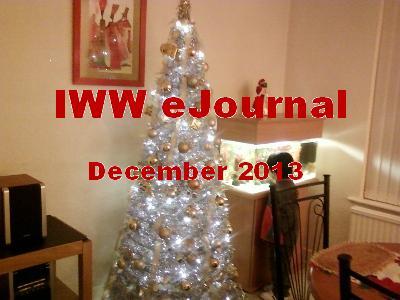 A hearty welcome to our December 2013 issue.  A special welcome to our new writers  who joined our team this month. They are - Jini, Annapurna, Debasmita, Renuka  and Daisy.  Hope you too will enjoy IWW as much as we do. 
The year 2013 is coming to an end and you can see some new changes at IWW in 2014. 
Please remember the last Date  for submission of the short stories for the IWW Contest 2013 is  25th December 2013. Check out the rules and submit your stories. 
The inklink group of writers from Bangalore has just launched their second Anthology titled "Door in the Wall". Five of IWW writers also belong to this group.  You can check it out  here. 
Happy reading!
Editorial Team
Contents of this Issue
Short Stories
The Story Of A Designer Diya  - By Jjini Maxin Fernandez
Sheela's Agony - By Suriakumari 
The Missing One - By   Annapurna Sharma
Retelling a most wondrous Texa trip - By Manohar Naidu
A Christmas Present - By Gitanjali Maria
A Surprise - By Renuka Balakrishnan
Poems
The delinquent- the making of a rapist - By Priyaa Trippayar Sahasranaman
That Familiar Feeling - By Debasmita Haldar
Winter of Life - By Daisy Das Baruah
Perspective
Educating the Maidservant - By Nuggehalli Pankaja 
Personalised Service and Sweet American Peas 0 By Vimala Ramu
Intimations of Mortality - By Kiran Jhamb
Children's Story
Journey to the Hades - By Naseema Musthafa
Serial novels
Mysterious Disappearances - Chapter 19
Teenager's Anguish - Chapter 13