Custom Search
A Short Trip to Kachipuram Temples
By Lakshmi Menon
Kanchipuram is a destination for historical, cultural and religious purpose. The distance from Bangalore  to Kanchipuram  is 264 kms. Kanchipuram is well connected to other major cities by regular buses and trains. The nearest airport is Chennai. 
We were planning for a trip to Kanchipuram, the temple city,   for a very long time. Finally we were able to make it on a weekend.   We left home by 1 p.m by car.   After stopping for a break on the way, we reached our destination before sunset.  The roads were excellent and the drive was a pleasant experience.   

We had booked our accommodation in one of the hotels in the city.  As soon as we reached there we asked the manager about the nearby important temples.  He advised us that it is better to take a local autorikshaw instead of taking our car which would save our time.  We too felt that it was good to have a local help who can take us to the right places at the right time. 
They had a special package of Rs.600/- for which they would arrange an auto driver  for us who would take us to the important temples and any other places such as traditional and good silk sari shops as per our requirement.  We were only too happy to avail the offer instead of searching for the places in our short time.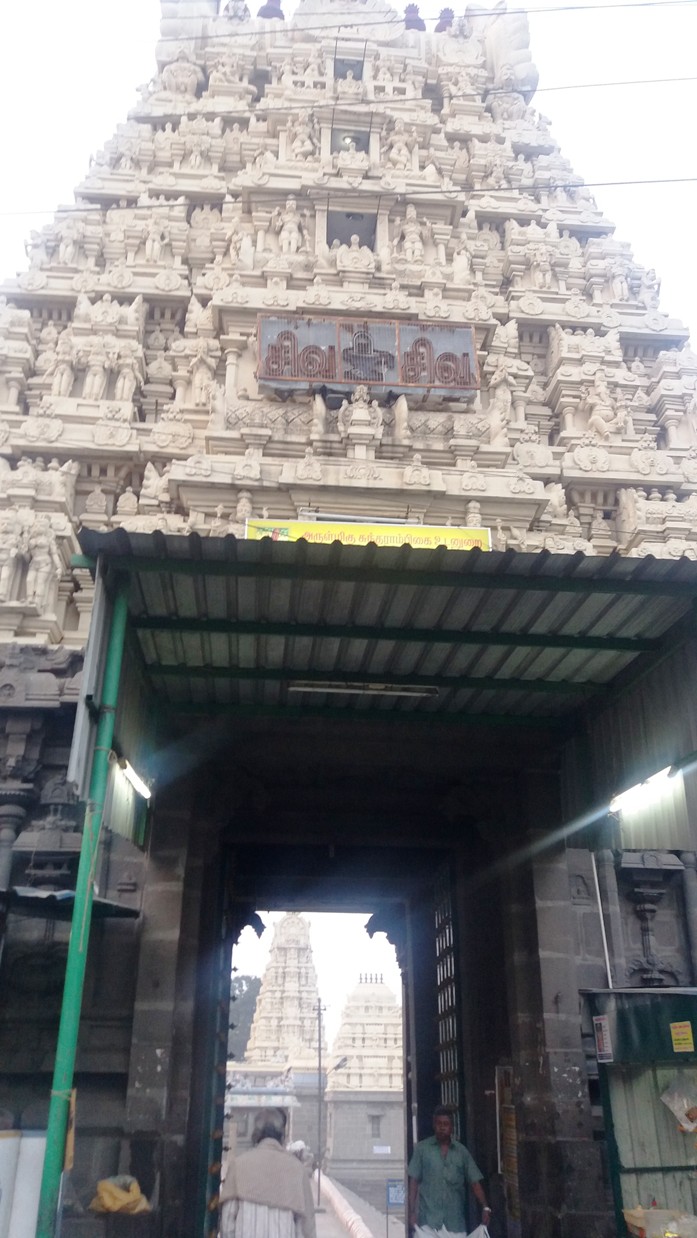 He had called a number and an autorikshaw  came in a short time. We asked the driver whether he would take us to the nearby temples if there is still time and he immediately agreed.  Without wasting any time, we got into his vehicle.
He took us first to Kailasanathar Temple located in the west of Kanchipuram. Built by Pallava kings, with marvellous architecture, this temple is being maintained by Archeological Society of India. 

He had advised us that if we minimize our time in the temple we will be able to visit one more temple before it is closed for the day.  We followed his advice and he took us to Vaikunda Perumal temple, also known as Thiru Parameswara Vinnagaram, dedicated to Lord Vishnu. Built by Pallavas in 8th century AD,  it is one of the 108 Divya Desams of Vaishnava faith and is located on the State Highway.  The devotees have to climb a couple of steps to reach the sanctum sanctorum. Since it was Ekadashi day we were lucky to have darshan and be a part of the special pooja. 
The temple timing -From  6-11 a.m. and from 4-8 p.m.
On our way back, though we were not very hungry we had a light dinner in one of the restaurants.  While leaving us back in the hotel, Mr. Prakash, the autorikshaw driver asked us what time we would like to start our next day's temple visits and we asked him to come by six in the morning.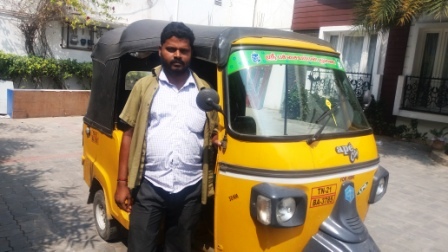 We didn't expect him to reach on time.  To our surprise, next morning at sharp 6, my mobile  rang to say that he was waiting for us near the Reception. By then we were also ready. 
First he took us to Ekambareswarar temple. Before 6.30 in the morning we were in the temple. I was not just awestruck but humbled and speechless when I stepped inside this ancient temple, which was originally built during the period of Pallava kings which was later modified by other subsequent rulers.  

Lord Shiva is worshipped here in the form of Prithvi Lingam.  Ekambareswara temple is considered as one of the three Pancha Bhutha Sthalas.  According to the legends, Parvathi once played a prank on Lord Shiva which resulted in plunging the entire world into darkness. An angry Shiva cursed Parvati and she descended on this place to do the penance, under a mango tree, making a Lingam out of the Earth.  The mango tree found in the outer court is believed to be 3500 years old.
After the darshan and taking the prasadam, we spent some time in the huge temple admiring the wonderful architecture. I wish I had more time to admire the beauty of the architecture. 
The temple timing -From  6-11 a.m. and from 5-8 p.m.
When we came out to get our prasadam Mr.Prakash's brother too joined him in explaining the details. He appeared to have a very good knowledge of these temples.
Mr. Prakash  took us to the next temple, Meenakshi Amman Temple. It is one of three important Shakthi Peetams, the other two being Madurai and Kashi. The beautiful deity of Devi  is in the Padmasana posture, holding a bow of sugarcane and arrows of flowers.  The Kamakoti Peetam or Sri Chakram, established by Sri Adi Shankara, is in front of the Goddess.  The highlights of the temple are the gold plated main gopuram and a golden chariot.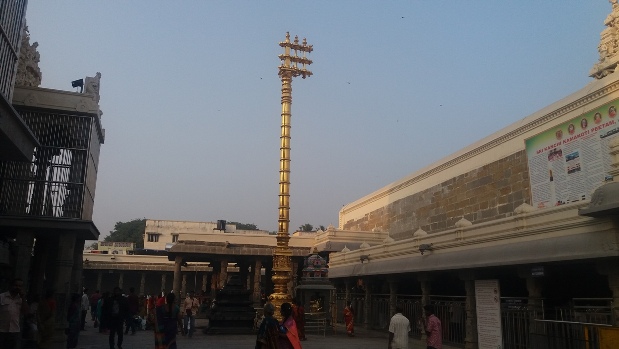 After spending some time there, we rushed to another important temple -  Varadaraja Perumal Temple, situated on top of Hastigiri hill.  It was constructed by Vijayanagar kings, in magnificent architecture. One of the special features of this temple is that it houses a shrine for two lizards carved in the ceiling. Also, this temple which is more  than 1000 years old,  has 100 pillar mandapam with exquisite carvings. 
The final temple we visited at Kanchipuram was Ulagalanda Perumal temple in Kamakshi Amman Street. It is also one of the 108 Vishnu temples known as Divya Desams. The main deity of Ulagalanda Perumal temple is known as Trivikrama because of the gigantic form of Lord Vishnu. (30 ft in height).  The temple has a distinct Pallava architecture, but the inscriptions on it are from the Chola period. 
Kanchipuram temples are built in Dravidian style, and they stand proof for the city's glorious past.