Custom Search
The Last Promise
(Short Story - By Lakshmi Menon)
Sunanda got ready to celebrate Onam festival at her ancient house in Kerala. She was expecting her daughter and son-in-law with their children for the festival.
After the loss of her husband two years ago, she had not celebrated Onam. Her daughter Revathy had insisted that she should not stay alone in the big ancient house. She had kept her with her family in Hyderabad since her father's death.
They had a quite Onam last year. Rajan Nair had told her that even after his death she should try to look as cheerful as before, wearing colorful saris and bindi, and not like the traditional costume of a widow. He was a person who strongly believed that a woman's life won't end with the loss of her husband. He had made her promise that she would celebrate Onam and other festivals every year as usual and she won't sit and mourn his absence. That was the promise he had taken from her before breathing his last.
"That's the way you can show your love to me. Whenever possible, Revathy with her husband and children would come. That paves the way for our grandchildren to learn about our tradition. There will be occasions when they can't make it, and then you shouldn't feel upset," he had said looking deep into her eyes, the previous day of his death.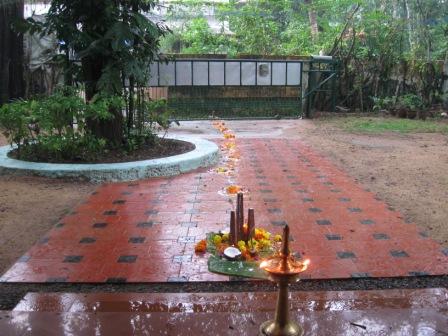 So this year she had reminded Revathy about Onam well in advance so that she would have enough time to make arrangements for the journey, which she had agreed too. All that she had said was that they won't be able to come early. They would come the previous day of Onam and leave immediately the next day after the festival and she should not force them to spend some more time.
Sunanda did not mind it. Every year in the past, her husband used to insist that he wanted to celebrate Onam in a traditional way. He would invite their friends and relatives for the Onam lunch, and it was he who stood and made the "ada pradham" (payasam) in the traditional way. He never liked to use the readymade adas easily available in all shops. That was the practice he had followed ever since their marriage. No matter where they were, he continued the practice. After retirement when they returned to their village in Kerala, he was free to celebrate Onam in a more traditional way.
After his death, Sunanda suddenly felt lonely at home. Their only son Tushar had gone to Los Angles on work. He married an American girl and settled there. He seldom found time even to call and speak to his mother.
Revathy did not allow her mother to stay alone. She forced her to come and stay with her and managed to convince her that in the midst of her grandchildren she would not experience loneliness and boredom. Sunanda had agreed and gone to stay with her. But somehow she seemed to dislike the busy city life. So every now and then she would return to her lonely house and spend a month or two there alone, and she would call Ammini, her old help, for assistance and company. By then she would get her grandchildren's phone calls and she would feel like seeing them and would book the next available train to be with them in Hyderabad again.
Her daughter and son-in-law did not want her to stay away from them. Her grandsons loved their grandmother so much. She would tell them about their grandfather's stories and their mother's story as a baby and school girl.
Anil and Sunil were very happy to return in the evening to a home where their grandmother was waiting for them with delicious snacks. If she was not there only an empty house would welcome them. So they were also upset when she expressed her desire to return to Kerala village.
"What's the problem here for you grandma? Why are you leaving us and going?" her grandchildren had asked.
There was no problem staying there with them. Her caring daughter, her affectionate son-in-law and the loving grandchildren, all liked her to be with them. In spite of all these, she still sometimes missed her husband. She often looked forward to sitting quietly in her privacy and think of her husband, and the good old days they had spent together. So she went to her hometown where only her cousins stayed nearby with their children. Very often she would shuttle between Kerala and Hyderabad. She also knew that it was very difficult for her growing up grandsons to have privacy and for studies if she was there in their two-bedroom flat.
With the help of Ammini, she had made almost all the dishes for Onam. The Nenthrapazham (the special Kerala banana) steamed and kept ready. The banana was grown in her own yard. Every year she used to have their own bananas for Onam. Her husband never used to like the idea of buying bananas from the market. The small and big appalams bought from the old man who used to make as Onam special and sell them for the past several years. Every time after selling the appalams, he used to have a glass of tea from there before leaving, the practice he had since her mother-in-law's days.
Sunanda would fry these appalams after the children's arrival, so that they remain fresh and crisp.
Her elder grandson Anil liked parippu pradaman and the younger one Sunil liked Ada pradaman.Sunanda had bought all the ingredients necessary for both the payasams and vegetables to make the traditional dishes. She had already made the special dishes like kalan, pulienchi etc two days ago, and the other important dishes aviyal and pachadi the previous evening, with great enthusiasm.
She knew that her son-in-law liked the curd dish kalan very much. The various varieties of chips -made especially for the festival, she had bought and kept ready. She would make the remaining items in the early morning before they arrive. Otherwise, there won't be any time left to sit and talk to her children. All the vegetables are cut and kept ready. Ammini had finished even the coconut scrapping work. She knew that Sunanda's grandsons would love to enjoy the sumptuous Onam lunch in the plantain leaves, filled with many varieties of vegetable curries, chips and papad.
It was about seven thirty. Her phone rang continuously. "It must be Revathy's call," Sunanda said walking in her kitchen dress. "She must be on her way. Just before leaving the house she would've thought to call and inform me."
As expected it was Revathy's call. "Amma, I'm very sorry. I couldn't call you early. I was too busy with my work. We couldn't leave as we had planned. Anil is having a test after two days. So he says he can't come home. Anand was supposed to have returned from his tour today morning. But he called to my office and told me that he would return day after tomorrow only. He couldn't finish his work. Added to all these, our maid is down with a fever. So there's no way I can leave the house. Amma, please excuse me. I'm helpless I cannot make this trip, Amma, I'm sorry."
"………"
"Are you listening to me?" asked Revathy as there was no response from the other end.
"Why're you not talking to me anything? I know how you'll be feeling now. I returned home just ten minutes back, after sending a peon to cancel my ticket. Won't you forgive me, Amma?"
"…………."
"Amma, are you not there? Tell me something……. Please. At least just scold me for some time."
"…………………"
"Amma, Tell me something. Please …… Don't be angry with me."
"It's …. Okay…. Mole." Sunanda managed to say.
Suddenly a great disappointment enveloped her. She struggled for words to convey her feelings.
"Revathy, how I miss you!" she said to herself wiping her tears that had not waited for her permission to flow.
Ammini had finished all the work for the day. She came and stood by the side of Sunanda silently asking for permission to go home, and to take the extra amount she was offered for Onam to buy new clothes for her children. Sunanda did not notice her presence for some time as she was in her own world of sudden disappointment. At last, Ammini made a noise to make her aware of her presence. Sunanda turned and saw her.
"Amma, I will come tomorrow morning as early as possible. You don't do anything. I'll come and finish everything on time. Don't worry," Ammini assured her, while collecting the money from Sunanda and leaving.
She thought of telling her "No need to do anything further. They are not coming and I won't have any celebration."
Instead, she smiled and shook her head agreeing to Ammini.
Ammini came with her children in the morning itself. Her daughters made the beautiful pookkalam in front of the house. Sunanda had never seen such a wonderful pookkalam in front of her house all these years.
She saw her daughter and children in Ammini and her children. She found a new joy for this special Onam.
"Rajetta, can you see my special Onam celebration today?" she secretly looked at her husband's photo with glow in her eyes. "Don't worry. I will not sit and cry. I will enjoy Onam with Ammini and children."
From Short Story Last Promise to Short Stories