Custom Search
The Boutique by the Beach
Short Story by Reem, Bangalore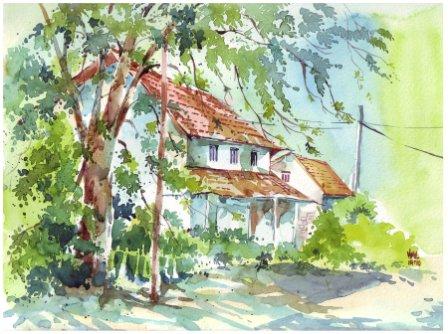 Aminah dipped the bananas in the Maida egg batter one by one and slowly slipped them in the hot oil. When they turned brown, she removed them and placed them on the plate lined with kitchen napkin.
Asiya the cook hadn't woken up from her nap yet and Aminah wanted the banana fritters to get ready before Menaz, her daughter woke up.
'Wow Umma Yumm!" Menaz said, entering the kitchen .  She took a piece of her favorite fritters and started eating it. "'I thought we were going to Zains for snacks and tea," Menaz said.
Menaz had arrived from Coimbatore in the afternoon and after having Asiya the cook's wonderful Calicut biryani had told her Mom about going for tea snacks to the nearby Zains which were famous for their evening fries and steamed cakes. 'You have a lot of time to do all that Menaz, first day at home, have your mother's banana fritters," replied Aminah.
"Haha!,Umma, nice to see you become the pucca Kozhikode woman,"  Menaz said with a grin.
'From bakes to fritters, it has been a long journey, "  Menaz said in a dramatically voice.
'Bakes are still on, when the grand children visit,"  Aminah said with a smile and put off the gas.
The Kitchen verandah faced the Calicut beach. 'Let us go out and eat Umma,"  Menaz said.
She took the plate and went out.
 'Wow this is beautiful! " Menaz said looking at the beach.
Aminah smiled. Whoever visited Aminah's house  could never stop talking about this verandah view.
'When is Sohaib coming?"asked Menaz, looking at the shore and having her fritters.
"He said he will reach by Night. Your father asked him to stay back for some work, so he couldn't start earlier."
'Okay," Menaz quickly said.
"Shenaz and Lamia will reach by night too, they said. " Menaz told her Mother.
"Yes."Aminah confirmed. " Asiya   has been busy preparing for the two royal highness."
 Menaz and her mother laughed as Asiya had the habit of fussing  around her two sisters as they had been married to well to do families.
Later in the night, the house was filled with laughter and chatter of Amina's children.
She too joined them and caught up on the news of their lives and their family.
When the clock struck ten, Aminah got up and said 'Okay I am off to bed."
It was her time to sleep.
Walking back to the room, she knew that slowly the topic of discussion among her children would change.
They will start talking to each other in low tone.
There may be some tears too.
Aminah had seen it all and heard it all ever since her husband re married.
'Which anguish is worse?"Aminah wondered.
The decades of incompatibility between her and Abdul Raheem? Or the anguish she felt when she heard that her husband of forty years was looking for a new wife ?
Soon the anguish had taken the form of acceptance that may be now her husband will be at peace. Something their marriage lacked.
It had been a long road of trying to make the most perfectionist man happy.
His re-marriage, how much ever she tried to accept, in time became harder and harder.
And life in  Kanpur where she had lived all these years with her husband and children, become a pain that she wanted to go away from.
 By the Grace of God her children shifted her to a new city. Moving to Calicut was a breather. Her three daughters were  living in the nearby cities.
She kept herself busy with sewing which had always been her favorite hobby.
Calicut had many a wonderful fabric shops which helped Amina in indulging her hobby more.
Her daughters and Sohaib would visit on weekends and the grand children during school holidays.
 "I couldn't have asked for anything more ," thought Aminah thought., and  quietly went to sleep.
 In the sitting room, the siblings were discussing the arrival of their new sibling.
'Gosh! Who in the world would have thought we would have to see this in our life time!" Lamia said with a sigh.
'Come on, don't be naïve girls. It was inevitable, I suppose. " Sohaib said as if to assure himself.
'If it is a boy you have company then. No more papas' only boy!" Menaz teased her brother.
Shenaz then said, "Sohaib, we have been discussing about starting a boutique here for Mom."
"What?! A Boutique? Why?"  Sohaib asked in surprise.
"Because Mom likes dresses, and we of course do too. She is always sewing new patterns for herself. I am sure she would love to have a boutique around. We don't want to set up a tailoring unit yet. Just to sell clothes and materials. It will give her fresh beginning, make her more busy and have a better social life" Lamia continued.
Menaz joined in "Yes, Nowadays she looks like a hermit cut off from everything, as if she has nothing to do with the world, whereas dad  has started his life again." Menaz said in a suppressed anger.
"Do you think Mom needs that headache now? Let her just relax will you all?" Sohaib told his sisters bit irritated.
'Sohaib, you know Mom always likes to be busy. She had so much going for her in Kanpur even after Dad got remarried. Yet she had to stop that too." Menaz said.
Shenaz added ,"Sohaib, I am just few hours away. I have already discussed with Malik and he has given me the green signal. It is just not for Mom, but for us also.'
She will enjoy it for sure. And the daily interaction with people will do her good," Shenaz reasoned.
'Yes, indeed,"Lamia said. 'And maybe she will meet her soul mate too one day this way!"
"Oh shut up!"Sohaib said.
'Come on, Sohaib! You are fine with the fact that Dad has found his mate and he is at peace something we all know which he wasn't with Mom, shouldn't Mom too find her mate and  her peace??" Lamia said
'Now stop it Lamia," Menaz said.
Lamia fought back her tears and sat quietly.
"I will ask Mom and if she is fine with it then we will see "     Sohaib said.
'Hey, we all are investing here, so you don't have to worry about asking Dad," Menaz told Sohaib.
'He won't mind for sure "Sohaib said defending their father.
'You have done more than enough by shifting her here Sohaib", Menaz told her brother.
'Don't think we will burden you with more. We just wanted to discuss it with you"
'We will take care of everything"Shanaz said with a smile
'Oh come on, I too will have something to do when I come to Calicut, instead of just gazing at the beach!" Sohaib said with a laugh.
When Amina heard about the Boutique plan, she was kind of speechless. She didn't know what to reply to her Children.
'If the girls want to start one, let them Sohaib. As long as they are handling everything, I won't have any problem."
'If they shrink of from their responsibilities then I will shut the shop, and won't break my head over it. So don't you worry. "  Amina assured her son in a jovial mood.
Once it was decided, everything took place quickly.
The Boutique was to be in the same compound as Amina's house.
Sohaib sat with her and his sisters along with an Architect to draw the design of the shop.
All four agreed to the Architect's concept of building the boutique in Kerala architecture style. It was to be named "The Boutique by the beach "as that's what it was really.
Sohaib, his mother and sisters headed to Rajasthan, Gujarat and Mumbai for the stocks for their shop.
It was an adventure of their life time .
In a month's time everything was ready .The invitation cards were sent out.
On the day of the boutique opening, Aminah was excited and nervous and  happy .
She dressed up in a white and yellow shalwar kameez.
'Mom's looking great isn't it?" Lamia told her sisters while they were dressing up.
'Yeah she has been looking fresh and full of life nowadays," Menaz replied.
Sohaib looked charming in his brown kurta which Aminah had purchased.
Aminah's sisters from her hometown had landed and were preparing the sweets and the drinks.
First Sohaib, his friends and the Mullah opened the store and recited the Holy Scriptures.Then drinks and sweets were distributed to everyone. Then the woman folk took over the store.
Shenaz, Menaz and Lamia were brimming with excitement.
People had started pouring in and looking at the collections.
Most of them also went up to Aminah and her daughters to pass their best wishes.
The Party wear collection had already started being sold .
The Kurtis and the cottons found their way in the hands of the younger lot.
The Shop and the veranda was humming with woman, teenagers, fathers and husbands.
Sohaib made courtesy chat with the men.
Aminah and her children had practiced quite a many time with their relatives on how to deal with customers so that they don't lose their cool on the  D day.
The Boutique by the Beach Story is continued here.....