Custom Search
The Second Choice
Chapter 13

(By Lakshmi Menon)
Anu too was happy with him now and stopped telling her mother to take her back to her grandpa's place. Pavithra felt that she was portion happy and portion sad. She was happy that her husband could take care of Anu; and unhappy for Indu didn't present an opportunity to her to show her loving and tender care on her.
Sitting alone at home, Pavithra wondered what her father had been thinking of his daughter. She had not written anything about her unhappy life to him all these days. She wouldn't want him to worry about her again. But now she felt it was impossible to suffer alone. After careful thought; she decided to inform him. In this new city she had no friends to whom she could tell her feelings. It was better that her father knew some of her problems she was forced to face with a second marriage, which was so much against her wishes. Otherwise, she would have quietly stayed with him, looking after him in his old age. Then she could have avoided all this unpleasantness in her life at least.
For the first time after her second marriage, she wrote a long letter to her father, which made him come to Bangalore by the next train to see things to himself.
Pavithra was alone at home when he arrived. It helped her to open out the bundle of problems and give vent to her emotions. He was very upset to know about Indu's nasty behavior to her stepmother.
"You try to continue your studies, Pavithra." After hearing everything, her father found a solution, "It'll help you to forget your worries temporarily and later you can get a job if you're qualified in some field."
She drifted off to her earlier days when her father advised her to finish her studies before the marriage.
His words still sounded in her ears. If she had only listened to him earlier and got trained in some field she wouldn't have come to such a life as a second wife, she thought. Who knew her happiness would be like one of the soap bubbles, fragile and quickly destroyed!
She remembered the tiny figure of her class teacher who was a divorcee. Since Ms. Anna had a job as a teacher she was able to stand on her own feet when her husband left her for another girl. Ms. Anna brought her two little sons to the school along with her in the morning and left them in their class and came to take classes for them. Every evening she took them back home with her. She stayed with her mother without a man's support and looked after her family. If Pavithra had a job she too would have opted for that instead of living with someone, unwanted and neglected.
This time she wanted to be more practical, but the questions of managing finances came up before her. She was not going to ask Venu to finance her studies when he was already swinging with his problems.
Her mind was in turmoil. While her mind was clouded with her secret thoughts, her father leaned forward and placed a soft hand on her shoulder.
"Keep this with you. It'll be of some use for your studies. Don't harass Venu for money. He has too many responsibilities now. When you need more you ask me," said her father assessing her thoughts clearly and took out a cover from his bag, which contained some cash. He handed it to her.
As he was very tired; he slept in the sofa until Pavithra brought Anu from school.
Anu was overwhelmed to see her grandfather so unexpectedly. Pavithra had not told her about his arrival, as she wanted to keep it as a surprise for her. Narayan Nair took his grandchild in his arms with all his love and affection. Anu had many things to enquire about; her kittens, puppy, the cow and the other things she had left behind and come. In return, she told him about her new daddy, school, teacher and her new friends in the school. He had brought for her banana chips and orange color halwa, as he knew she liked them very much. He gave her a new dress which she liked and wore immediately. He noticed that she didn't talk much about her stepsister.
"How's your sister?"
"She always fights with me." She turned to her mother enquiringly, whether anything was wrong in telling him.
Her mother laughed. "All sisters are like that. Don't worry about it." Narayan Nair too laughed with her.
After two hours; Indu came from the school, but she had kept her distance. Her unpleasantness was very well written on her face. A questioning look, "Why the hell has he come? Is he also going to stay with us?" was there on her face. She gave her stepmother a dirty look.
When Narayan Nair tried to befriend her she reacted as though he was also her enemy. She considered her stepmother's father also as her enemy. Narayan Nair had brought a new dress and a sweet packet separately for Indu. He called her to give her gifts with lots of hope, but she just took it from his hand unwillingly with a look that said "Are you going to bribe me?"
She left her school bag as usual at home and ran away to her aunt's place. She was in a hurry to tell her about the newer developments at home. She didn't show any love or respect to Anu's grandpa. He was very hurt.
"Indu, don't run away today. Stay at home, please." Pavithra pleaded her. Indu had no time to listen to her. She had left. Narayan Nair realized from that one incident what his daughter had been going through there.
In the evening Venu came home and was surprised to see his father-in-law. "I came to see Anu. I wanted to know how she is adjusting to the new surroundings," Narayan Nair confirmed before Venu could ask him anything.
Narayan Nair thought it would be better that way than mentioning about his daughter's letter. "I was also missing her a lot," he added.
"Don't worry about Anu. She's very happy here," Venu assured him without looking at his wife's direction.
"Pavithra has got a lot of free time when you all are away. I was thinking why she can't complete her degree or some job oriented course during this period instead of wasting her time?" suggested her father just before leaving them the next day.
Venu looked at his wife suspiciously and said, "Yes, she too had told me about it. I don't mind her taking up some course that suits her." He had a weak smile as he said this.
Narayan Nair stole a happy glance at his daughter. He went peacefully thinking that he had solved his daughter's problems very easily.
"Father has left some cash with me. He asked me to utilize it for continuing my education." Pavithra handed the cover to Venu when he returned home after sending off his father-in-law.
"Keep it with you," said Venu calmly.
****
 One year passed too soon. Her studies kept her occupied and hence helped her to get rid of her mental tension partially. She was very grateful to her father for helping her to get out of her problem at least temporarily. By then, Anu had learnt to adjust very well with her stepfather. But Indu continued to keep her distance from Anu and her stepmother. All her attempts to win over Indu's love and confidence proved futile. She treated her as an unwelcomed woman who entered her peaceful world to snatch away her father's love and affection.
Indu had thought that her stepmother and stepsister would leave her and go when she was hostile to them. It seemed as though nothing was affecting them. She realized that they would stay permanently with them.
As a last measure, she had posted letters to her bedridden mother as advised by her aunt, stating that she had been ill treated by her stepmother. One day Soumya had sent a letter to Pavithra enclosing one of her daughter's letters written complaining about her stepmother as she had trusted Pavithra more than anybody else. Soumya's mother had written the letter for her. Only then Pavithra came to know about it. But she had the greatest consolation that the good-hearted lady had not believed a word of her daughter's letter. Soumya even wrote in her letter that Pavithra shouldn't lose heart by seeing those words of an innocent girl, whom she believed, had been mislead by Vasanthi. Only then Pavithra realized the extent of damage Vasanthi was doing to their lives.
Till then Pavithra used to feel very upset and ask God why misfortunes were showered on her one after another. But now she believed that He had mercy on her. Otherwise, her father wouldn't have been able to help her in pursuing her studies. Soumya would have believed her own daughter's letters than another woman who was her husband's second wife. But the consolation was; she didn't.
****
My dear readers, 

Further chapters of this novel (Total 33 chapters) will not be continued here as this is going for publication. I regret the inconvenience. 

Thank you for your support and encouragement. 

Lakshmi
Comments for The Second Choice - Chapter 13 
_________________________
Oct 29, 2010
Rating*****

by: vimala ramu

I do not regret your stopping the serial as it is for a greater achievement. Congrats, Lakshmi.
Back to Chapter 1 - The Second Choice
---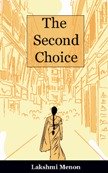 Updated on December 23,2011: 

This touching story is available in various formats, and you can read it in any of your favorite ebook readers - sony, apple, Nook, diesel, kobo etc. and find out what happens to this family. Also available in print formats. Please check out here.  You can read the reviews and interview,too on this blog. 

If any help is needed please use the contact form to reach me.
Available as paperback at -Flipkart.com      Infibeam.com      Pothi.com

 Also available as eBook at - Amazon.in         Amazon.com      Amazon.co.uk       Smashwords  Instamojo   Nook Book(B&N)
Read about it at -    Good Reads 
Interview - MuseIndia
Book Review - MuseIndia
Another Review at myunfinishedlife.com
Review received on 23/10/2013 from KP Gopalakrishnan-
The novel itself is a tribute to womanhood in her roles as daughter,husband, mother, step mother and her  responsibilities  to the world at large. It deals with the struggles Pavithra has to undergo to achieve her life's goals (where fate also plays a major part) in present day society.When her efforts ultimately leads to fruition she surprises everybody by her rather weird choice of an untrodden path. By now the lessons of life has transformed her to a woman of strong will for whom the mundane pursuit of worldly pleasures has lost all meaning. A very serious theme deftly handled in lucid,fast paced style that compels readers' attention till the very end .A 'must read' for all lovers of fiction at its best.