Custom Search
IWW eJournal February 2014
iww eJournal 2014- Issue No.26, February 2014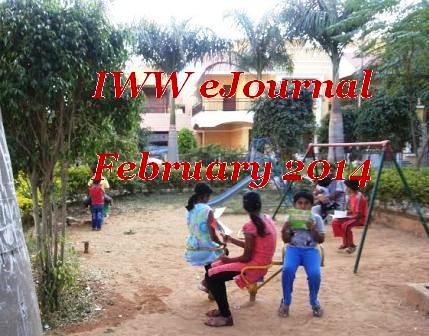 A hearty welcome to all our writers and readers.
IWW is here with  February 2014 issue of eJournal. This issue comes to you with various colors of creative writings from our regular writers as well as  the new writers, who joined this month - Nandini Sahoo, Sangeetha, Saroja Vasanth and Saikiran.  As usual, we had to reject some contributions this month too.
The results of our Short Story contest will be announced shortly. 
We are delighted to let you know that  IWW is growing up in the readership month after month, providing different flavours of creative writing to the readers as well as the writers. We have redesigned the website to make it a better reading experience, and hope that you enjoy it . 
Happy reading!
Editorial Team
Contents of this issue
Short Story
On the First Day - By Annapurna Sharma
The Marriage Fiasco - By Ritu Sama
Children's Story
The Blessing in Disguise - By Priyaa Sahasranaman
Poems
Dear Mr. 2014 - By Nuggehalli Pankaja
Sonnets six - By Nandini Sahoo
Lines to my son -  By Nandini Sahoo
Please come back - By Sangeetha
Perspective
When Ajji tells Stories - By Nuggehalli Pankaja
The Elusive Timepiece - By Vimala Ramu
As You Say
The Sharja International Book Festival 2013 - By Safia
Because it is like a forest - By Priyaa Sahasranaman
Serial Novel
Mysterious Disappearances - Chapter 22 (Concluded)
Recipe
Jatpat Sooji Ladoo - By Naveeda
Healthy Mixed Chutney - By Lakshmi Menon