Custom Search
IWW eJournal September 2013
iww eJournal 2013- Issue No.21, September 2013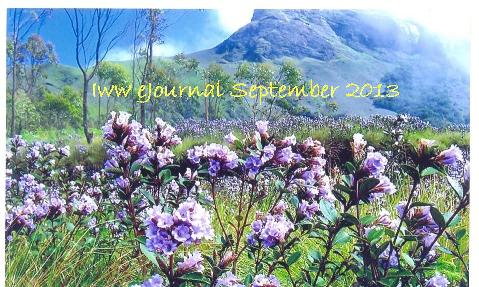 A warm welcome to the  21st  issue of iww-ejournal. 
A hearty welcome to the new writers who joined our team this month. They are Sirisha Kambam and Shilpa Desawale, with their contributions to poetry section.
In India, two important colorful  festivals are  celebrated in September - Ganesh Chaturthi and Onam.  In the literature area, Bangalore literature festival is  also held during the last week of this month.  It will be a rewarding experience to those who can attend this literature festival.  
The last date for submission of your recommendations for IWW Anthology I is extended till 30th September 2013. Please remember to recommend your favorite stories to be included in this.
Happy reading!
Editorial Team
Contents of this Issue
Poems
Lights and Shadows - By Sirisha Kambam
While the Knell Waited - By Priyaa Trippayar Sahasranaman 
Anti-revolutionary - By Sriram
Misunderstanding - By Geetima Baruah Sarma
That Night - By Shilpa Desawale
Short Stories
Dangerous Liaison - By Khurshid Khoree - Part II
The Reborn Daughter - By Lakshmi Menon
Calling the Bluff - By Kiran Jhamb
Sixth Sense - By Vaman Acharya
Perspective
Two Ghost Stories - By Vimala Ramu
Memories Stirred - By Nuggehalli Pankaja
Judgmental and Fickle -By Priyaa Trippayar Sahasranaman 
As you Say
Serial Novels
Murder Most Foul - Chapter 15 - By Bala
Mysterious Disappearances - Chapter 13- By Nirupama Akella
Teenager's Anguish - Chapter 7 - By Bala