Custom Search
iww eJournal June 2013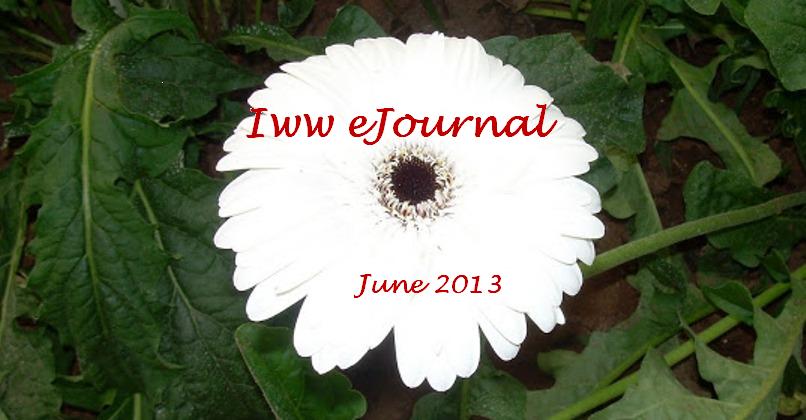 iww eJournal 2013- Issue No.18,  June 2013
A warm welcome to the June 2013  issue of iww-ejournal. 
This issue comes to you with the usual fiction and non-fiction contributions from our writers - Short stories, Poems, Children's story, Perspectives, As you Say, and the usual two Serial Novels. In addition, there is one more new novel from Bala, (which can be better referred as novella, since it contains only 13 chapters.) Hope you too will enjoy reading them as much as we did while preparing this issue.  As usual, you can see the new writers who joined our team. 
We are  glad to honour  Mrs.Nuggehalli Pankaja, a veteran writer and a member of iww community, as the best commenter of the month (May 2013), through this ejournal. She has taken the time and trouble to post her feedback in the form of constructive comments about many of the contributions she has read at this site, which is highly appreciated. 
Happy reading!
Editorial Team
---
Contents of this Issue
Short Stories
Man's Greed, Mother's Pain - By Gitanjali Maria
Success Story Unfolded - By Suriakumari 
Poems
Song of Mad Cap - By Parimala Rao
Juvenile Revelations - By Jyothsana Phanija
Question So - By Nuggehalli Pankaja
Perspective
The Specialists' Visit - By Vimala Ramu
The Laughter Club - By Nuggehalli Pankaja 
Here They Come - By Renuka Sharma
As You Say
Ceremonial Matters - By Pushpa Raghuram
Children's Story  
Serial Novels
Murder Most Foul - Chapter 9 - By Bala
Mysterious Disappearances - Chapter 7 - By Nirupama Akella
Teenager's Anguish-Chapter 1 - By Bala  (New novella)
---